Last Updated on
For travelers who also double as architectural enthusiasts, Beijing's urban landscape offers some truly unique sights to see. During my short time there, I set out to find some of the coolest buildings in Beijing and I was very gratefully successful. If you're around Beijing during the summer months with clear blue skies, then you've got to check these spots out!
The Beijing Olympic Tower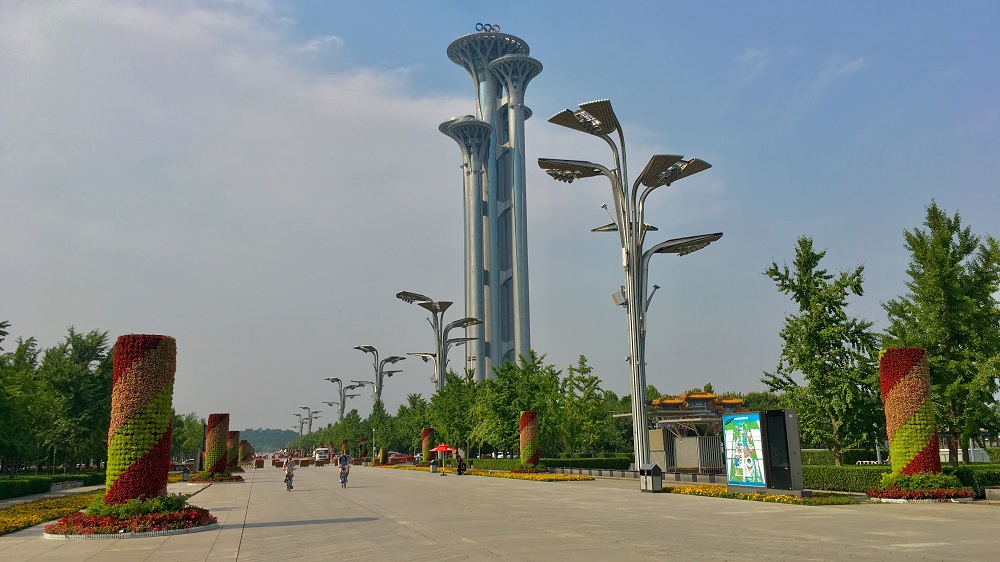 Set in a futuristic, fairy-tale looking landscape is the Beijing Olympic Tower, part of the much larger Beijing Olympic Park. The park was originally built in 2008 to host the Summer Olympics, and will again be used in 2022 when Beijing hosts the Winter Olympics. However, I imagine strolling down this promenade in the spring or summer is likely much more enjoyable than during the winter months.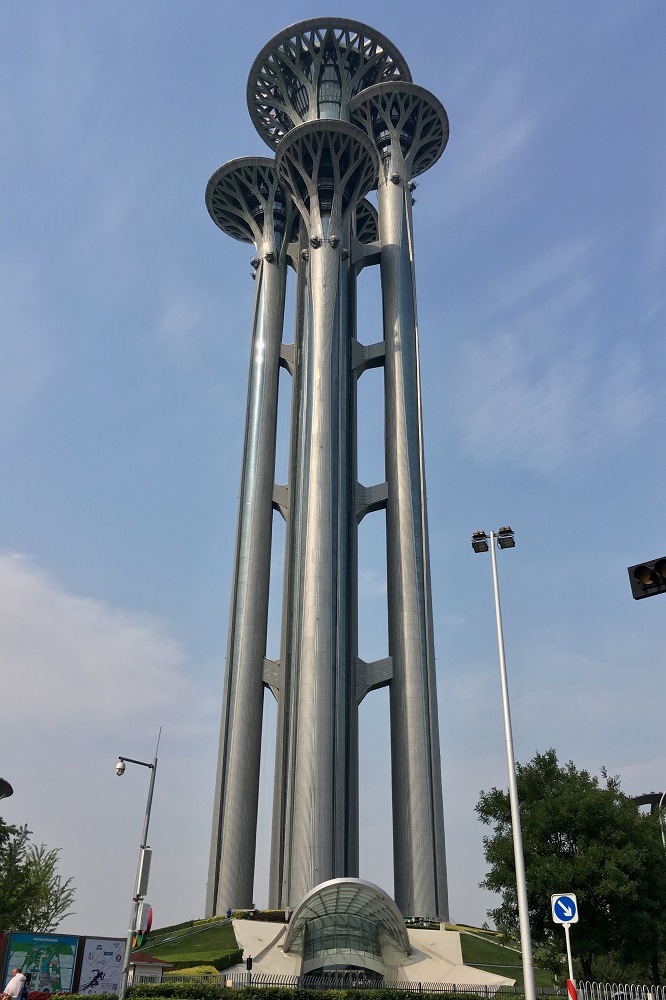 The overall tower itself is 258 meters tall (about 846 feet) and is comprised of 5 separated towers, rounded at the top to resemble the 5 Olympic rings. Its appearance has earned it the nickname "The Big Nails," and it actually is used for nothing more than observation; quite the spectacle! Entrance to the main tower and access to the highest observation deck costs a hefty 167 RMB,  so I opted to marvel at it from below and give you lowdown on the best angles to snap some shots.
Where/When To Go:
The tower is way up at the north of the park. It can be most easily reached by taking the subway to the Olympic Park subway station and then walking north. You will without a doubt see it immediately in the distance, and eventually, you will come to walk along the wide-open concrete walkway you saw above (N Central Axis Landscape Avenue). Taking a photo between this point of the walk and this point should give you some great shots. I'd recommend going in the mid-afternoon, sometime between 2:00pm and 5:00pm as the sun should be fairly far to the west (to your left, walking towards the tower), casting some great light over all 5 towers.
The Soho Peaks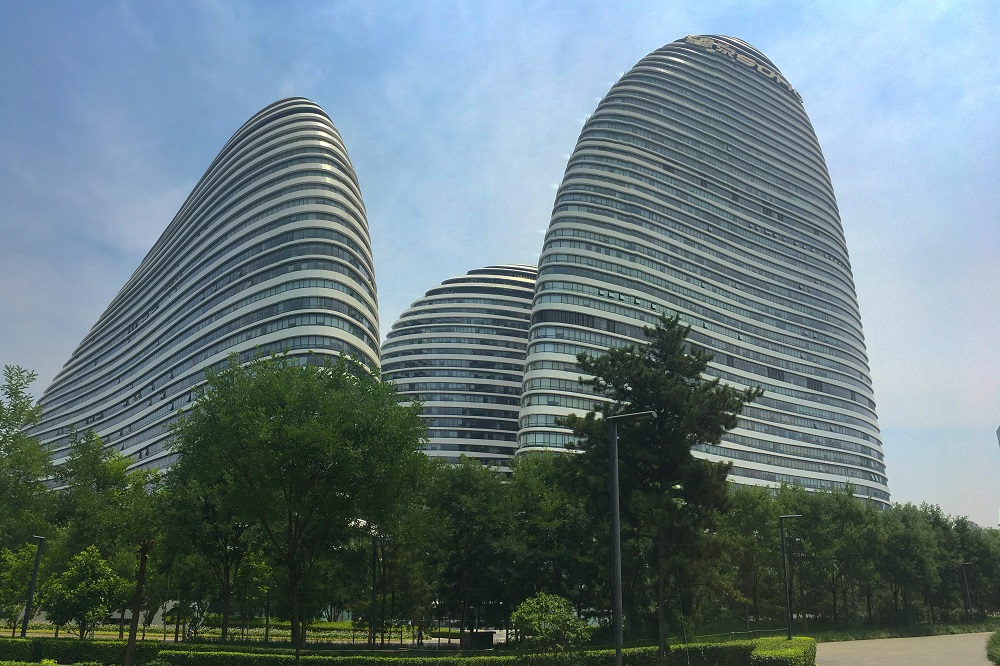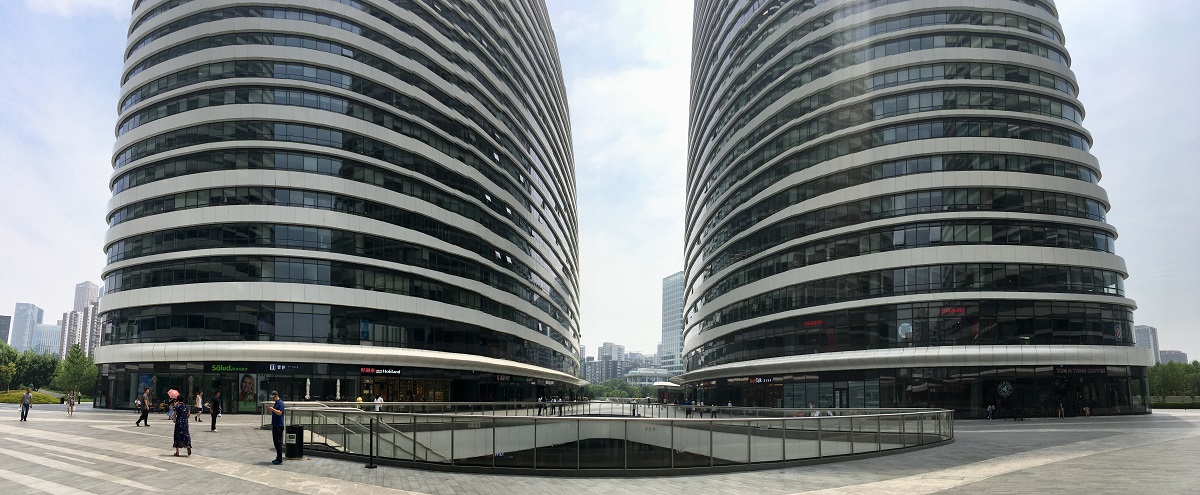 The Soho Peaks in the Wanjing District of Beijing are a real treat for your eyes to devour. Premiered in 2014, the Peaks consist of 3 separate, half oval-shaped structures built in close proximity to each other. Designed by the famous Iraqi architect Zaha Hadid, her intention was to create a piece of art that would serve as a welcoming gesture and final farewell to visitors of Beijing, as the complex was built directly in between the Beijing International Airport and the city center. The Peaks have been described symbolically to represent varying different objects dear to Chinese culture, such as the traditional Chinese fan, or one of China's widely-known favorite animals; the koi fish, which represents wealth, luck, happiness, and health.
Whatever you liken the towers to represent, they truly are a marvelous sight to observe among all the buildings in Beijing. It's also got a beautiful green space surrounding it, as you can see below.
Where/When To Go:
You can get to the Soho Peaks by taking the subway to either Wangjing or Futong (depending on which line you use), and then walking the remainder of the way. As the Peaks will be depicted well against blue or gray skies alike, any time of the year should be suitable to get some great shots. I walked all the way around the perimeter of the complex, but found this spot gave me the best angle to see all 3 towers clearly. From this point, in the morning, the sun will be behind the towers (as you will be facing east), so taking photos any time after 1:00pm should give you ideal light.

The CCTV Headquarters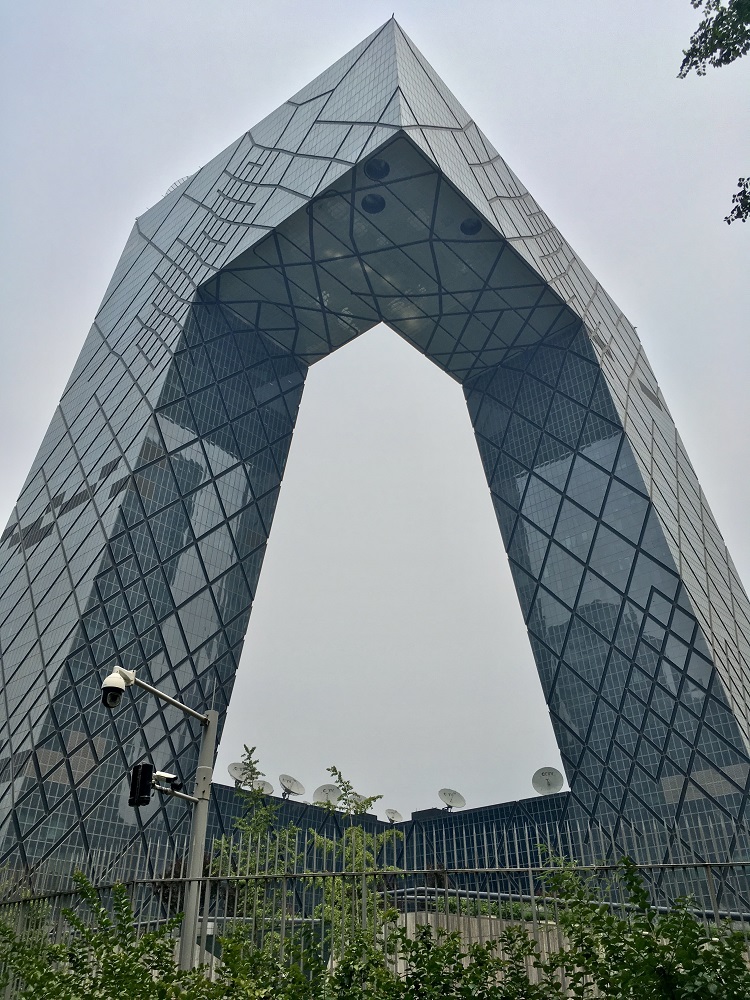 The CCTV Headquarters Building was the last insanely cool building I ventured into the city to discover. Home to the China Central Television Headquarters, this architectural anomaly is formed by two leaning towers, bent 90° at the top and bottom to form a continuous loop. It is more commonly known to Beijingers as "Da Kucha," or, "The Big Pants." I also strolled all the way around the entire block that the building sits on (it is very tightly guarded all the way around! No entry allowed), and found here to be the best vantage point for photos. This spot is super-conveniently located just out of Exit C of the Jintaixizhao subway station. Simply walk out of the exit, turn left, and walk about 100-200 meters to get the same angles that I did.
Where/When To Go:
Like the Peaks, the prime spot for snaps of the CCTV Headquarters is from the west looking east, so this is another afternoon photo session. Any time between 1:00pm and 5:00pm should give you decent light. As you can see, the building will blend well with blue or gray skies.
Overall, among the literally thousands of buildings in Beijing, these 3 positively cannot be missed. Visiting Beijing for a short stay can be very easy, as China offers a visa-free 72 hour and 144 hour entry for 49 different nationalities. You will need the address and phone number of your hotel and proof of a departing flight within 72 or 144 hours (3 or 6 days, respectively), as well as all your passport information to be written on the entry form.
---
Looking for a cheap room in Beijing? Normally, I would recommend rooms through Agoda. However, I found the selection of hotels and guesthouses in Beijing (through Agoda) to be very limited and pretty expensive. Instead, I ended up looking for a room on AirBnb and was pleasantly surprised to find a huge selection of modestly-priced rooms. I booked my space for only $20/night, not far from the city center.
---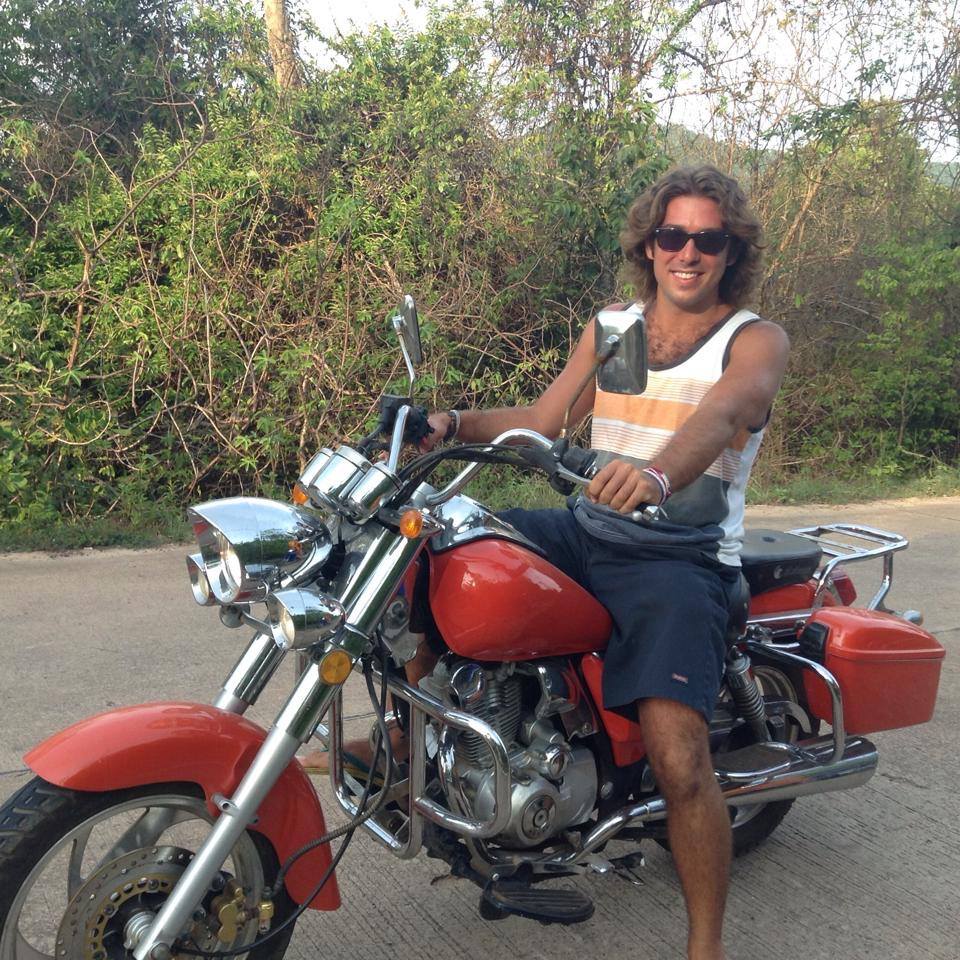 Craig is a 29 year-old, sun-loving, rum-drinking Floridian and Phuketan, and the face behind Vagabond Disposition. He has called the Land of Smiles his home for about 5 years on and off, coming and going between vagabonding journeys throughout East and Southeast Asia, as well as Western Mexico and Europe. He enjoys a competitive game of disc golf when he can find a course, as well as a laid-back match of Bocce with spirits in hand. Craig wouldn't go anywhere without his beloved ukulele and will jump on a drum set any chance he gets. His odd sense of humor is fortunately often appreciated by his peers, as well as his students.
---
I religiously use my Chase Sapphire Preferred Card when traveling and I 100% endorse it for those who want to get into the frequent-flier-miles-game. You can get 60,000 miles after using the card for 3 months and spending $4000 on it. That's enough miles for 1-2 round trip tickets in the US or a 1 way international ticket. I recently used only 40,000 miles to fly 1 way from Orlando – Frankfurt – Bangkok – Phuket, and only paid airport fees! There's also no foreign transaction fees whatsoever so you can use it anywhere abroad. ($95 fee per year, though that can be paid using 9,500 points!). Check out more about the card here.