Last Updated on
Koh Lipe: Where to Find the Best Eats for Your Baht!
Koh Lipe in the far southern Andaman Sea is a truly beautiful island oasis, host to beautiful beaches, awesome snorkeling, and world-class diving. However, over the past few years, the secret of this once unheard of, quiet, far-off destination has finally gotten out. As a result, the island has gotten super crowded in high season and prices for accommodation, tours, and alcohol have gone through the roof. However, as far as meals go, there are fortunately still some spots to enjoy budget yet delicious food for 120 baht or less.
Note: Compared to Chiang Mai, Bangkok, and other mainland cities, some readers will find that these budget options are still rather expensive! It is important to keep in mind that everything in Koh Lipe is quite expensive compared to the rest of Thailand, and filling up for less than 120 baht is a success. All of the following food options are available on Walking Street between Pattaya Beach and Sunrise Beach.
If you are looking for a good, cheap hostel to stay in while in Koh Lipe, I stayed at Shanti Hostel (about $9 per night) and enjoyed it. If you'd rather go for a hotel, you can check some out here.
Eventually headed north? Check out this awesome budget guide to what you could get in Bangkok for just $10, courtesy of The Beau Traveler!
Banana Tree Restaurant
Location: Just after the first 7-11 on the right, walking from Pattaya Beach.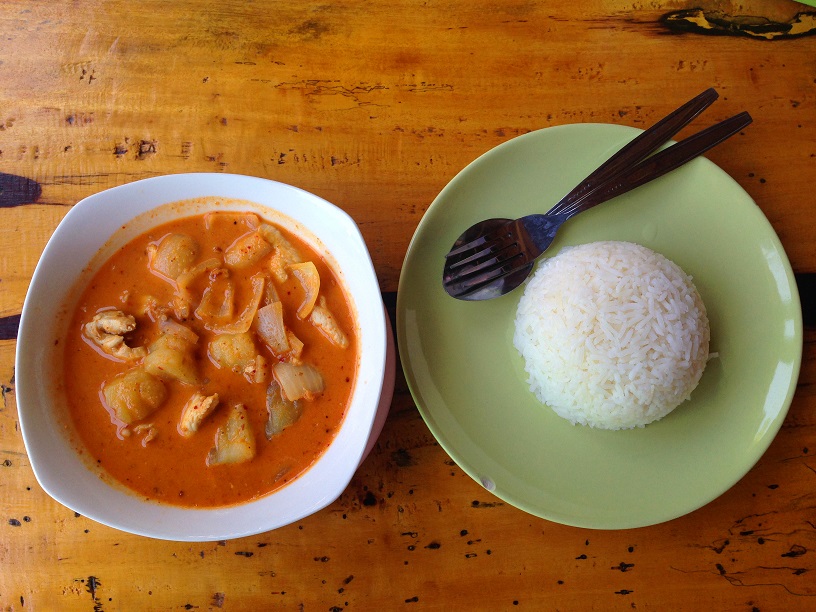 I list Banana Tree first as it is likely the cheapest restaurant on the island with the most extensive, high quality menu, not to mention super friendly staff! Massaman chicken with rice was my daily breakfast while on Koh Lipe, and for good reason. At 100 baht for a large bowl of massaman (chicken, onions, potatoes, and red curry coconut paste) and 20 baht for the rice, this was a bargain considering other places are charging up to 200 for both.
Yellow N' Red Food Stands
Location: All over Walking Street! This particular one is on the left about 30 meters after the 1st "major" road on the left, walking from Pattaya Beach towards Sunrise Beach.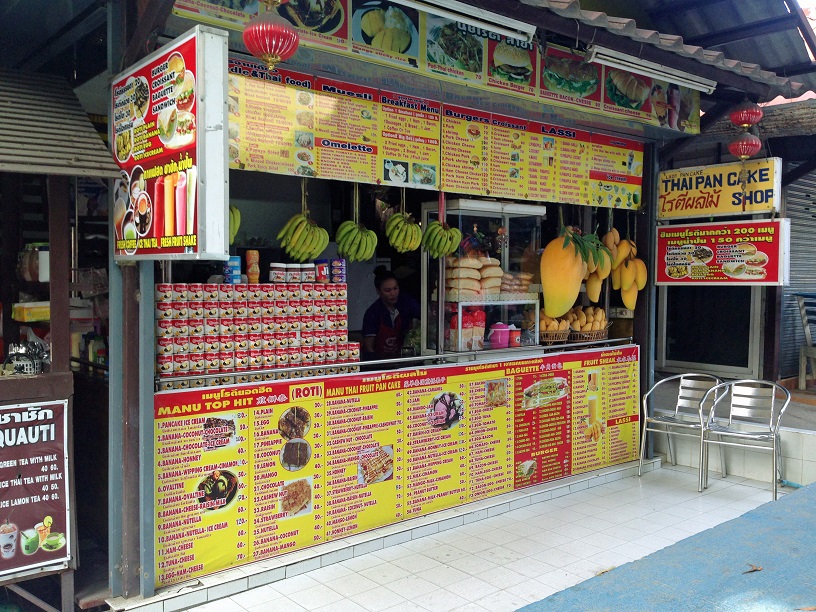 There are a couple of these little food stands with the exact same menu on Walking Street that have a ton of different foods on the cheap. Pork or chicken burgers start at 70 baht (with cheese 100 baht), and omelettes with bacon, tomato, or onion for up to 80 baht. Chicken, bacon or sausage baguettes go for 70 baht (90 baht with cheese), and egg, ham, and cheese roti (Thai pancake) is 70 baht. With the chairs off to the right, this is a great people-watching spot too!
Kebab Shop
Location: 100-120 meters on the left walking from Pattaya Beach.
This may have been one of the most delicious kebabs I've ever had in all of Thailand! Kebab lady loads them up full too, along with lettuce, onions, cheese and secret sauces. At 100 baht, this is definitely the most filling option on the island for your money.
Koh Lipe Pizza
Location: Just after the 7-11 on the right walking from Sunrise Beach towards Pattaya Beach.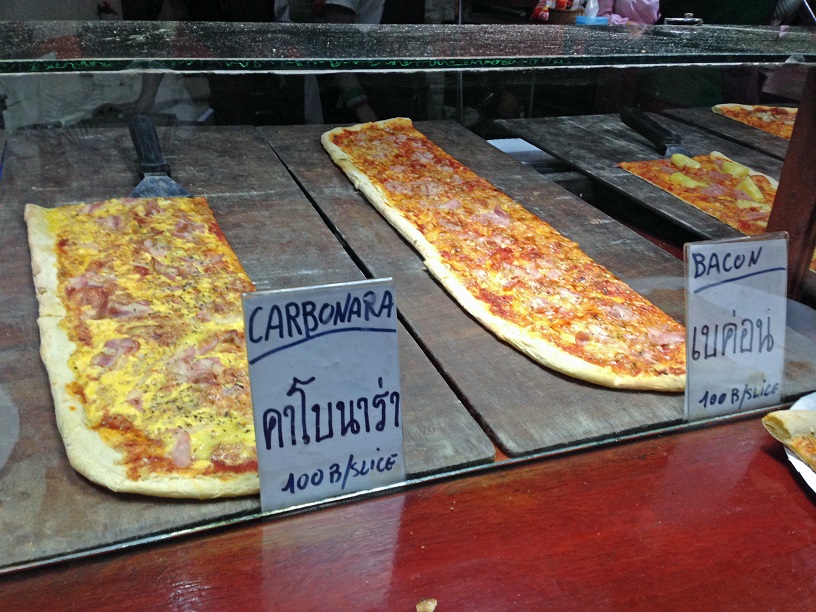 Walking towards Sunrise Beach nearly at the end of Walking Street, there is no way to miss this place, thanks to one particularly eccentric pizza chef and his nonstop pizza-chanting mantra. Slices are pretty big for 100 baht, and are about half the size of what you see above. Check out southern Thailand's most famous pizza mascot for yourself:
Roti Stand
Location: Directly across from the Red N' Yellow Food Stand listed above.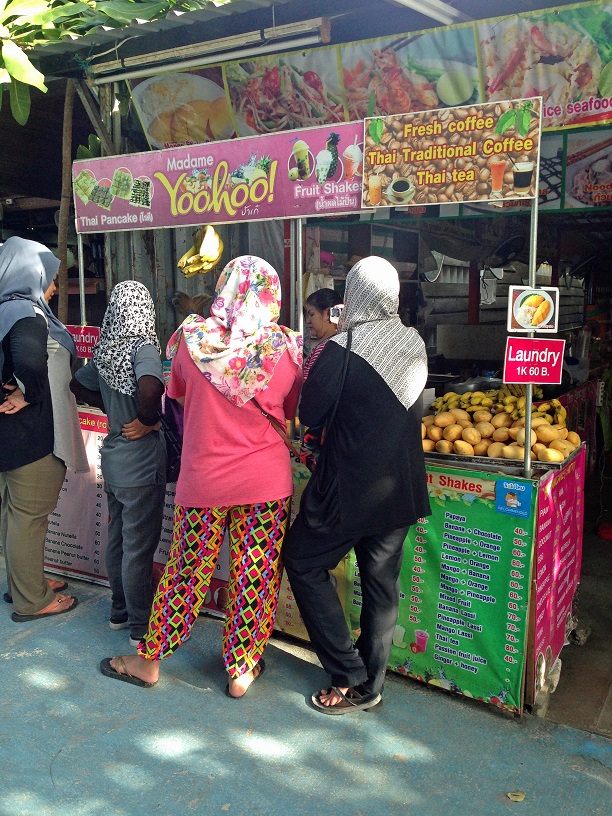 For dessert, you can't go wrong with roti! Roti is a Thai pancake made from fresh dough, condensed milk, and a bit of butter and sugar. Although there are tons of these little roti stands on Walking Street, this one was absolutely out-of-this-world good. All of their rotis are generously portioned and under 100 baht. I highly recommend the banana and nutella! (Note: Don't get your laundry done here! These folks need to stick to simply making awesome rotis…)
Big Sheep Shop
Location: Right after the Red N' Yellow Food Stand on the left.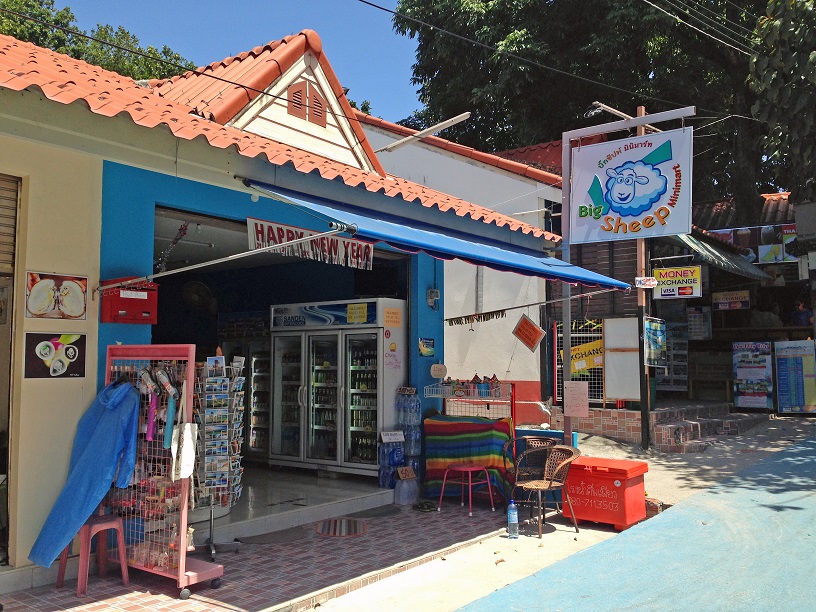 Contrary to their signage, this shop does not indeed sell big sheep. They do, however, sell cheap alcohol and stay open late! For pre-drinks before going out or simple beer sipping on the beach, Big Sheep is a cheap one stop shop to stock up, especially after all other shops have closed. They also sell postcards and have a little red mailbox to mail them, which you can see on the left.
As you can see, Koh Lipe doesn't have to break the bank for meals. Fill up on the cheap and save your baht for more vagabonding!
Headed to Phuket as well in the future? Check out my related articles about a totally free, independent snorkeling tour you can do there or in Koh Tao. Also, if you are planning for Koh Phangan, fellow travel blogger Two Tall Travellers has an excellent budget spending list to enjoy the island for only 25 pounds a day!
VD's Recommended Hostel in Koh Lipe
VD's Snorkeling Gear Picks
I religiously use my GoPro Hero 5 for all my underwater filming and I highly recommend it. It's now much cheaper as the Hero 7 just came out!
________________________________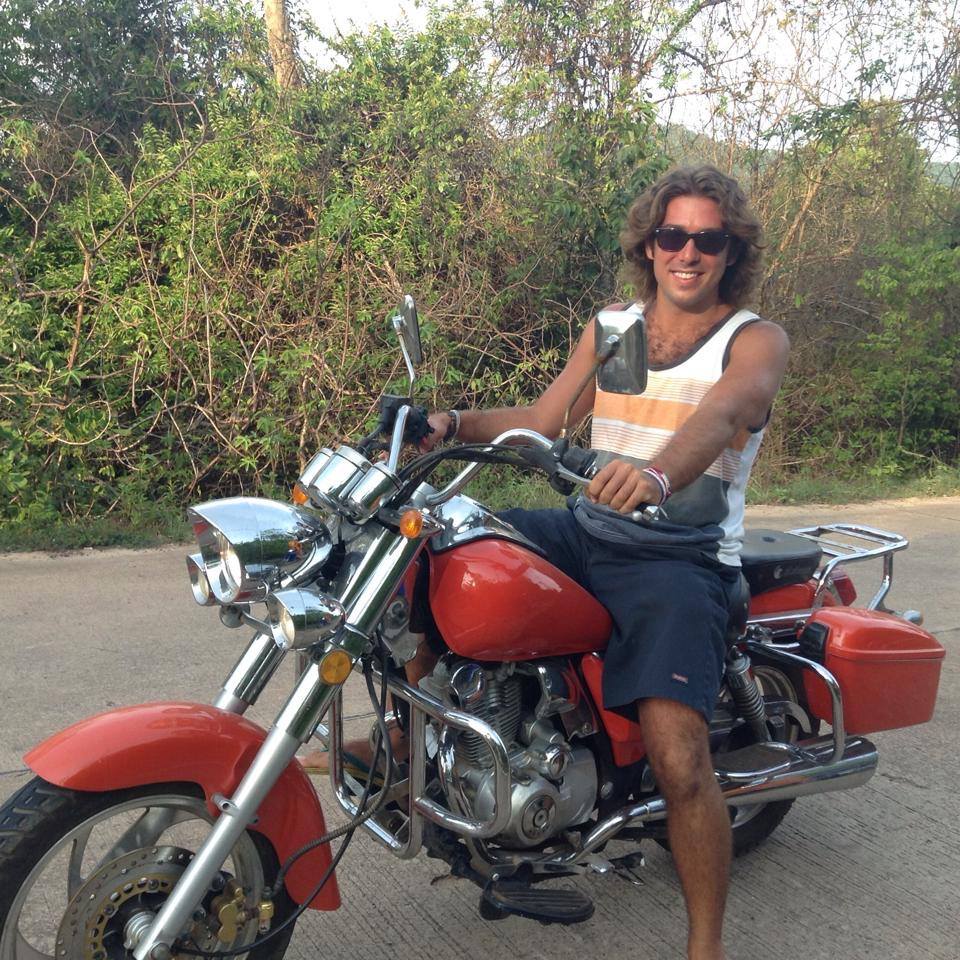 Craig is a 29 year-old, sun-loving, rum-drinking Floridian and Phuketan, and the face behind Vagabond Disposition. He has called the Land of Smiles his home for about 5 years on and off, coming and going between vagabonding journeys throughout East and Southeast Asia, as well as Western Mexico and Europe. He enjoys a competitive game of disc golf when he can find a course, as well as a laid-back match of Bocce with spirits in hand. Craig wouldn't go anywhere without his beloved ukulele and will jump on a drum set any chance he gets. His odd sense of humor is fortunately often appreciated by his peers, as well as his students.
On Pinterest? Check me out below! I'd greatly appreciate a re-pin 🙂