Welcome to Mukdahan, the Pearl of Far East Thailand!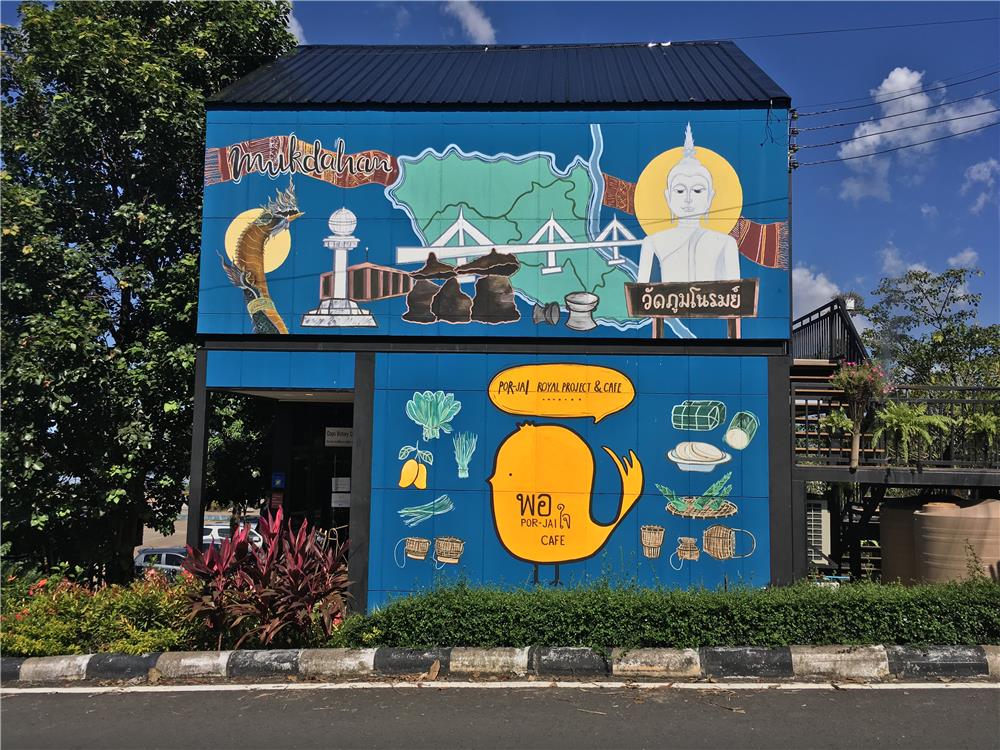 Mukdahan in the far Northeast of Thailand was once considered the main gateway to Indochina, and as a result it is rich in culture and local history. For most travelers, Mukdahan serves as nothing other than a temporary transit point en-route to Savannakhet and vice-versa. However, after spending over a week in this lovely little city, I found a great, genuine local charm to it, complete with delicious food options and a few sweet sights to see.
Getting Around Mukdahan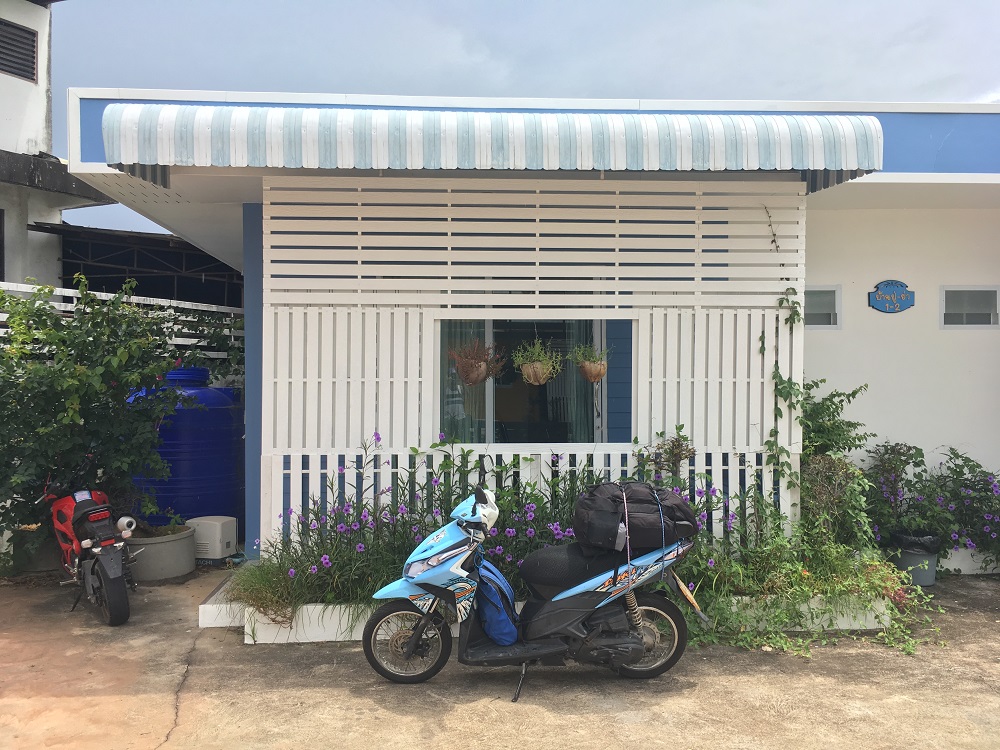 Having your own motorbike in Mukdahan is absolutely your best option for exploring the city and surrounding areas. Fortunately, I had mine shipped from Phuket as I was beginning a 6-week long trip of Issan, starting in Mukdahan. However, I understand this is not the case for most travelers! So, I did some research and found that motorbikes can be rented from Huanum Hotel for about 200 baht per day. They also rent bicycles for 100 baht per day.
If either of these options don't appeal to you, expect to shell out some bigger baht for tuk-tuk rides everywhere you go. Fortunately, tuk-tuks are plentiful around the city and it should be no problem to flag one down (during the day). Keep in mind that none of the drivers will be able to speak English, so be patient with them and have your handy-dandy iPhone calculator out to negotiate your fare.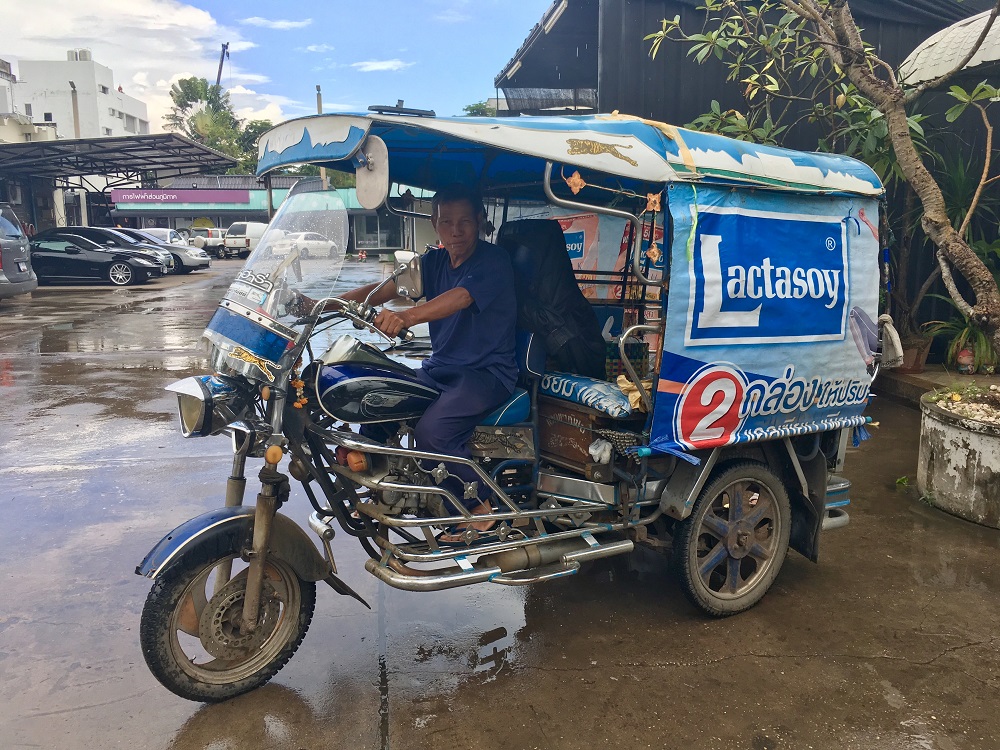 Food in Mukdahan
Overall, I was very impressed with the food game around Mukdahan. There are tons of different restaurants offering up a variety of different foods. If you want the most choice (and easy point-to-pick options 😉 ), I'd highly recommend visiting one of the three cafeterias I have listed below. If you're looking for the best coffee shop in the city (with free wifi), scroll down past all of these restaurants and you will see!
Breakfast or Lunch…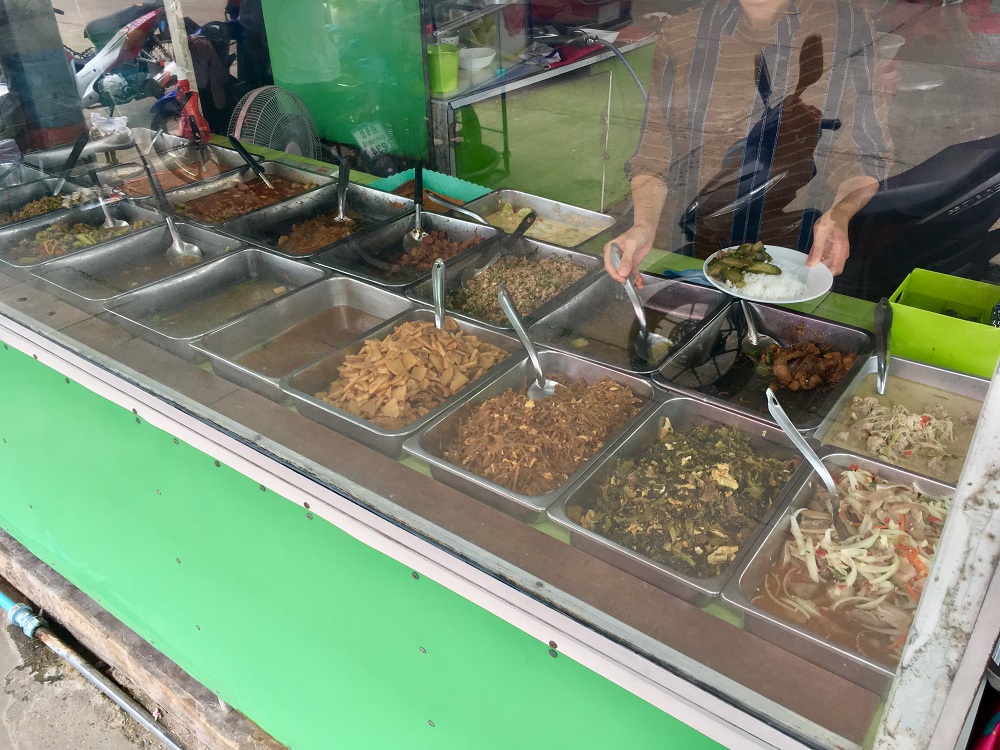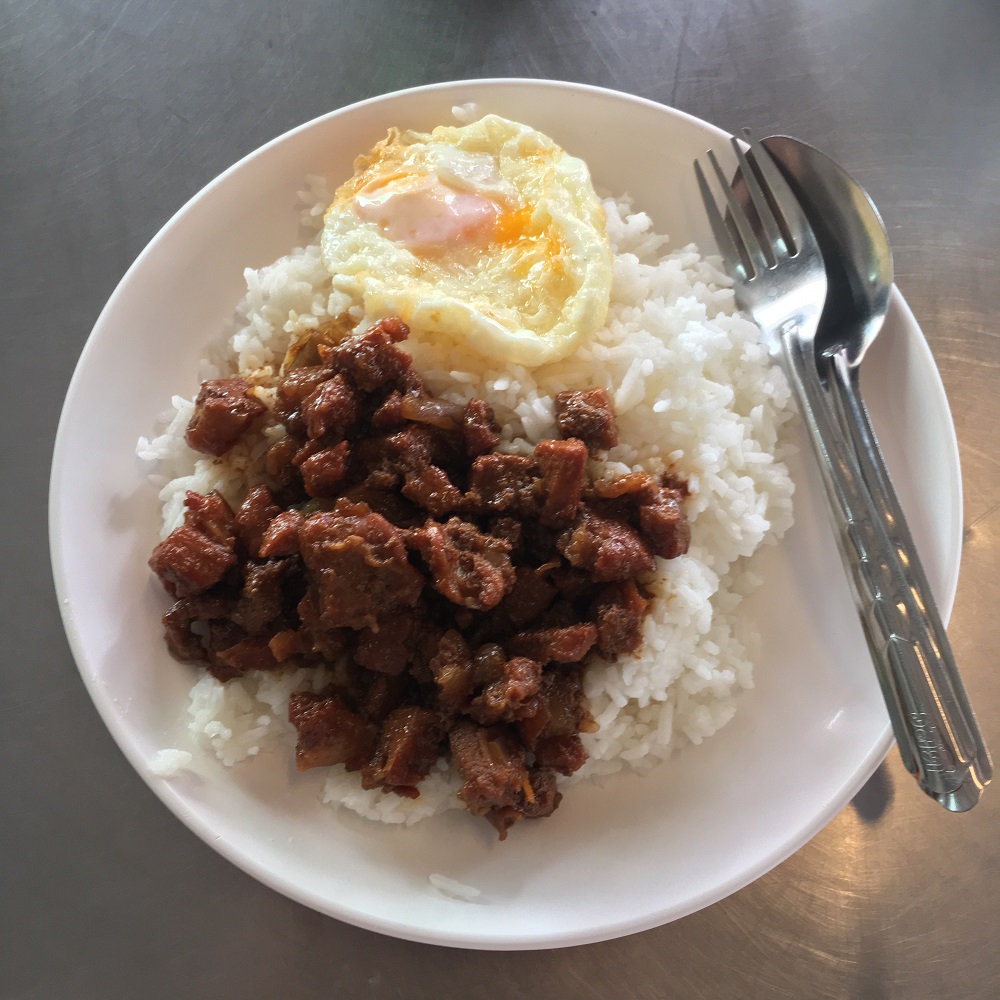 I list this cafeteria first as it it had the largest spread of different dishes and you will 99% find something you like. My cafeteria staple above is sweet, stir-fried pork, rice, and a nice, runny fried egg, all for less than 50 baht. I actually asked for extra pork, which you can simply do as well by pointing to the dish you want and saying "piset" (or พิเศษ in Thai, if you want to show them this exact writing 😉 )
ล้านข้าอแกง (Cafeteria 2)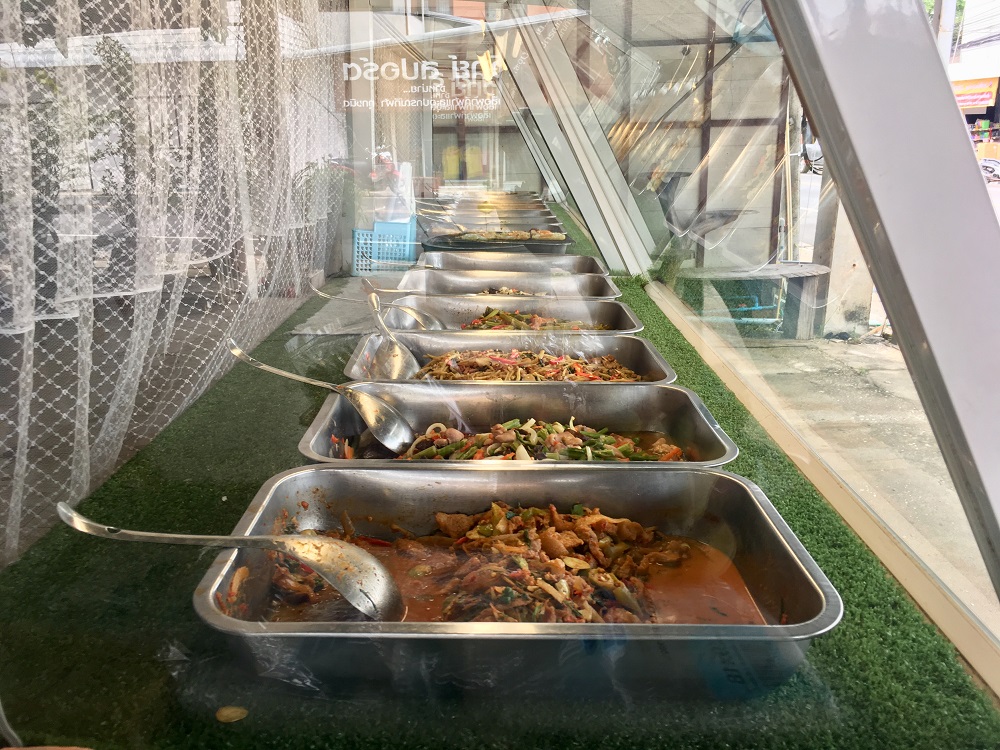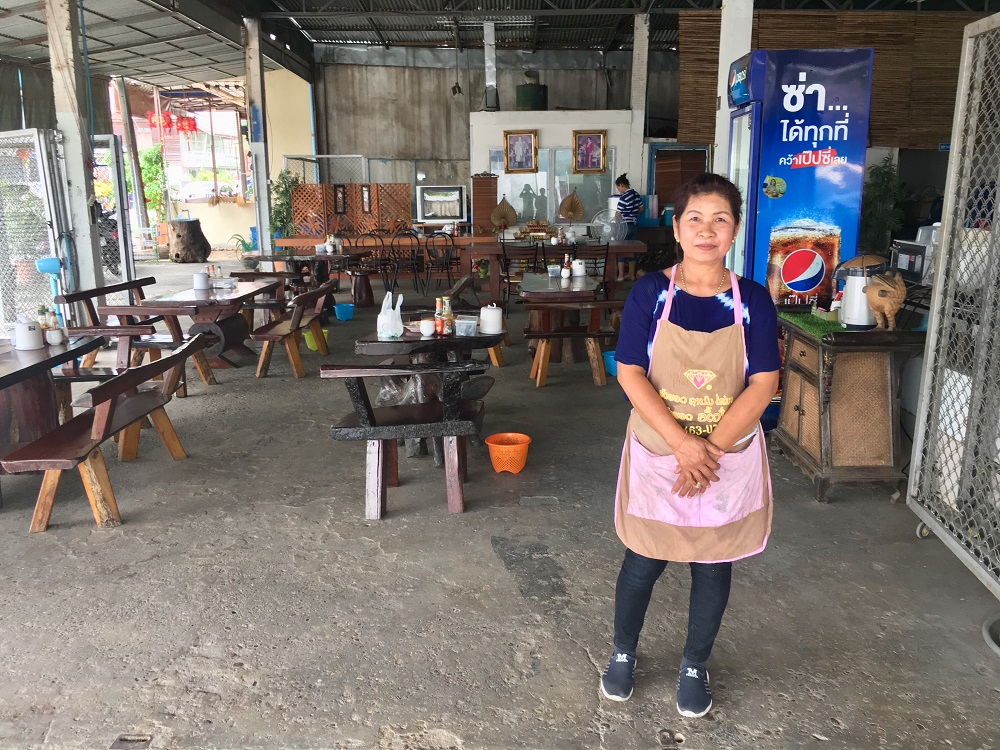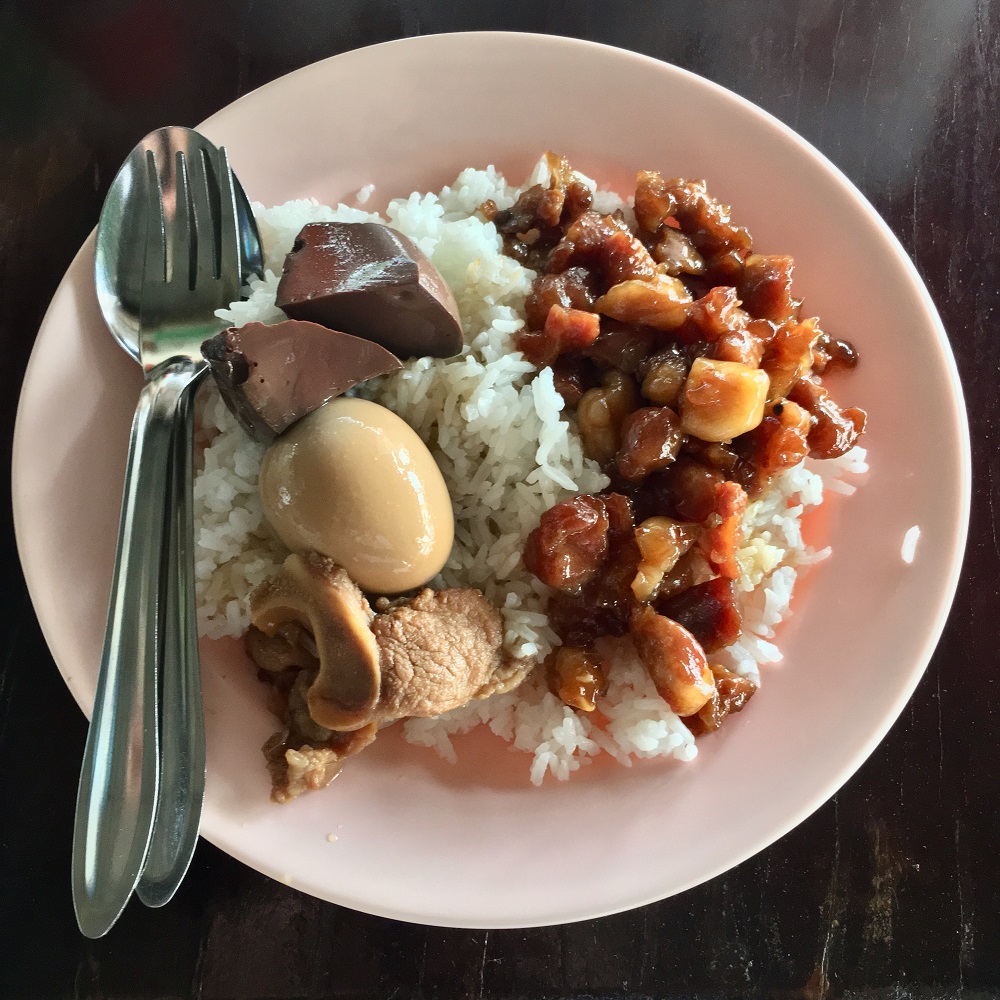 This place was so "off-the-beaten-path" that it wasn't even on Google Maps. 😂 So, I created an official listing for it. The owner was very sweet and friendly and the food here was absolutely delicious. Again, another bargain as well: under 50 baht for the massive hunk of sweet pork, rice, liver, and boiled egg. The place actually looked really new so perhaps that's why it hadn't been indexed before. In any case, this cafeteria was super conveniently located right out front of Hotel Supree Mumsabai, where I stayed during my time in Mukdahan.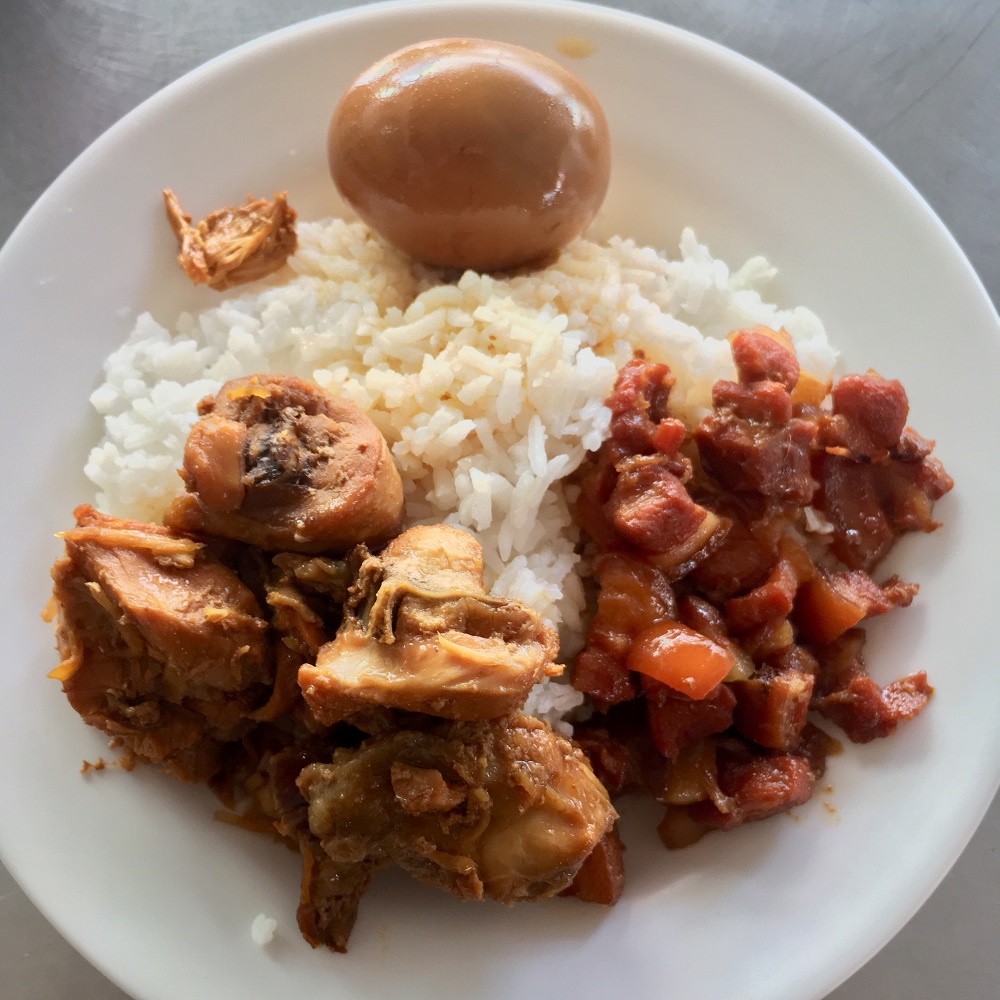 This cafeteria also was not on Google Maps, so yet again, I have done my civic duty and added it myself. A slight variation from my usual sweet pork, this cafeteria also had ginger chicken, and the obligatory boiled egg, all for… you guessed it, under 50 baht.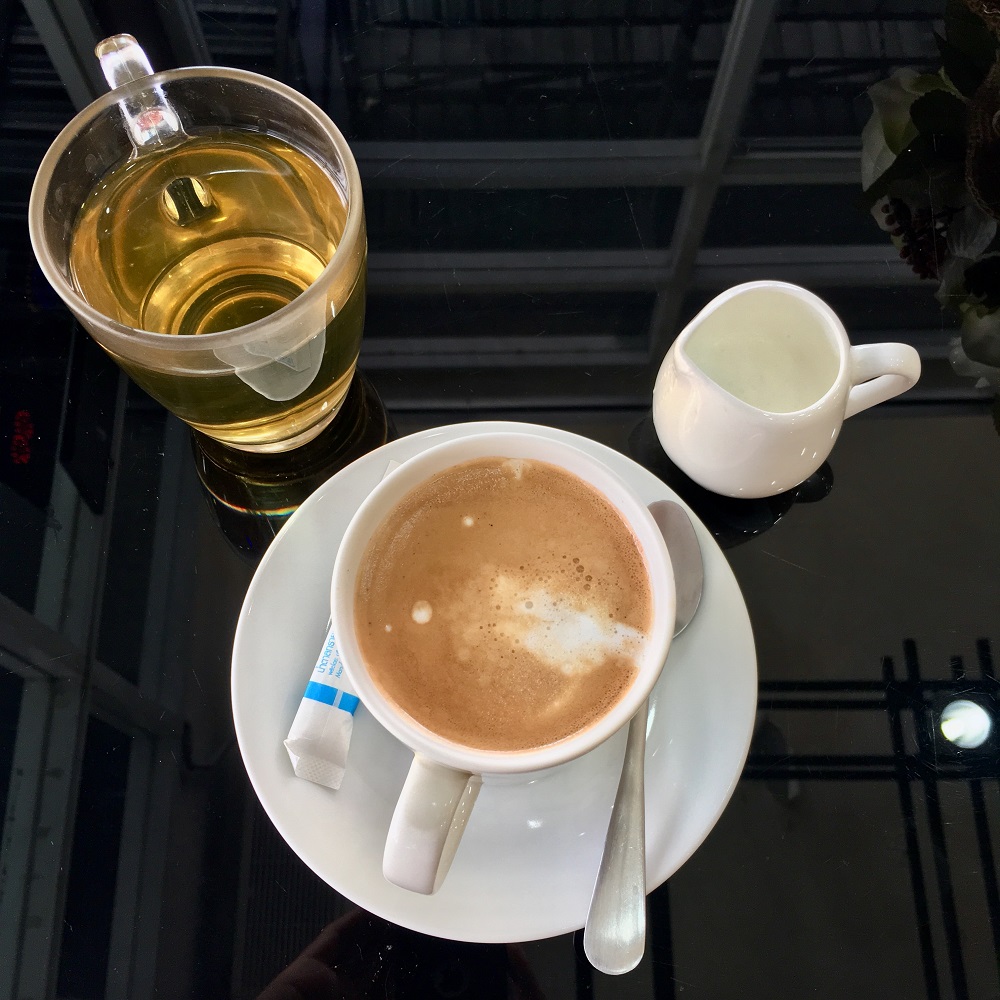 Dara Corner was a great little coffee shop that I stumbled into on my very first morning in Mukdahan. The coffee here is tasty and strong, and runs from 40-60 baht (40 for the simple Americano above). The shop is air conditioned on the inside as well, should you want to beat the brutal Issan heat. There is also free wifi that runs strong, so this is a good spot for getting work done if you want, too.
Lunch or Dinner…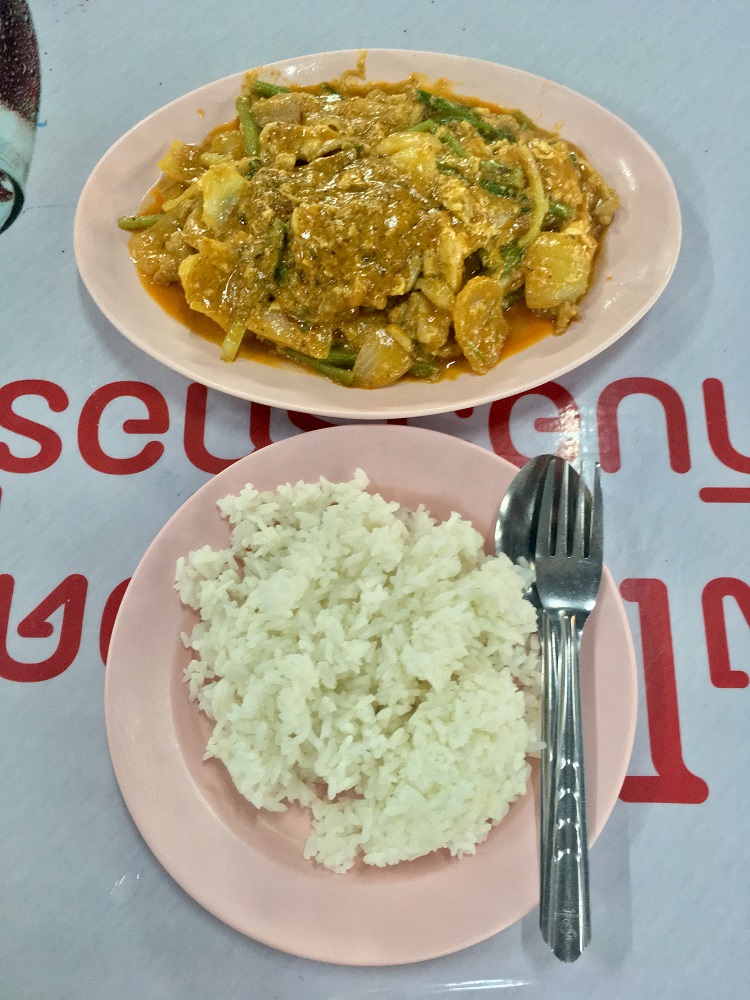 Although portrayed as a round-the-clock eatery, be aware that it does not live up to its name, as it was often closed during the morning. 😂 However, come afternoon and nighttime, you will find the best heaping plate of stir-fried yellow curry and chicken in the entire city. (Feel free to show them this photo and translation, if you want to try it: ไก่ผัดผงกะหรี่ พิเศษ 😉 ) Better yet is that this spot is also right across the street from Hotel Supree Mumsabai. Have I sold you on this awesome location yet?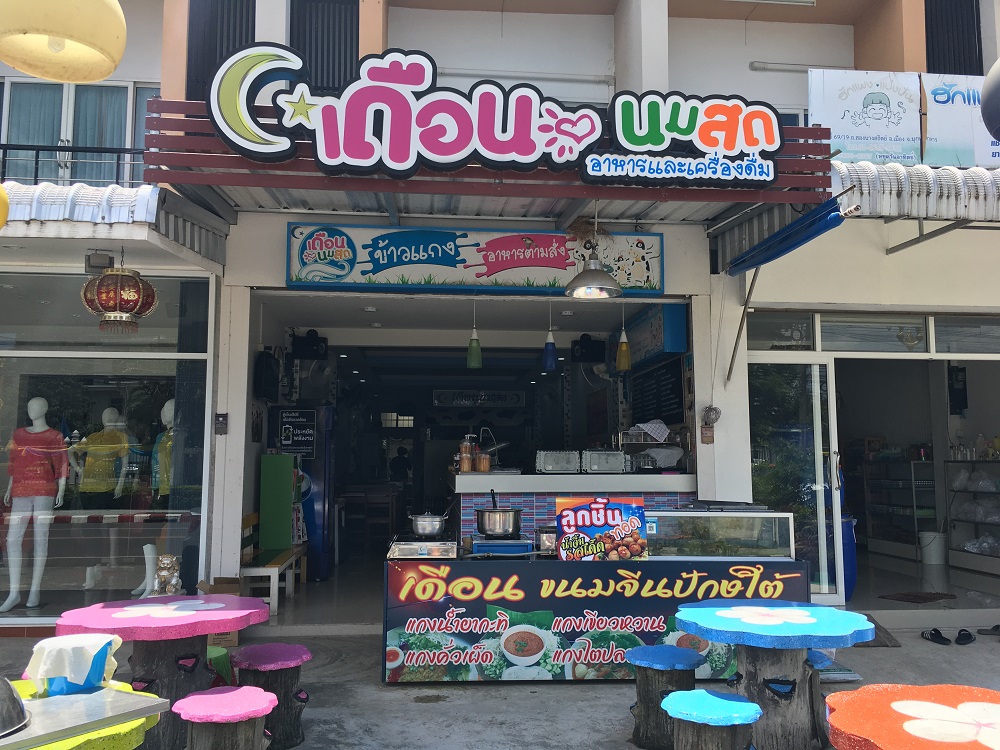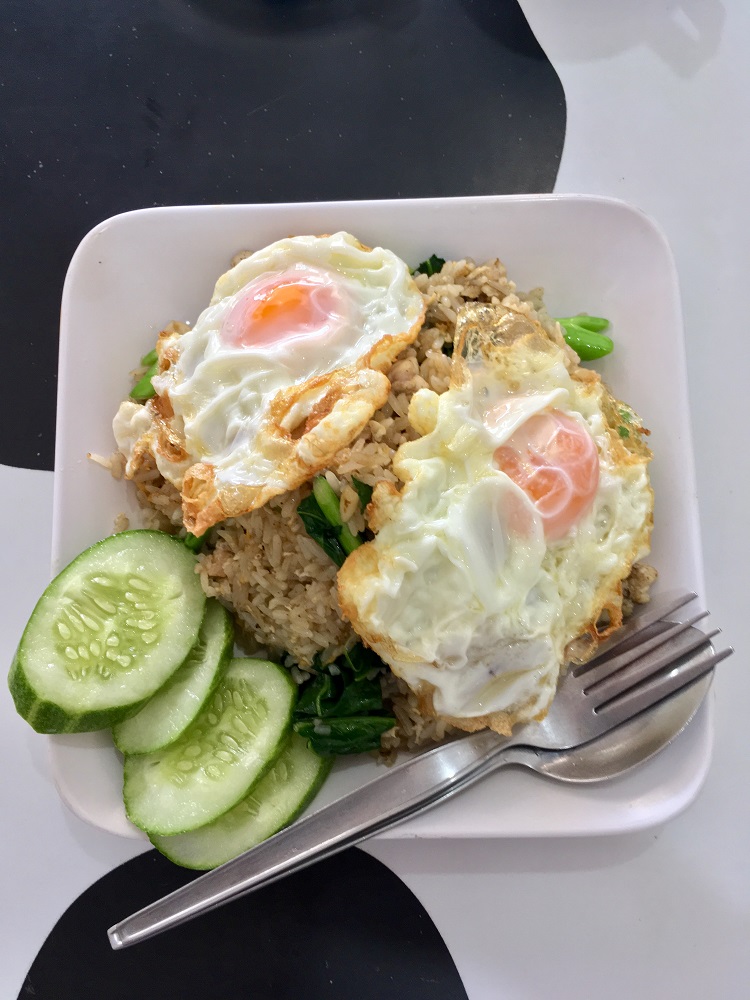 Featured above is a mouth-watering plate of fried rice and chicken, complete with two, juicy fried eggs. As this is a Muslim-owned restaurant, pork isn't available, though they have seafood and beef in addition to chicken. The young man working there could also speak fluent English.
Noodle Stall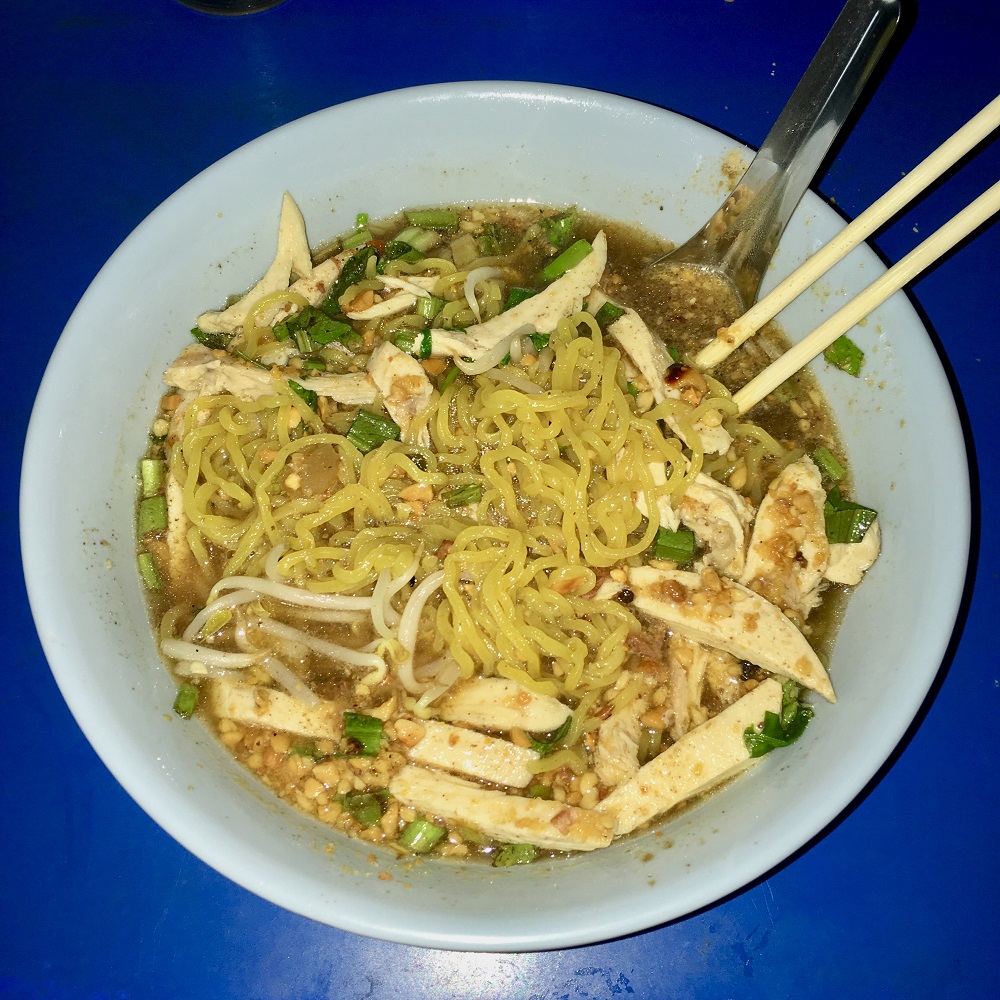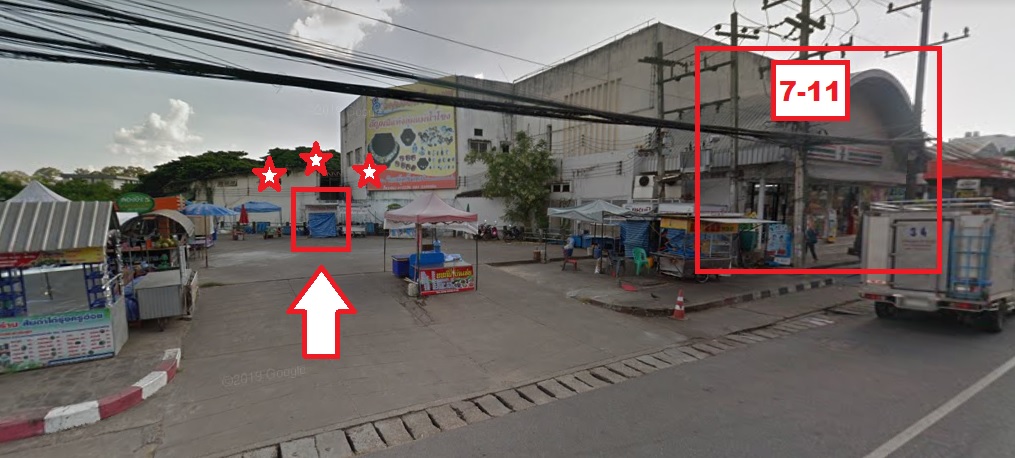 This tasty noodle stall is located inside a small, outdoor food court that is only open at night with just a few other vendors, just to the left of this 7-11. My bowl featured above is a large helping ('piset!' พิเศษ) of yellow egg noodles, lobs of chicken, chopped spring onions, and lots and lots of crushed peanuts, all for 50ish baht. The lady that runs this stall is very friendly (are you sensing a trend here? 😉 ) and if you want the same as me, show her the photo above and this text: ก๋วยเตี๋ยว บะหมี่ ไก่ พิเศษ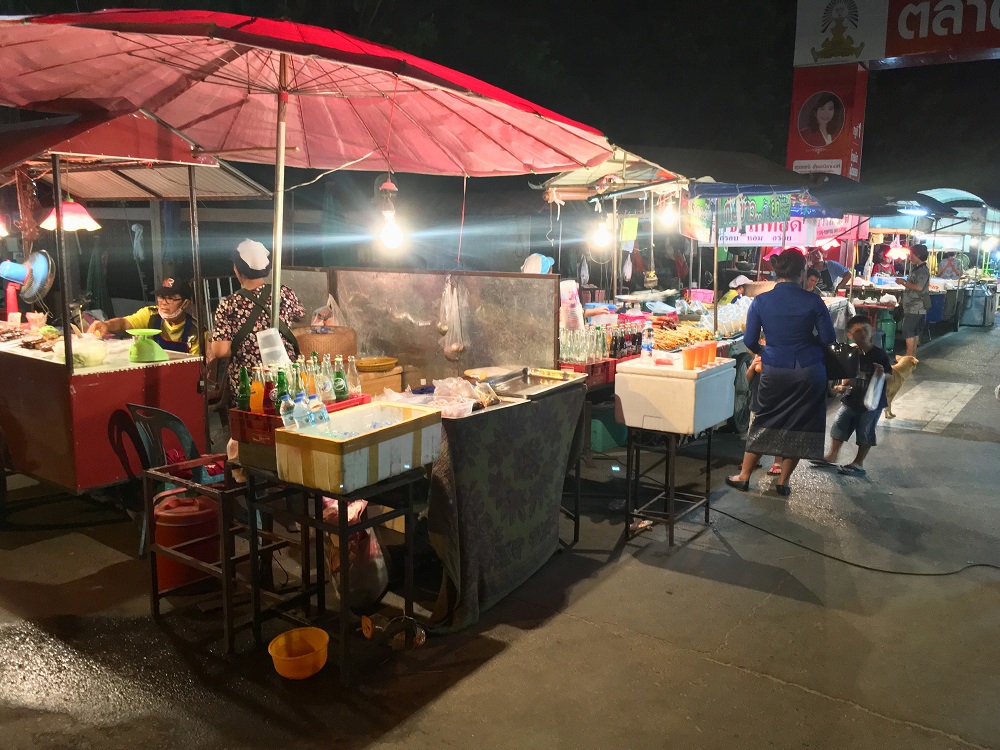 The main market in Mukdahan is located here and starts at roughly 6:00pm and is pretty much done by 9:00pm (despite Google Maps' listed hours). As is with most night markets in Thailand, you can find just about anything you'd like to eat: chicken on a stick, pork on a stick, beef on a stick, squid on a stick, various rice dishes, pad thai, lots of other noodles, countless types of fruit as well as fruit shakes (you've got to try a coconut one), roti, you name it! This market is definitely worth a visit and you're sure to be full when it's time to go home.
Big C and Tesco both also have large food courts, if you want even more options and easy ability to point at what you want to order.
Sights to See in Mukdahan
The #1 attraction to check out in Mukdahan is Wat Phu Manorom, a temple on the top of a nearby mountain overlooking all of the city, the Mekong River, and Laos in the distance. The Buddha at the top is 84 meters high (from the ground up)!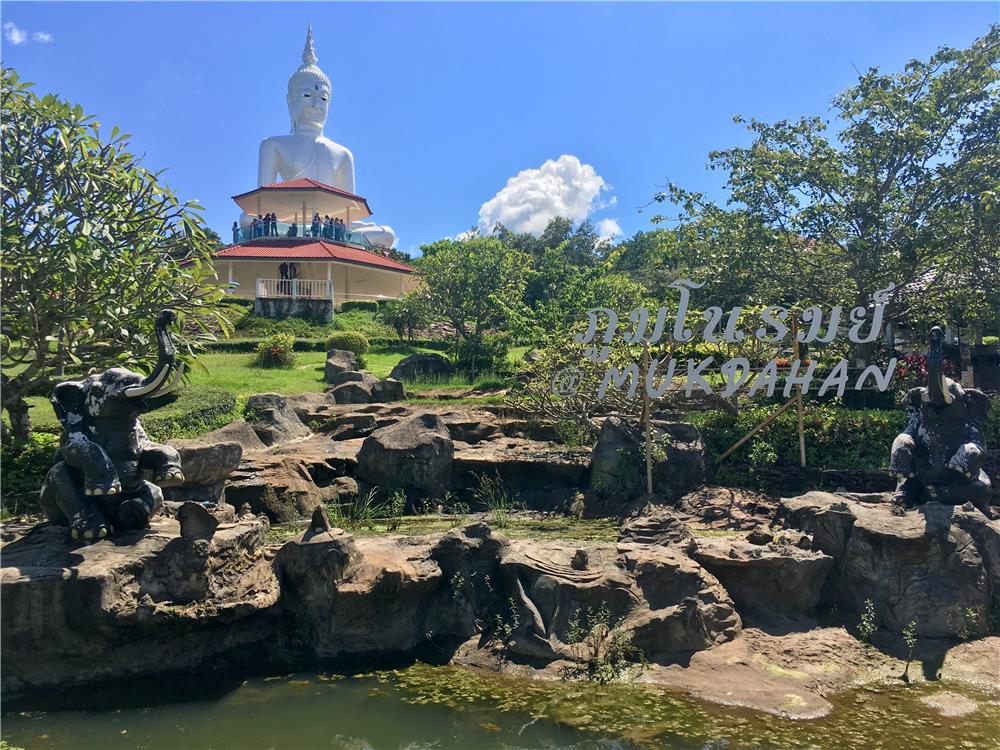 After arriving to the parking lot, you'll see these beautiful gardens with an observation deck at the rear.
After coming down from the observation deck, you'll see this walkway to your left. Follow it until the path turns to bare rock and you will eventually reach this magnificent Naga statue you see below.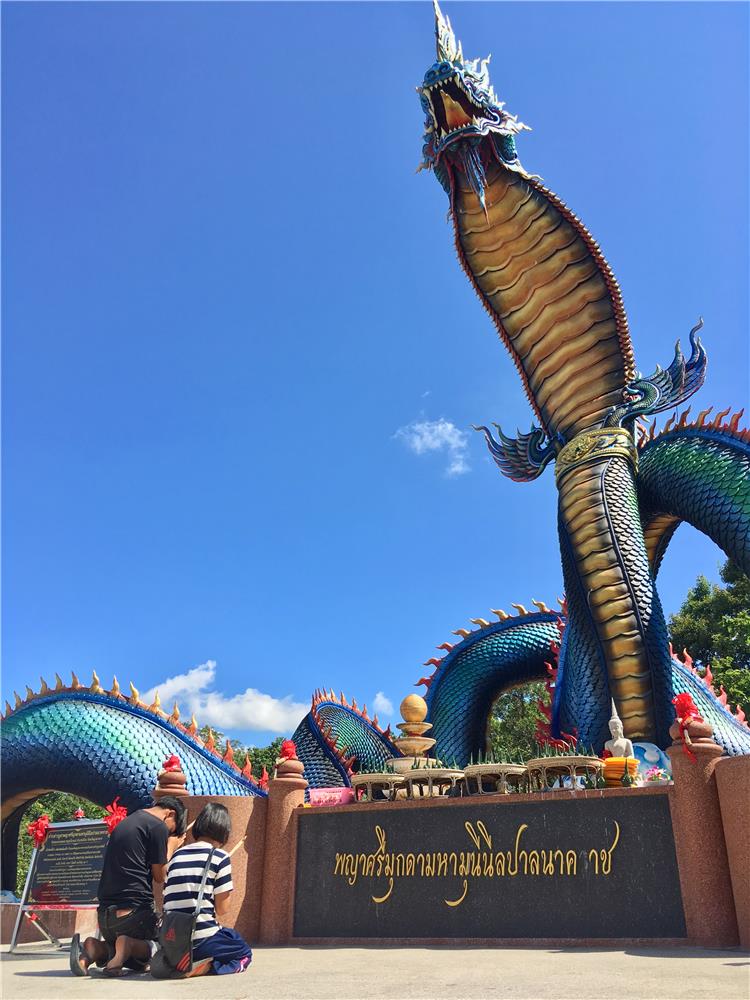 This statue, formally called Ong Phraya Sri Mukda Mahamuneenin Palnakkarat, is 122 meters long, 20 meters high from the tip of the head, and 1.5 meters wide. The statue was recently finished and as a result, its paint and overall condition is really clean, offering up the chance for some excellent photos. (Although I came in the late afternoon, coming in the morning would be best if you want optimal light for photos of the Naga)
Going back the way you came, you can continue on to the upper observation deck where the giant Buddha sits.
At the time of writing, these bottom levels were not yet finished, however you could still 100% walk up the stairs all the way to the top deck freely.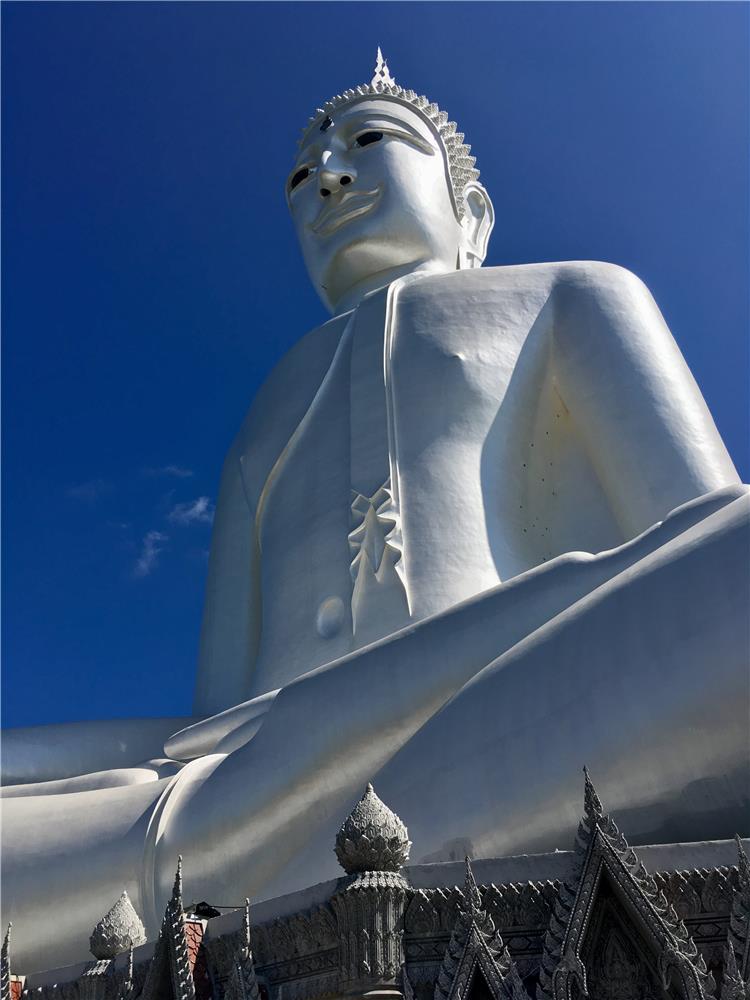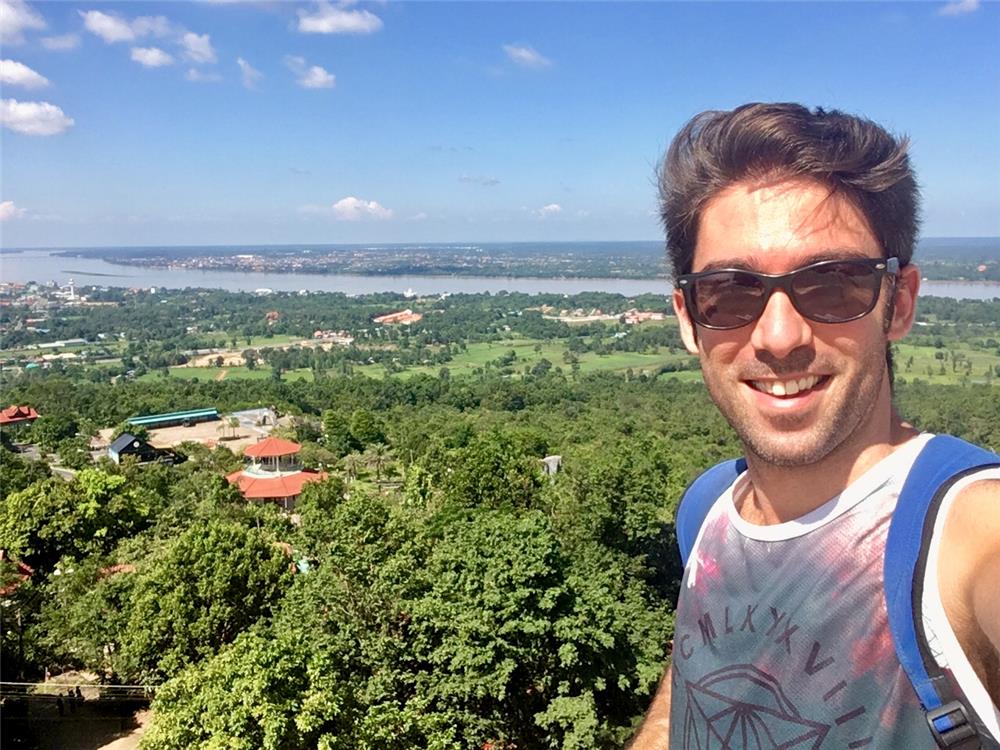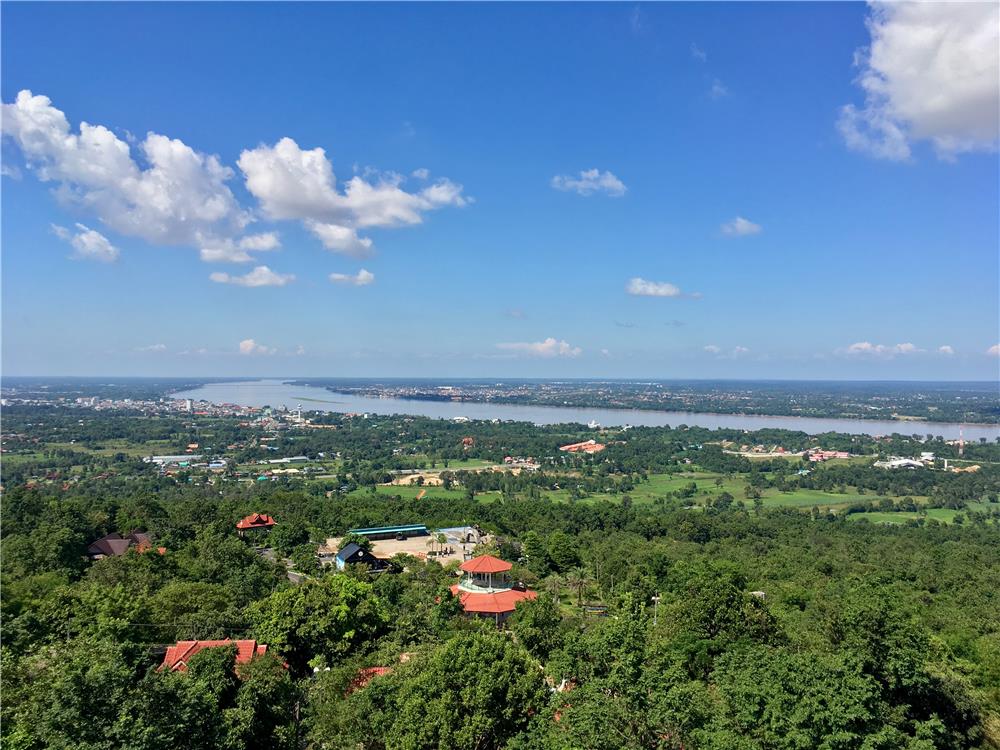 As you can see, the view from up here is fantastic. Fortunately I had a bright, clear day, making the Mekong and Laos on the other side very easily visible. Wat Phu Manorom is located about 5 kilometers from the city center, and can be reached by bicycle, rented motorbike, or tuk-tuk (expect to pay 200-300 baht round trip).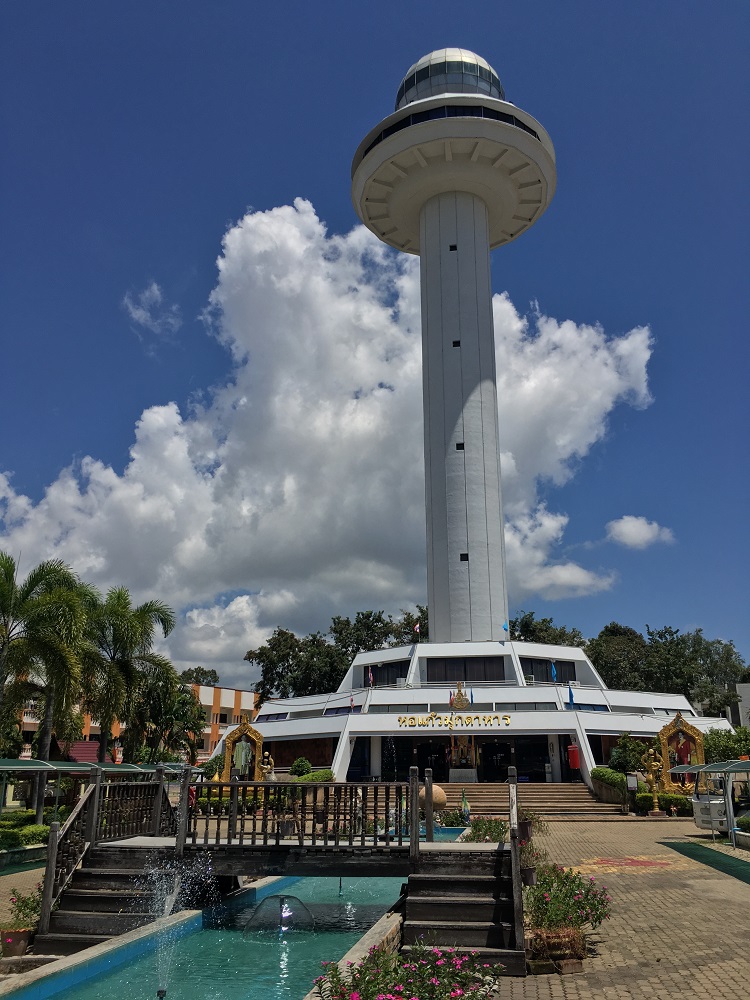 This was an interesting yet very quirky attraction in Mukdahan city. Outside of the tower is a fairly well kept garden with various animal statues and long fountain leading to the entrance. The tower itself is 6 floors (all air conditioned) with each floor offering historical information about Mukdahan's past. Entrance past the 1st floor is 50 baht and allows you to go all the way up to the top floor observation deck.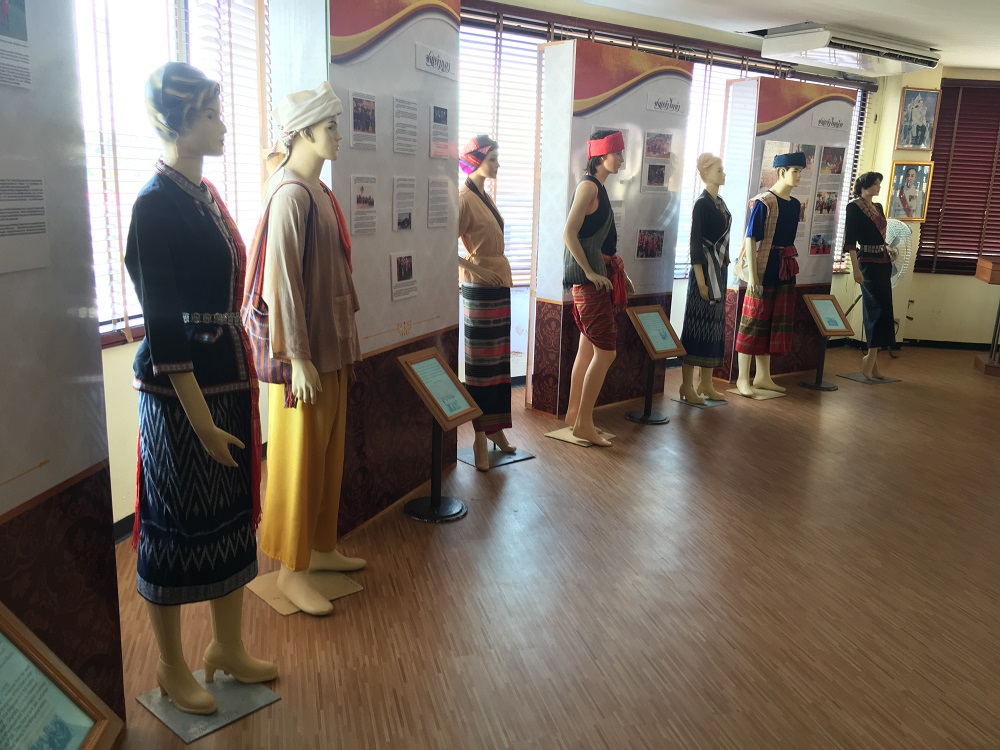 The view at the top is semi-obstructed and I found the view at Wat Phu Manorom to be 100 times better. Nonetheless, I enjoyed learning about Mukdahan's history, especially this floor explaining the dress of different tribes spread across the province in the past.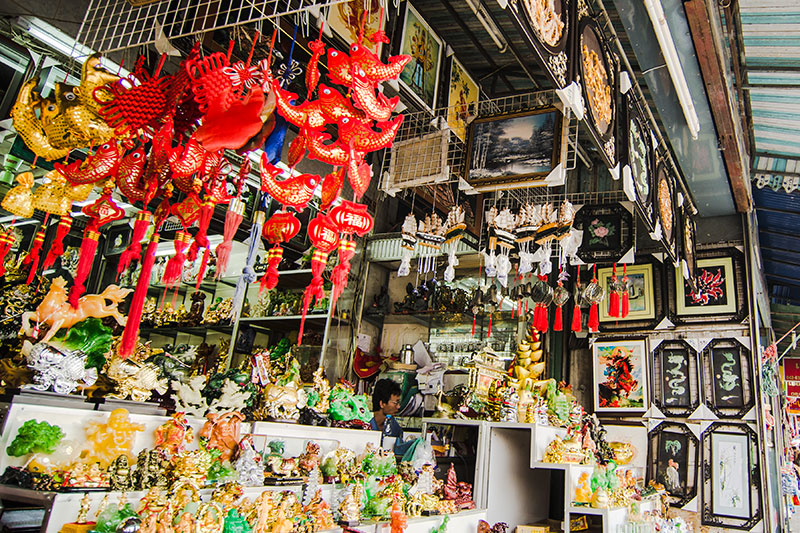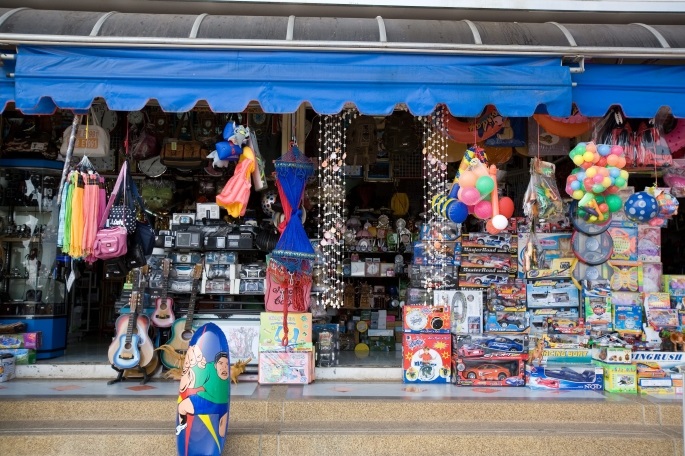 Full of handicrafts, statues, figurines, various clothing, every kind of toy you could imagine, as well as hardware, musical instruments, umbrellas, clocks, hammocks, and everything else under the sun, the Indochina Market next to the riverside is certainly a spectacle for the senses. Although it's unlikely you'll actually find something you truly want to buy, it's definitely worth the view and shots for an avid photographer. The market is an easy walk from the city center and there are several small restaurants / coffee shops along the river to fill your stomach and take in the view.
Where to Stay in Mukdahan
At about 400 baht per night, Hotel Supree Mumsabai (also known as "Supree Apartment") was an absolute steal. As you have read already, it's near to some awesome restaurants and within easy reach of anything in the city, should you rent a bicycle or motorbike.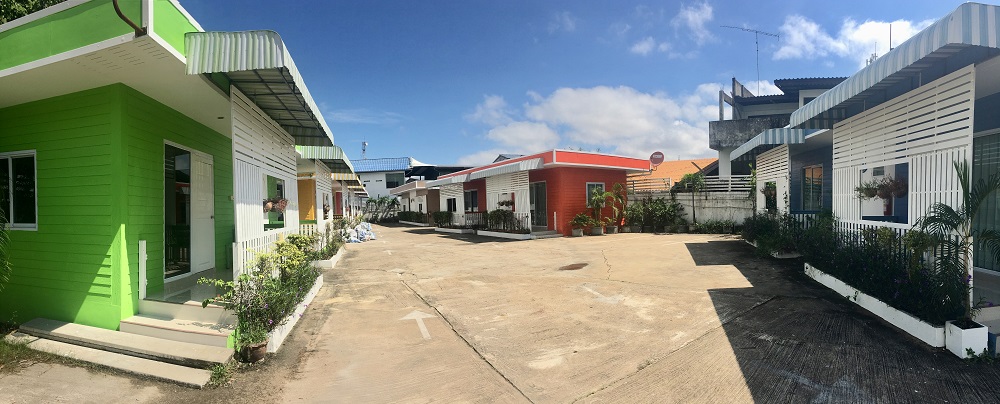 Each individual color-coded building houses 2 separate apartments, complete will a large full-size bed, work table, chair, TV, small fridge, small wardrobe, large mirror, extra table space, air-con, towels, and private bathroom. They'll also give you 2 free bottles of water daily, though you need to go and ask for them at reception. There are also coin-operated laundry machines next to reception for 20 and 30 baht, and a reverse-osmosis water machine (~1 baht per liter of clean water!) just around the corner. (Finding these machines throughout your travels in Thailand will save you a TON of money long-term on drinkable water!)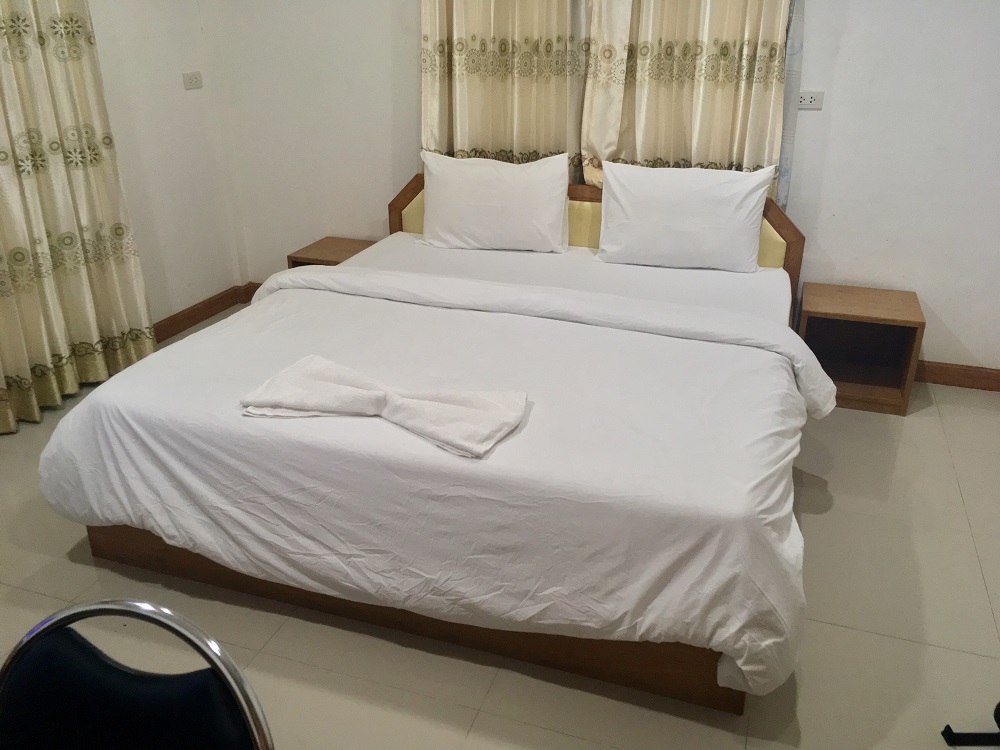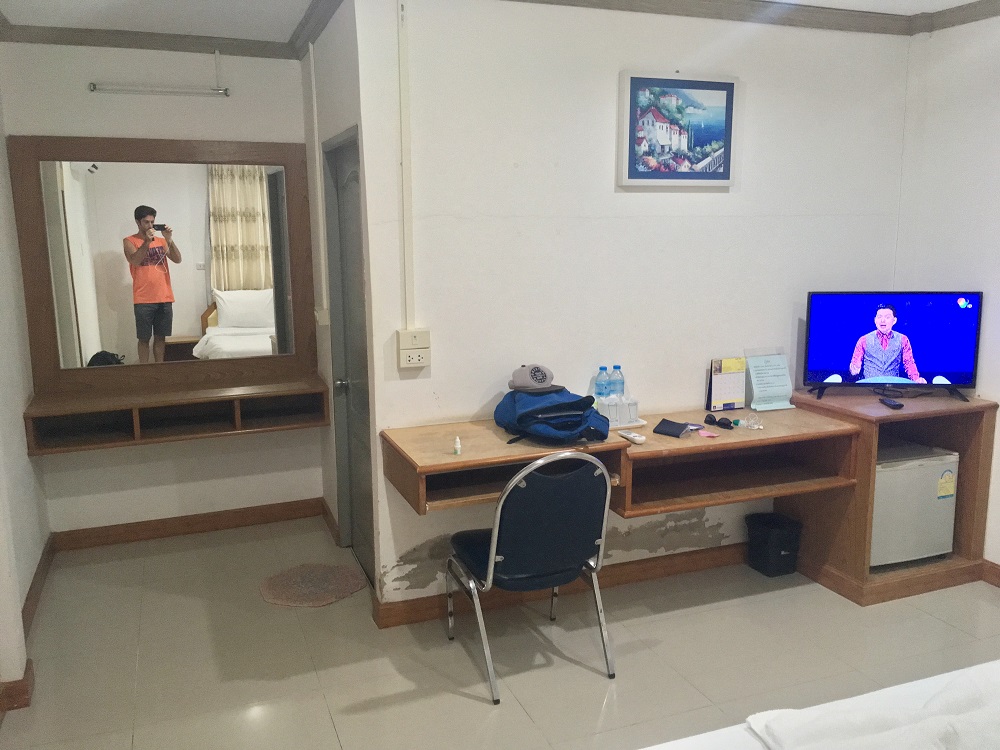 As I had a ton of classes to teach while I was here, this room suited my needs perfectly. Normally in hotel rooms I automatically just use my iPhone as a 4G hotspot, however the wifi here was very strong and stable and I ended up using it during my entire stay. The one downside to this place is that it can a tad bit loud from time to time, as other guests are free to park their cars/motorbikes right next to their rooms. Other than that, I 100% recommend staying here!
Other Tips for Your Visit to Mukdahan
For exercise, Mukdahan has a well-maintained running track inside their main city stadium (although I believe the soccer field is off-limits and only can be used with permission). I went there several days during my stay and found the track in great condition.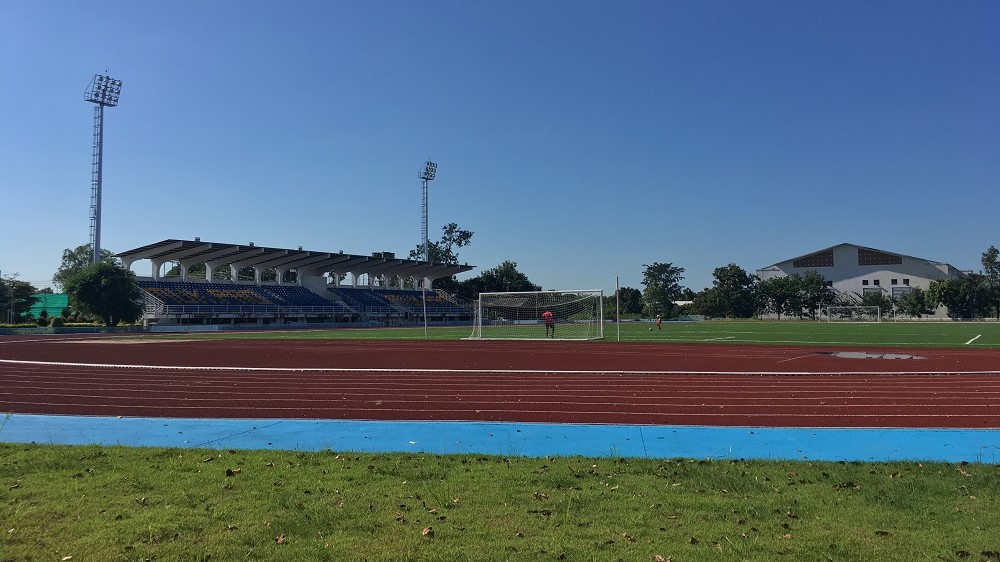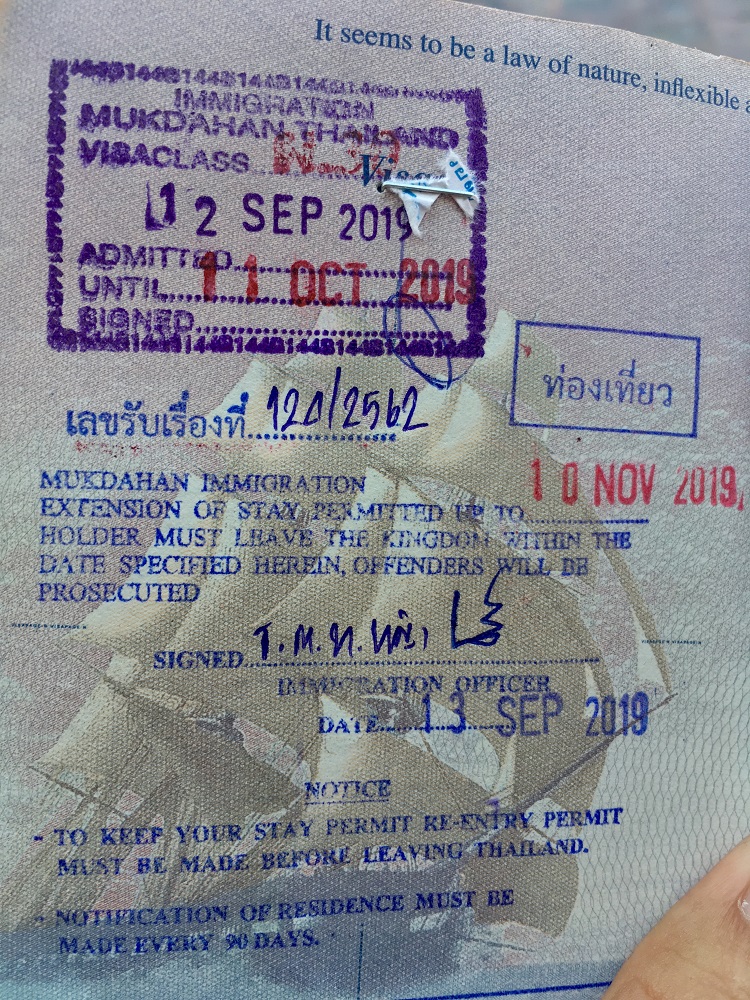 As Mukdahan Immigration is relatively uncrowded and overall fairly friendly (at the time of writing), I highly recommend this border crossing. The Mukdahan Immigration Office is also very close to the border, should you need to immediately extend your entry stamp for 30 extra days. However, you will need to make a copy of the passport page containing the purple 30-day stamp you see above, as well as a copy of your departure card and your main passport ID page, and you also need one 4×6 cm photo. I did not immediately extend my 30-day stamp so I am not sure if there is somewhere to immediately make copies just inside the border. There is a small border market with a few coffee shops and other stalls directly to the right of the road upon entering Thailand, so it'd be worth a look there if you do want to immediately extend your 30-day stamp before going into Mukdahan city (it is about 6 kilometers away).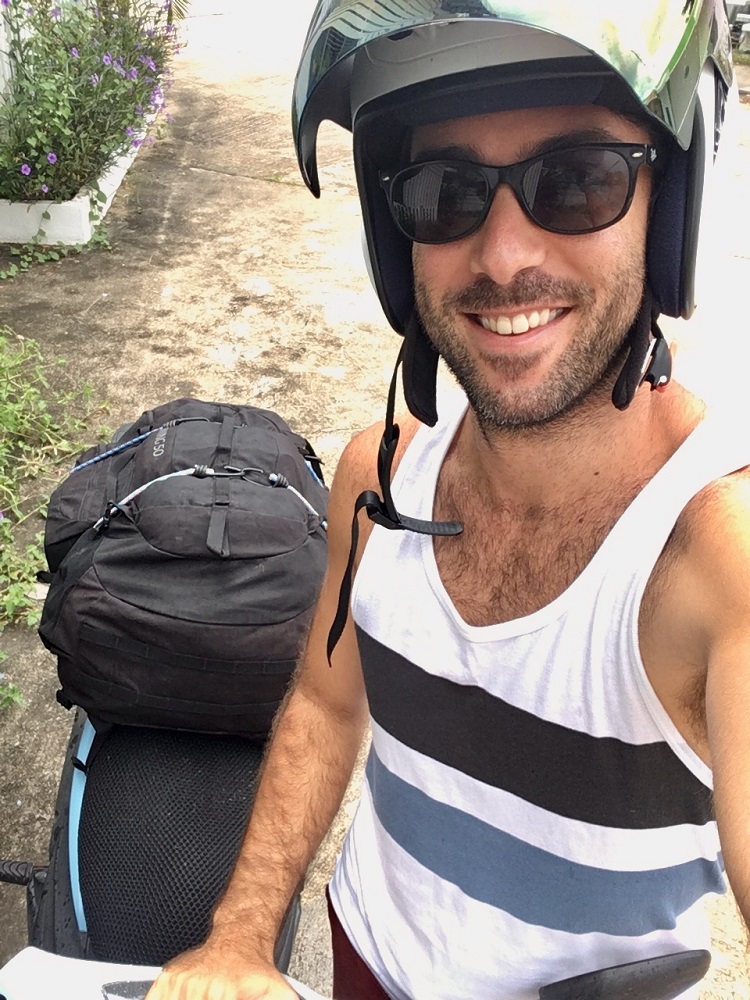 Overall, I greatly enjoyed my stay in Mukdahan and I hope you will too. For me, it was the jumping off point to my nearly 6-week long motorbike journey that took me from Mukdahan to Ubon, Sisaket, Surin, Buriram, Sa Kaeo, Chanthaburi, and finally Koh Chang. Have a great journey, and please drop any questions you have in the comments below!
---
Heading to Savannakhet? Check out my Savannakhet city guide, and if you are wanting to get a Thai visa at the consulate there, my very recently-updated guide on applying for your visa.