Phuket in Southern Thailand is home to some seriously beautiful beaches, stunning viewpoints, and awesome off-the-beach snorkeling. However, in the event of a monsoon downpour (which pretty much dominates the region from May – December), what else is there to do in wet Phuket weather? Aside from the more cliche answers of massage and a movie, there's actually quite a bit!
Headed north eventually? Take a look at 7 awesome things to do in Chiang Mai, from The Wandering Wheatleys. You can also check out where to stay in Bangkok, courtesy of Travelling King. Headed to the Gulf of Thailand instead? Have a look at the 20 best things to do in Koh Samui, courtesy of Travel Moments.
Trick Eye Museum – Phuket Town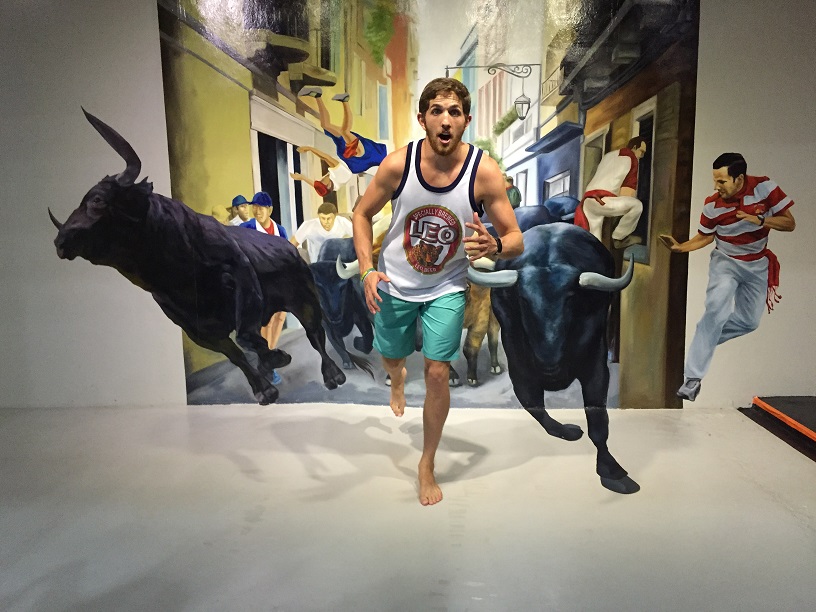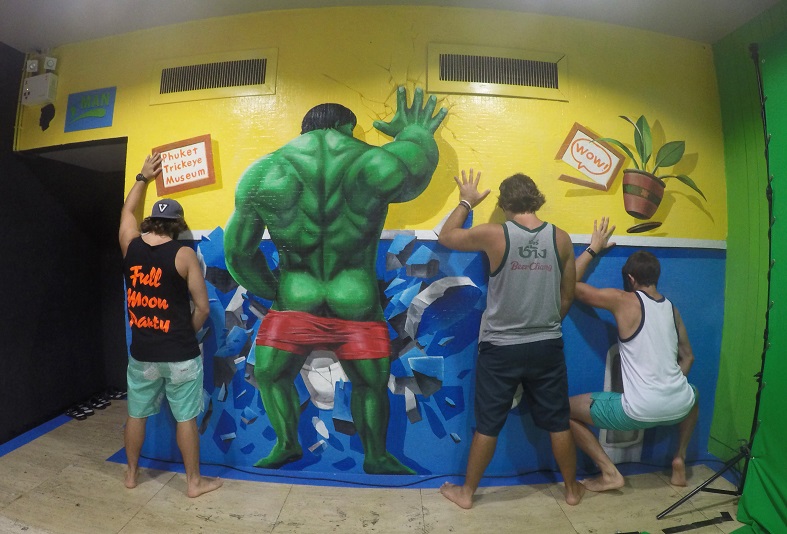 More of a photographer's fun house than a museum, Trickeye has really put together a local work of art. Wall upon wall are the craziest, most mind-bending murals that if taken just right, really come out looking like the real deal. For those wanting to get the perfect shot, you can literally spend hours here. There are also guides every few steps that are more than happy to help you get the correct angle and pose for every photo!
Admission for as long as you want to stay is a little steep at 500 baht per adult (300 baht per child), but for those that are really into photography or simply want cool photos for a lifetime, it really is totally worth it.
The Trickeye Museum is located in Phuket Town and is open 10:00am – 7:00pm daily. I would advise entering by 6:00pm as they kindly remind you at the door that they will close by 7:00pm. You can find their Facebook page here.
If you are looking for a hostel, I have stayed at Doolay Hostel and can highly recommend it. It's fairly new, right across the street from Karon Beach, and is one of the highest rated hostels in Phuket – and only about $6 a night!
Other awesome hostels I can recommend in different areas around Phuket are TP Hostel (Kata Beach), Patong Backpackers Hostel (Patong Beach), and Phuket Backpackers Hostel (Phuket Town).
If hostels aren't your thing, you can check out all other hotels here. I'd recommend a hotel somewhere in Karon Beach. It's centrally located in terms of beach areas and the beach there is several kilometers long and not very crowded.
Chalong Bay Rum Distillery – East Chalong
All photos taken by Katty, one of my very closest friends in Phuket! Check out more of her spectacular travel photos on her Instagram kattyjustdance
Even in a raging monsoon, Chalong Bay Rum Distillery will have your sobriety well taken care of.  Serving up the finest classic, passion fruit, and sweet basil mojitos Phuket has to offer, Chalong Bay is easily one of the best places to spend a rainy day. In addition to drinks, they also have an incredibly delectable menu of nibblers, appetizers, and other sweet treats. A game of Jenga is on offer as well! You can see above that our game in particular got pretty heated.
In addition to the bar area, they also offer a really informative 25 minute guided tour of the facilities for 300 baht with any mojito of your choice included. What I found to be really unique was that they produce their rum from 100% pure sugarcane juice – only 5-10% of the rums worldwide are made this way!
Chalong Bay is open 11:00am-10:00pm Monday – Saturday, and tours are offered between 2:00pm and 5:00pm. They also offer Cocktail Workshops, though they must be booked at least 2 days in advance. Bottles in the .3 and .7 L size are also available for purchase.
Hunker down from poor Phuket weather with a mojito in hand at Chalong Bay! For further information, you can visit their Facebook page here.
Ban Teelanka (The Upside Down House)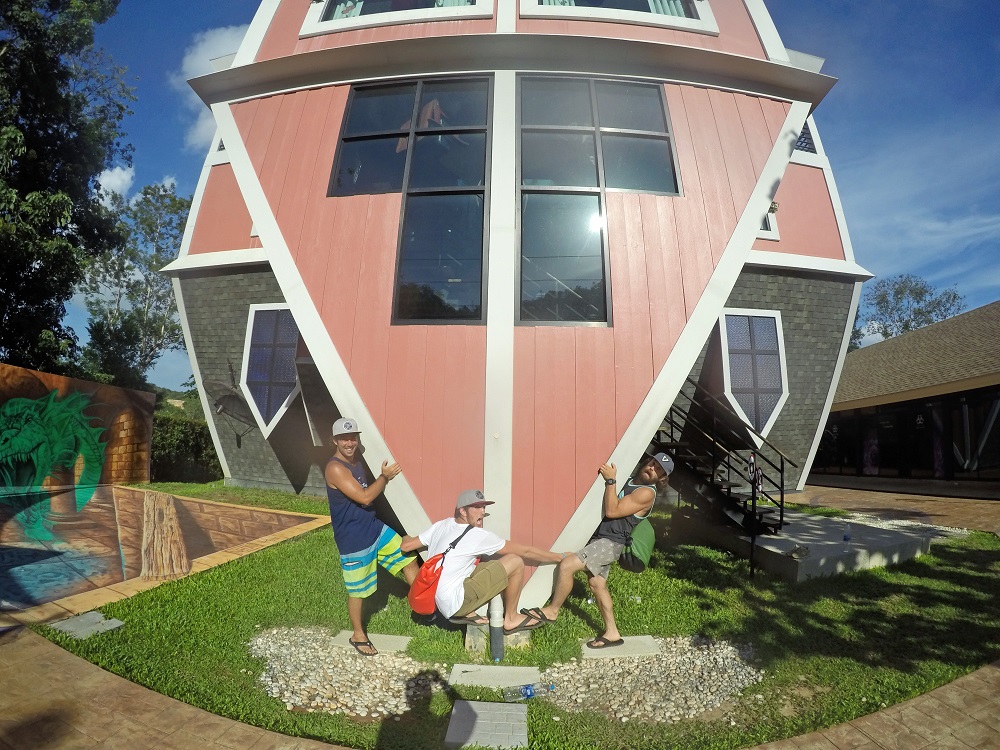 Another mecca of epic photo-making proportions, the Upside Down House is a totally eclectic spot for the amateur and professional photographer alike. As you can see from the outside, the entire house really is built upside down, with three separate floors.
You'll climb "up" through the attic first, bringing you to the main floor, which features a bedroom, living room, children's bedroom, small office, kitchen, and a bathroom. The next floor at the "top" is the ground floor! A full size replica tuk-tuk and other outdoor items are strewn about all over the roof… I mean, ground. Haha!
Behind the house is also a 1,000 square meter garden maze. Although from above it doesn't look all that difficult, it did indeed prove to be tougher on the inside!
Admission to the Upside Down House is 350 baht per adult (150 per child) and entrance to the maze is 170 baht per adult (120 per child), though they also offer a package deal for both at 460 baht per adult and 250 baht per child. Opening hours are from 10:00am – 6:00pm daily.
For more information, visit their website here.
50 Fly Trampoline Park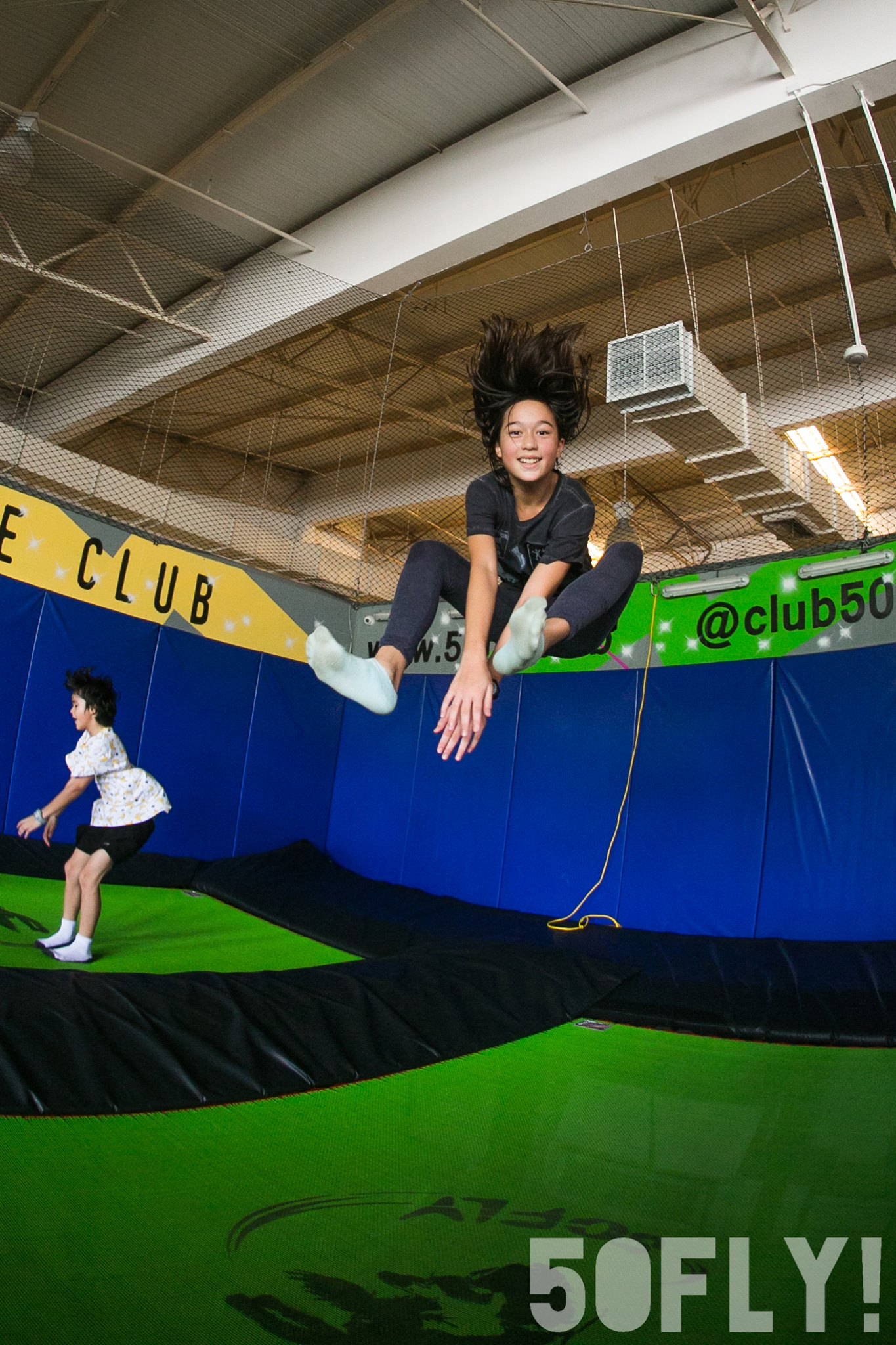 50 Fly Club is a brand new, indoor trampoline park located in Big C just down the street from Central Festival mall. They have several different styles of trampolines as well as a big foam pit. If you have a large enough group, or if there are enough people in the park,  trampoline dodgeball is also an option!
1 hour access to the park will only run you 350 baht (about $10 USD) per person, plus 60 baht for socks (about $1.75 USD). You can check out their Facebook for more awesome photos or their official website for more information about admission.
Thai Cooking Course – the Perfect Phuket Weather Remedy
If you've come all the way to Thailand, I assume chances are quite good that you enjoy Thai food. Learning the art of Thai cooking and bringing this knowledge back to your own kitchen is a gift that will truly keep on giving.
Located in Kata Beach, this smaller school offers a very intimate experience and is open for normal classes every day but Sunday, and offers 2 courses per day: Lunch Class from 10:30am – 1:30pm and a Dinner Class from 3:30pm – 7:30pm. Lunch classes are 2000 baht per person and dinner classes are 2300 baht per person, as they are 1 hour longer and include a market tour!
For further details about course dishes and other offerings, visit Kata Thai Cooking's website here.
As you can see, letting less-than-ideal Phuket weather ruin your stay is just silly! Maximize your time inside and enjoy!
Sunshine coming on the forecast? Check out my other related article about some awesome, totally free snorkeling you can do right in Phuket. 
VD's Hostel Recommendations for Phuket
Trouble viewing on mobile? Turn your phone to the side 😉
| | |
| --- | --- |
| | |
| View this post on Instagram | View this post on Instagram |
If hostels aren't your thing, you can check out all other hotels here. I'd recommend a hotel somewhere in Karon Beach. It's centrally located in terms of beach areas and the beach there is several kilometers long and not very crowded.
---
On Pinterest? Check me out below! I'd greatly appreciate a re-pin 🙂