June 2021 Update: Hello again to all returning Vagabond Disposition followers and welcome to you if you are a new reader here! As traveling has been well near impossible for the last year, things here have been pretty quiet! As covid finally starts to dwindle down and folks begin traveling to Thailand again, I am 100% in need of some updated accounts of your experience at the Hong Kong Thai Embassy. I imagine conditions at the embassy may have changed and perhaps in a bid to boost tourism in Thailand, the requirements may not be as strict and the officers may perhaps be a little more pleasant than you all have reported in the last few years! 😅 With that being said, please do continue to comment below about your experience in getting your Thai tourist visa or any other type of visa to keep us all updated. Thanks very much for all of your input and support over the years, I really appreciate it!
May 2019 Update: I am in need of some updated accounts from readers about their success (or lack of success!) getting their visas. Please comment below with your nationality and how your overall experience was. Thanks!
April 2018 Update: After 3 consecutive in-and-out border runs in Thailand, I went to the Hong Kong Thai Consulate to apply for a proper 60 day Tourist Visa – and was interrogated heavily. I was asked what I was doing in Thailand for so long (I work online), and was asked to show a bank statement, or they would not process my visa application. It seems Thai immigration is getting tougher these days for those of us doing non-stop tourist visas. However, for those of you applying for your first or second Tourist Visa, your Non-B (work visa) or Non-O (marriage or retirement visa), you should still have no problem applying in Hong Kong and I continue to recommend it.
How to Get a Thai Tourist Visa in Hong Kong
If you are in Hong Kong ahead of traveling to Thailand, or you're a long-term expat looking for an alternative visa run location, I (still!) recommend applying for your 60 day tourist visa in Hong Kong. I have done the Penang, Kuala Lumpur, Savannakhet, and Vientiane visa runs several times and the Hong Kong Consulate has been the quickest, most convenient, and least crowded location of them all (though the crowd part has changed in recent years!). Although the flight may be slightly more expensive, if you have exhausted the prior three locations, make a mini vacation out of it and head to Hong Kong!
The Thai Consulate in Hong Kong is located at the Fairmont House on Hong Kong Island. They are open weekdays from 9:30am – 12:30pm and the current tourist visa fee is 300 HK dollars. Before deciding on this consulate, be 100% sure that they are not closed due to a Thai or Hong Kong public holiday and check the consulate's holidays for 2021.
Documents Required for 60-Day Thai Tourist Visa
1.5 x 2 inch passport photo
1 totally completed visa application form (available in the lobby of the consulate)
1 copy of your passport (black and white is fine), signed at the bottom of the page in

BLUE

ink
1 copy of your Hong Kong entry slip from airport immigration (you'll get this when entering Hong Kong at the airport), signed at the bottom in

BLUE

ink. (I don't know why but ALL official docs in Thailand / Thai embassies are super anal about this. Bring a blue pen!) 

December 2019 Update: Several readers have told me the consulate has changed this policy and they don't care if you use black or blue ink! 

Depending on the officer you get (or your country of citizenship), a copy of your flight itinerary in/out of Thailand may be requested, as well as a copy of your hotel accommodation for your first port of call, and even your most recent bank statement. 

June 2021 Update: Several readers have commented that they HAVE been requested to provide 1. Round trip flight ticket 2. Bank statement (I am assuming from the last 3-6 months, I would print 6 months worth to be safe) and 3. Proof of accommodation for the first hotel you will stay at. I would HIGHLY recommend bringing ALL 3 of these, just to be safe!
Need to book a room for Hong Kong? I highly recommend Pacific Guesthouse or Good Fortune Inn. Both hotels are among the cheapest and highest-rated in all of Hong Kong, and also just across the bay from the Thai Consulate.
To start with, you'll need to take the MTR to the Admiralty station on Hong Kong island.
Take Exit B. It is the absolute closest exit regardless of what any subway attendant might tell you. Walk up the stairs and immediately turn left. In a few meters you'll see as in the photo above these steps which lead to the main entrance of the Lippo Centre Shopping Mall. Go to the far right entrance and walk through the doors.
You'll immediately see this escalator straight ahead and the copy shop on your right. The copy shop is super convenient if you still need to make copies of your passport or other supporting documents for your visa. If not, proceed straight up the escalator and immediately turn to your right.
You will see a 7-11 (have received news from readers that this is closed now) glass double doors and a Pacific Coffee shop directly ahead of you. Walk through the doors and follow the footpath until you see this coffee/gelato shop (this is now a Circle K mini-mart) and turn left.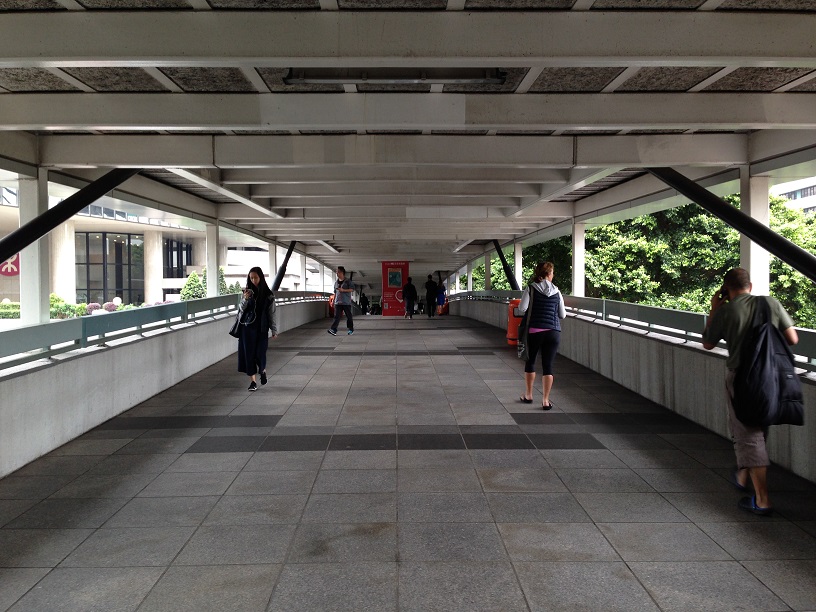 Cross this walking bridge and turn left at the end to reach the Fairmont House.
Walk inside and you will see the main directory of the building. The Thai Consulate is on Floor 8F. The elevator you'll need to take is on the left side.
Once inside, visit the receptionist and take a number on the inside of the main room on your left.
I arrived at about 10:30 on a Thursday morning. There was only 1 other person applying for a tourist visa and I was called up within 3 minutes! After paying, I was given my receipt and all was done. I spent an entire 5 minutes at the consulate. The next day, Friday, was no different. I was in and out in less than 5 minutes. For those who have done visa runs elsewhere, I'm sure you can relate to my utter disbelief!
To conclude, if you want a totally painless Thai tourist visa, Hong Kong is the place to rest easy!
ONE LAST REMINDER!! Before deciding on this consulate, be 100% sure that they are not closed due to a Thai or Hong Kong public holiday and check the consulate's holidays for 2021.
---
VD's Hotel / Hostel Recommendations for Hong Kong
I've already done the dirty work of scouring Agoda for you and these spots have the best overall combination of rating / location / low price in the city.
Hotels
Hostels
Trouble viewing on mobile? Turn your phone to the side 😉
Check out all other hotels in Hong Kong here.
Heading to Thailand right after you get your visa? Check out all my articles about the Land of Smiles for some great tips and recommendations 🙂
Exploring Southeast Asia beyond Thailand? Check out fellow travel blogger A Mary Road and her incredibly extensive guide to Southeast Asia!
---
I religiously use my Chase Sapphire Preferred Card when traveling and I 100% endorse it for those who want to get into the frequent-flier-miles-game. You can get 80,000 miles after using the card for 3 months and spending $4000 on it. That's enough miles for 1-2 round trip tickets in the US or a 1 way international ticket. I recently used only 40,000 miles to fly 1 way from Orlando – Frankfurt – Bangkok – Phuket, and only paid airport fees! There's also no foreign transaction fees whatsoever so you can use it anywhere abroad. ($95 fee per year, though that can be paid using 9,500 points!). Check out more about the card here.

---
On Pinterest? Check me out below! I'd greatly appreciate a re-pin 🙂