For most travelers, Savannakhet is merely a pit-stop location to apply for a Thai tourist visa, as it is easily accessible just across the border from Thailand. Even though the further away Laotian destinations of Vientiane and Luang Prabang are far more picturesque and busy, Savannakhet does have a very old-school, off the beaten path charm to it with a few hidden gems (mostly food gems).
Getting Around Savannakhet
If you've taken the Thai-Lao "International" bus, then you can easily connect to your guesthouse by tuk-tuk, or even walk if it is close enough. Savannakhet has no shortage of tuk-tuk drivers and you will never wait long for a ride. As there are so many, you would think drivers to be very competitive, however I found just about every driver I had very tricky to haggle with. Expect to pay 20,000 kip minimum for any distance, unless you call a tuk-tuk from your guesthouse. From Joli Guesthouse, I was able to get 15,000 kip at least 1-way to the Thai Consulate. For further distances, such as to the Lao-Thai border, expect to pay at least 30,000 kip. Some drivers also will ask for baht, though this will always work out in their favor due to the exchange rate, so I highly recommend against using baht.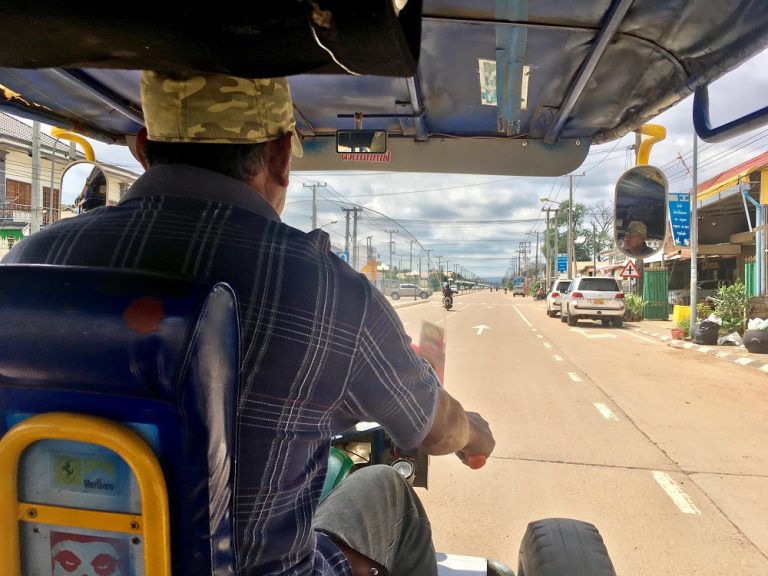 Another big tip for tuk-tuks is to break big bills (the 50,000 and 20,000s) whenever you can, and keep your 10,000s, 5000s, 2000s, and 1000s separately for your tuk-tuk rides. Drivers notoriously never have change, thus causing you to have no other choice but to let them keep it! Aside from tuk-tuks, walking is definitely doable as long as you stay in an area with good food options nearby as well as a 7 mini-mart. (Location-wise, I found Joli to be prime in this regard). You can also find bicycles for rent, through some guesthouses as well as from Lisa's Cafe, just a short walk from Joli.
Food in Savannakhet
I found the food in Savannakhet to be the main highlight of my time there. Within short walking distance of Joli Guesthouse are these absolutely delicious restaurants and road-side stalls.
Found only at Mae Buom Ban in Savannakhet, this absolutely delicious delicacy is called a "Pate" and is a signature food of Laos. The Pate is wrapped in a sweet potato baguette (or one of the other 3 bread options you can see above) and filled with pate, pork butt, cheese, cilantro, cucumbers, and sweet chili sauce. But what is "pate," you ask? Well, let's just say I'm glad the owner simply told me it was a 'pork sandwich' (and not pork liver) or else I would have totally missed out on this mouth-watering treat.
The owner is a younger guy who speaks fluent English and is very passionate about his shop, which has been in his family since 1993. He bakes each type of bread fresh, daily, and creates different bread combinations throughout the year. The pate I ate regularly was only 10,000 kip (about $1 USD!) and very filling. This is an absolute must-visit spot in Savannakhet!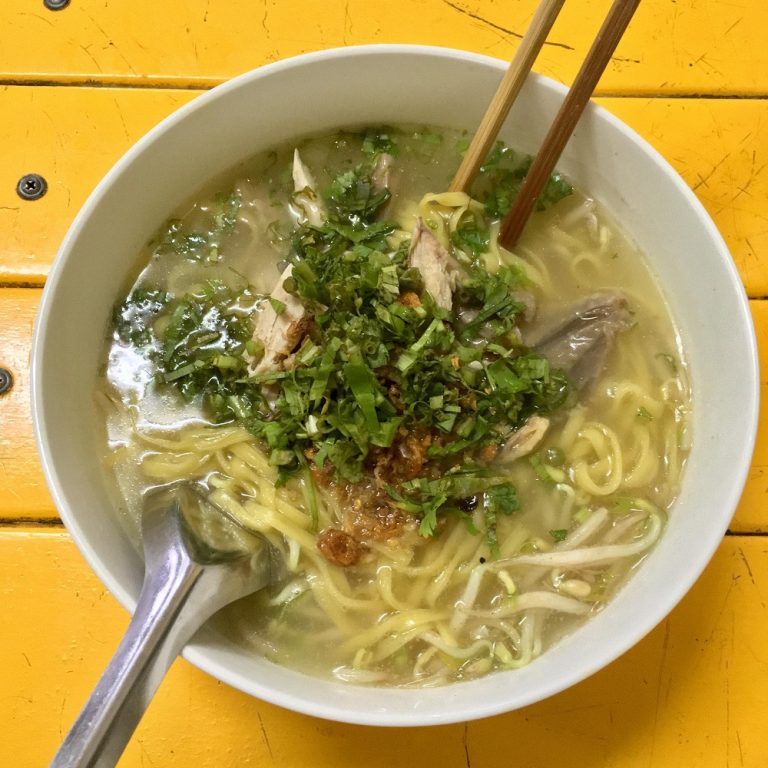 Khao Piak Noodle Soup quickly became my regular, nighttime dinner spot for good reason. Pictured above is a bowl of big, thick, egg noodles and chicken, served with cilantro and itty-bitty fried onions. With 15-20 different noodle/meat combinations, you'll be sure to find something you like here. Each bowl on the menu can be ordered to size as well: 15,000 kip for a small bowl, 20,000 for a medium bowl, and 25,000 for the large bowl, which you can see above. Although the staff was very shy, their menu is in Lao and English, so simple pointing is all that's required to order.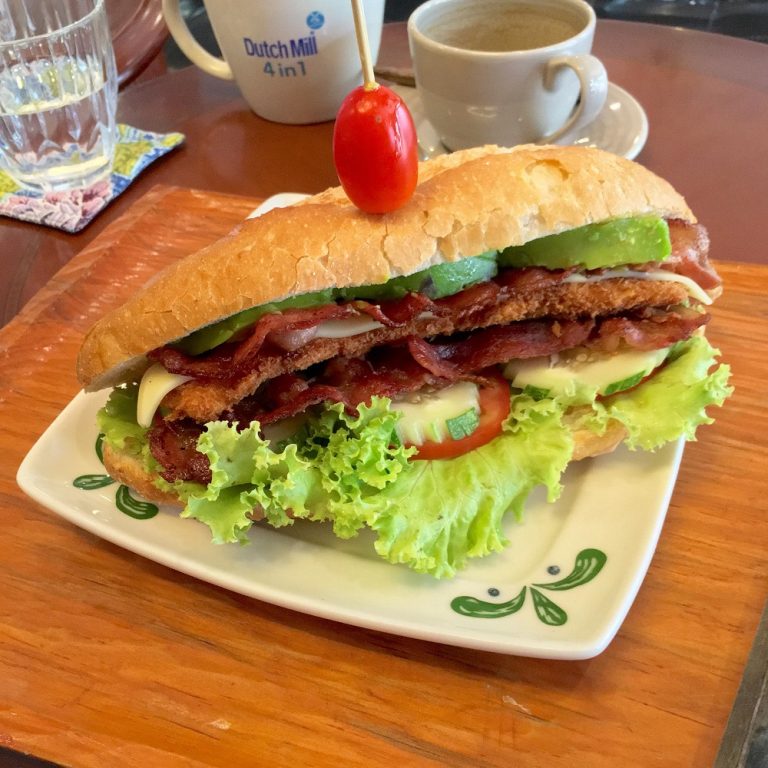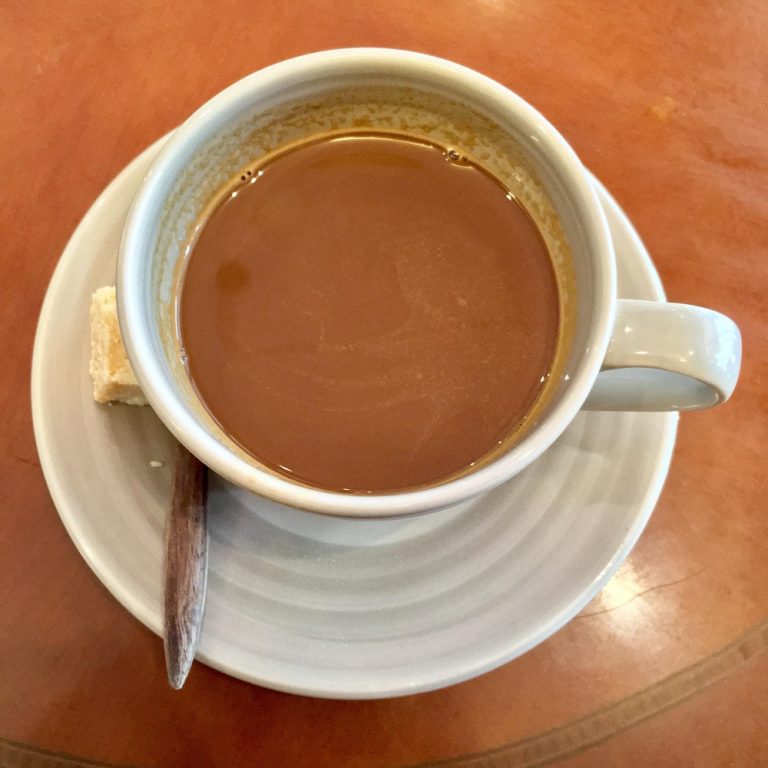 Lin's Cafe was another excellent spot for big baguette sandwiches. The monster white-bread baguette you can see above was made with chicken, bacon, avocado, lettuce, tomato, cucumbers and cheese and cost 35,000 kip. Lin's is also literally the only shop I found that serves real Lao-style coffee, for 23,000 kip. (Very surprisingly, although there are many 'cafes' around Savannakhet, most of them only serve instant-puke Nescafe!) The menu here has a ton of choice, between traditional Lao dishes as well as French delicacies and other western-style foods alike. Although the price tag here is a tad bit higher than your typical road-side food stall, you will surely find something you'll like at Lin's.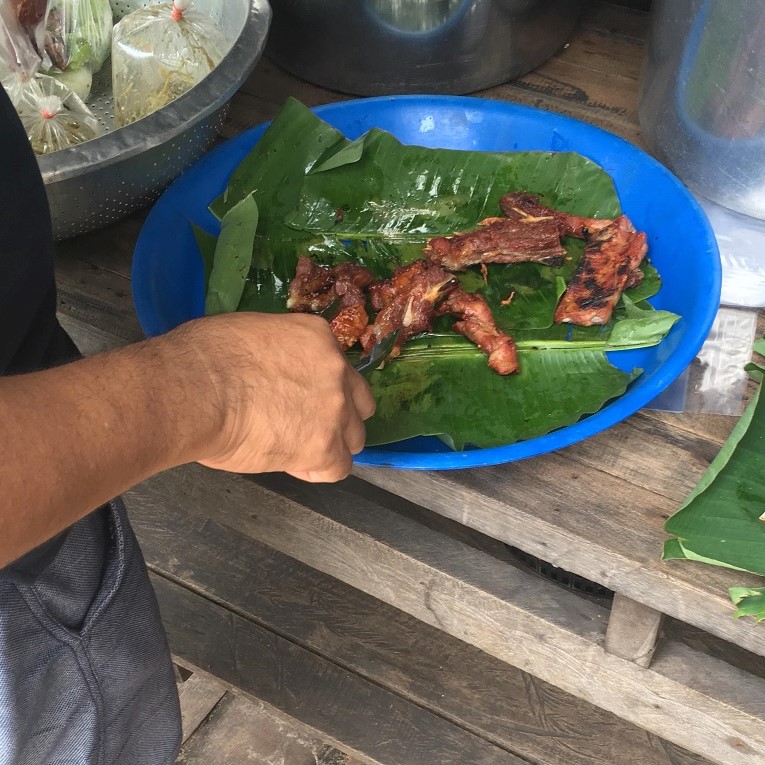 Other honorable mentions include Lisa's Cafe (Thai and western food, free wifi), Cafe Chez Boune (real coffee, cold aircon, free wifi), and this great little street-side BBQ pork ribs stall. You can simply pick out whatever pieces you want, and they will ask if you want a bag of sticky rice to go with it, which I'd highly recommend. I think I paid about 20,000 kip for 4 ribs and a huge hunk of sticky rice!
7 Mini-Mart & Target
For snacks, toiletries, bottled water, Beerlao, or liquor, the local 7 mini mart and Target stores have got you covered. They have literally everything that'd you'd find in a Thai 7-11, actually at a cheaper price as well.
Guesthouse Recommendation in Savannakhet
I stayed at Joli Guesthouse while I was here and overall, I can recommend it based on my needs. I teach English online and primarily needed a stable, strong wifi connection for the 4 nights I would be here. Having read on Agoda review after review raving about the wifi, I decided to book a room and I wasn't disappointed.
I was on the 2nd floor in a large, corner room, furthest away from the wifi router and the connection was still solid. I did 3 days worth of classes, between 4 and 5 hours per day, with very little interruptions. Unfortunately, on my last afternoon there, a nearby government loudspeaker suddenly started blasting Lao traditional music around 4:00pm, in between a man yapping on about what was likely a weekly communist party speech, although it only lasted til 4:30pm and then was done. Needless to say it left my poor young Chinese student very bewildered about what the hell was going on. It was a Wednesday so perhaps be prepared for that if you are here.
I booked their larger, air-con room for $14 per night (120,000 kip) and was happy with it overall. The aircon blew ice cold and there was adequate light for teaching. The bed is big but hard as a rock, however that's to be expected in any cheap guesthouse in Laos or Thailand.
The guesthouse offers a very modest free breakfast every morning from 7-10am, as well as 2 articles of clothing washed daily for free. They also have free drinking water, instant coffee and tea, and bananas available 24/7. They'll also call tuk-tuks for you to the consulate – for 15,000 kip, as the price should be! The staff overall was incredibly warm and friendly. There are also a lot of excellent food choices around Joli, as you have read above.
Keeping Safe in Savannakhet
Although Savannakhet may feel very wild-west, I felt it to be very safe overall. I never felt threatened by anyone and although being stared at may make you feel a little uneasy, as soon as you smile, you'll get an instant smile in return from most people (and maybe the occasional giggle). My main issue honestly (and please don't jump down my throat for this) were the amount of (unfriendly) stray dogs running around, especially at night. Most of the side streets off of the main road lack light and are fairly dark, which can spook the occasional pooch if they can't see you. My advice would be to turn on your phone light and simply point it at the ground as you walk, if you are coming from/going down a side street.
If you end up getting sick, I found Khambou Pharmacy to have the widest selection of medicine on the main road. Simply use Google Translate (in as little words possible) to describe your issue and one of the two friendly ladies working there should have something to help you. For more serious problems, Savannakhet Hospital is located on the far southern edge of town, next to the river. Fortunately I never had to make a trip there, however, based on Google reviews, it seems an older fellow broke his arm and gave the place 5 stars, so it can't be too bad of a hospital.
I wish you the best on your journey to Savannakhet! If this guide helped you in any way, or if you stumbled across somewhere worth mentioning that I didn't mention, please do feel free to comment below. I do truly feel Savannakhet is an up-and-coming location as immigration continues to become more regulated in Thailand and more folks cross the border to apply for their Thai visa.
---
I religiously use my Chase Sapphire Preferred Card when traveling and I 100% endorse it for those who want to get into the frequent-flier-miles-game. You can get 60,000 miles after using the card for 3 months and spending $4000 on it. That's enough miles for 1-2 round trip tickets in the US or a 1 way international ticket. I recently used only 40,000 miles to fly 1 way from Orlando – Frankfurt – Bangkok – Phuket, and only paid airport fees! There's also no foreign transaction fees whatsoever so you can use it anywhere abroad. ($95 fee per year, though that can be paid using 9,500 points!). Check out more about the card here.