Welcome to my favorite island in all the Philippines: Siquijor!
Siquijor Island ended up being not only my favorite island in the Philippines, but one of my favorite places ever in all of my travels! No trip to the Philippines is complete without a visit here. Plan for extra days and enjoy my favorite parts of Siquijor below!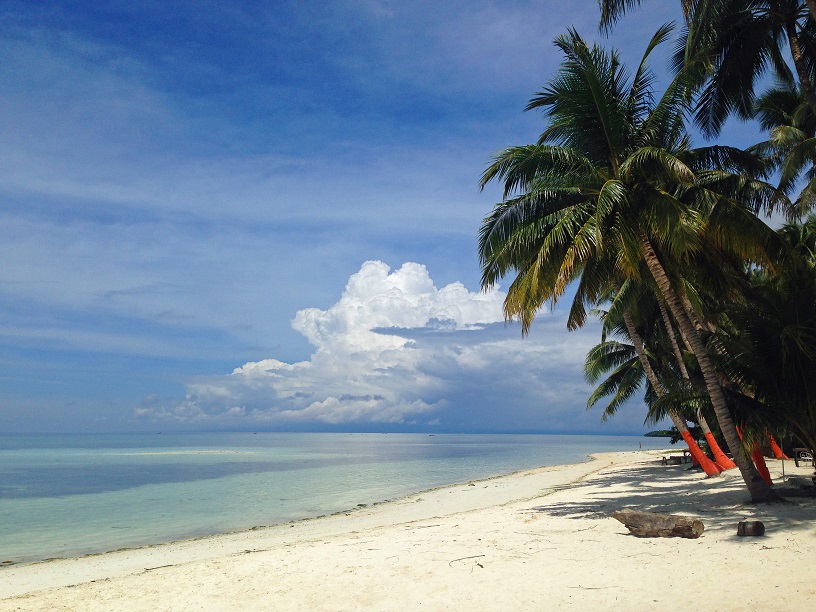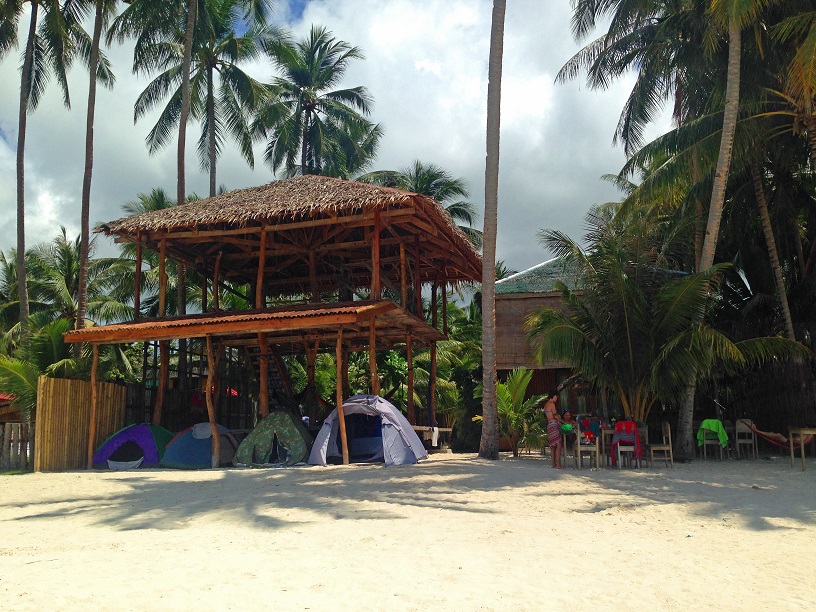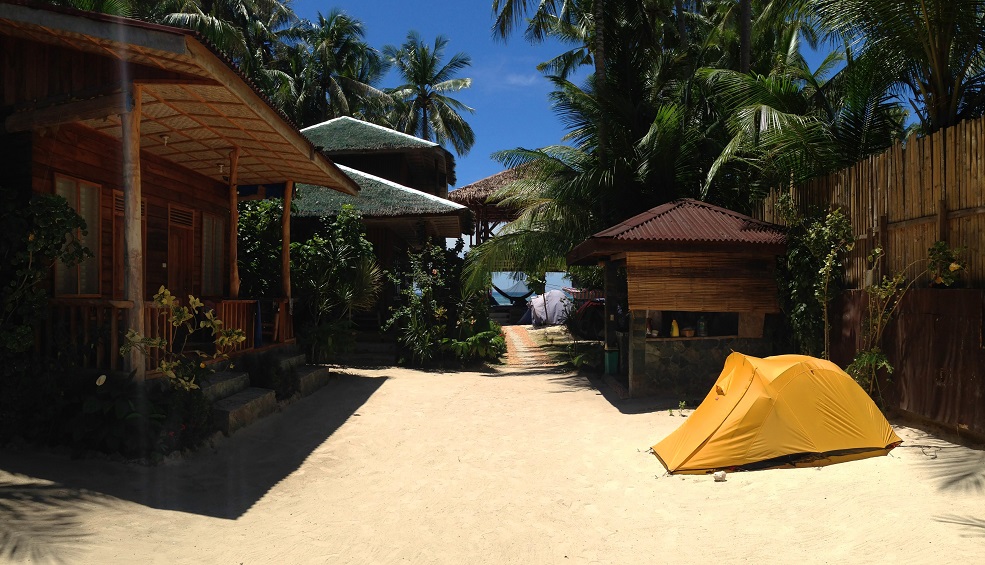 I list this first and foremost as a "thing to do" because staying at JJ's is an experience within itself! Staying and hanging out at JJ's in Siquijor was hands-down my favorite part of my travel in the Philippines. JJ's is right on what I truly believe is the best beach on the entire island – the photo above is proof of it!  I met an incredibly fun group of people that I simply clicked and hung out with for nearly two weeks. JJ's has dorms, a few private rooms as well as very basic bamboo huts around the outside, a few luxurious rooms, and as you can see from the photo – tents! JJ's was so fully booked when I was there that tents were being offered at 200 pesos per night (I'd highly recommend a good pair of earplugs if you go this route!). JJ's isn't on any booking website and they don't have their own website. They can only be booked ahead of time if you call (inside Philippines, +63 9186700310 / +63 9989704452) or e-mail them (jiesa26@yahoo.com). I would highly recommend calling ahead if possible. JJ's is FINALLY on Agoda and can be booked online! However, if you aren't able to get a bed or a room at first, you can stay at Charisma Beach Resort (they have dorms, and a pool!) and simply walk down to JJ's to hang out whenever you want. Regardless, get over to JJ's at some point and enjoy a beer with some friendly, laid-back company!
(JJs and Charisma Beach Resort both full? Check out other hotels around Siquijor. I highly recommend staying in the San Juan area! 😉 )
Go Snorkeling Right off the Beach
Right off the beach from JJ's, all the way to the small bridge north, is some incredible snorkeling. As the water is shallow for several hundred meters off the beach (which makes for a prime afternoon boozing spot), you'll need to swim out fairly far before the bottom drops off to about 5-6 meters. You'll know when you get to the right point! Down below is an absolute mecca of sea life. Massive mounds of coral house thousands of different fish, and hundreds of anemones are strewn all over the place, each with its own small tribe of Philippine clownfish. Starfish can also be found in shallower water, in several different colors! I was told there were sea turtles around as well, though I didn't manage to see any. Overall, this was a very impressive spot that I came back to explore three different times!
Note: This stretch of snorkeling off the shore from JJ's should only be attempted 1-2 hours before high tide. As there are tons of sea urchins in the water all the way to the shore, you need to be sure you have enough space to safely float over them on your way out, and on your way back in.
(P.S. I religiously use my GoPro Hero 5 for all my underwater filming and I highly recommend it. It's now much cheaper as the Hero 7 just came out!)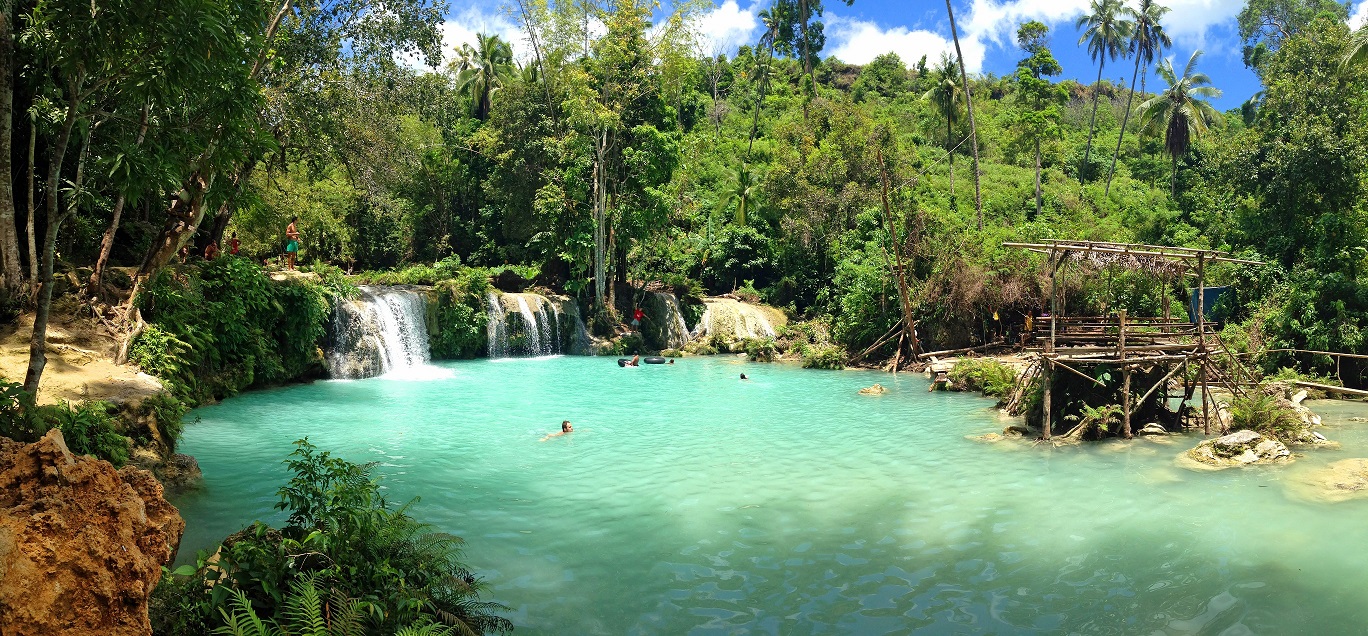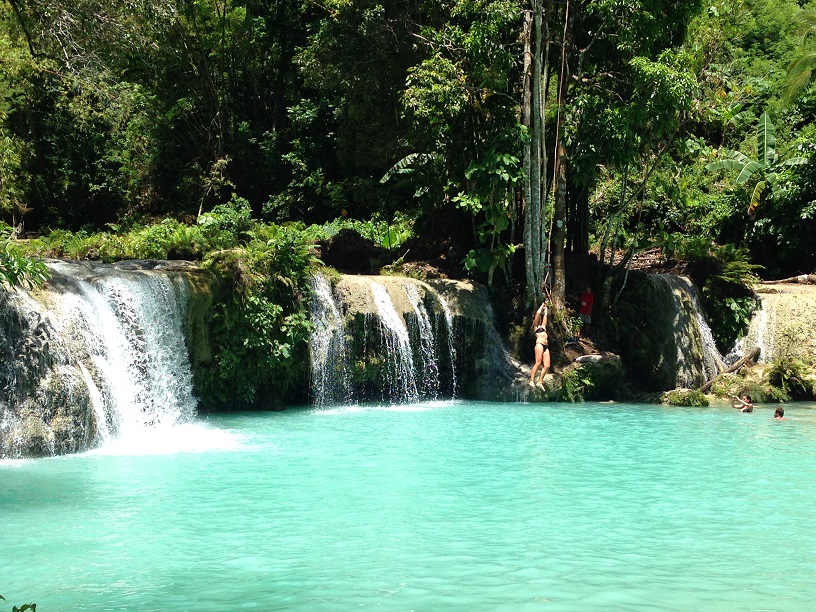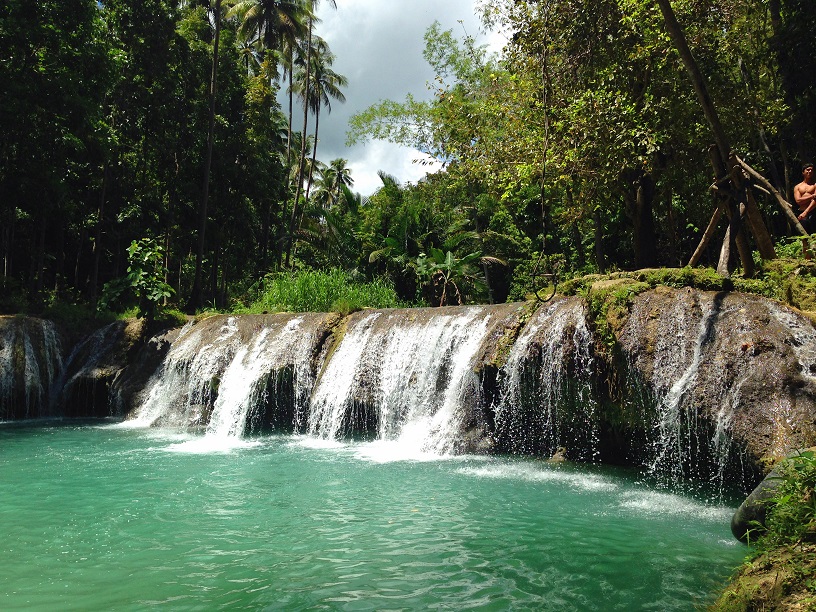 As you can see from the photos, this is no ordinary waterfall! I can confidently say that in all of my vagabonding, no waterfall has ever been as beautiful as this one. Cambugahay has 3 levels, the bottom being the largest. The middle level is much smaller, and the third level is in between for size. The bottom level also has a cool little chill-out hut to hang in. The first and third levels also both have vines to swing from and can be jumped into from above! All three levels are visible from the bottom and easily accessible. On a clear day, this place is seriously like heaven. I came back three different days to enjoy it! Cambugahay Falls are located just outside of Lazi, about a 25 minute drive from San Juan area.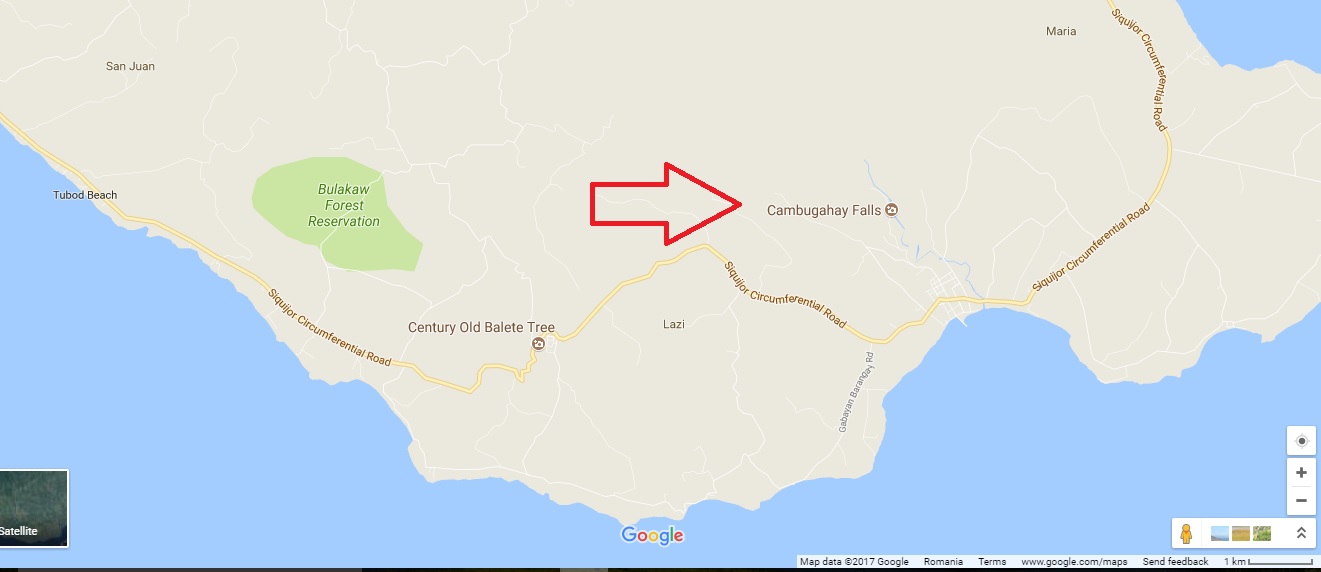 Motorbike Around the Island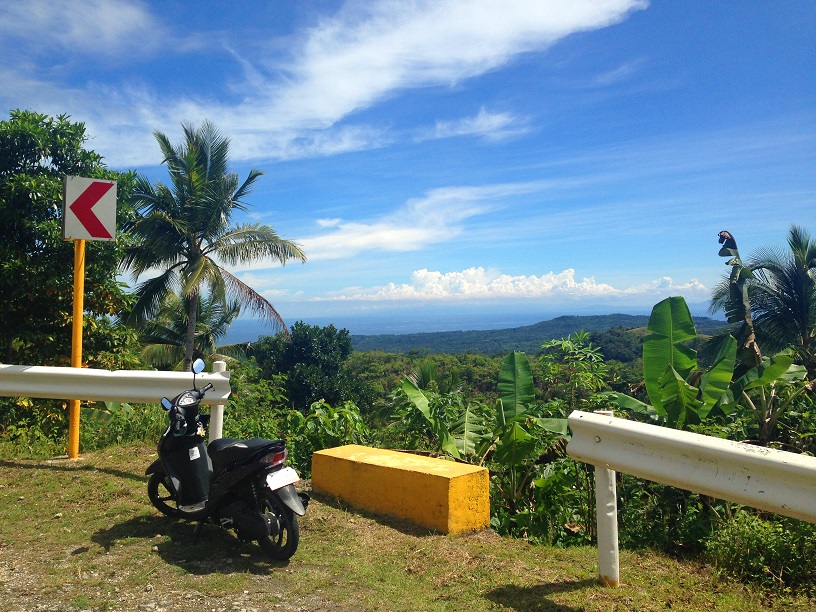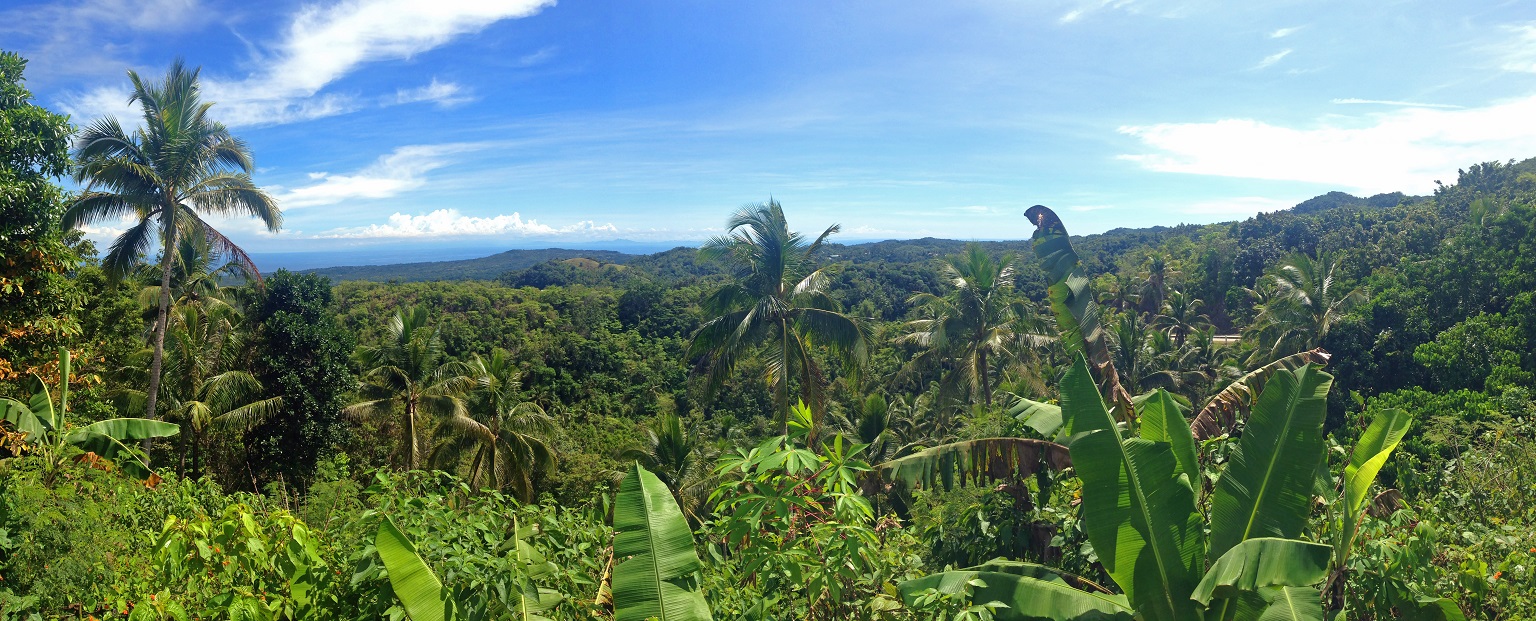 At 327 square kilometers, Siquijor is the third smallest inhabited island in all of the Philippines, making it very easy to see all of it by motorbike. The Siquijor Circumferential Road will give you several incredible ocean views, and the inner mountain roads are home to lush forests of palms and coconut trees. The highest point in Siquijor (first photo above) gives you a phenomenal panorama view of the extensive rainforest stretching all the way down to the shore. Riding all the way around the island will take about 2 hours and I genuinely cannot recommend it enough!
Go to the Friday Night Siquijor Party at Czar's Place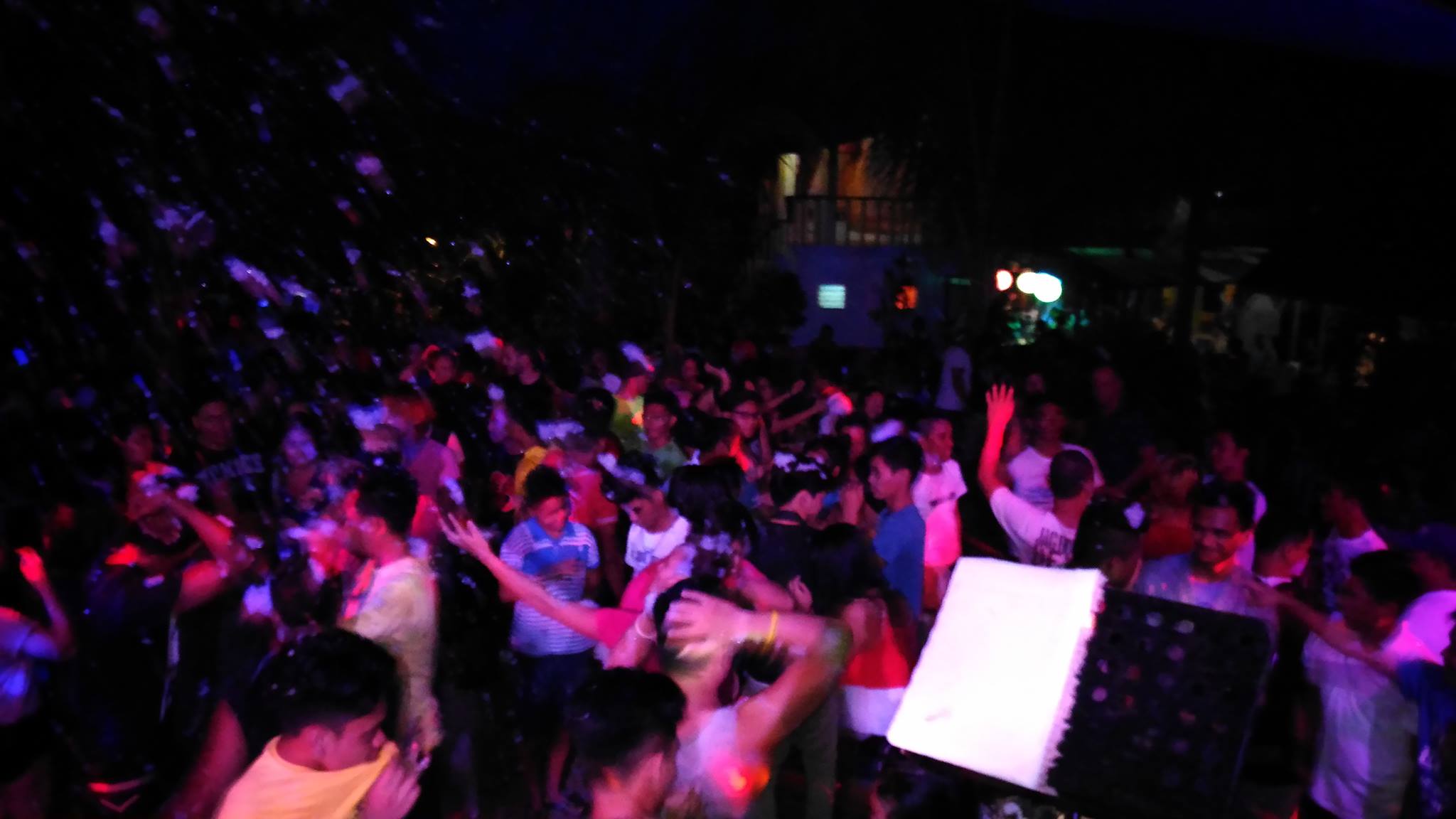 If you are in Siquijor on the weekend, you have got to go to Czar's Place on Friday night! Czar's Place (pronounced "Cesar's") is a bar with bungalows located in San Juan. This is a weekly party that the entire island goes to – seriously! Complete with an awesome live band, dance floor, tables/chairs to rent, and bottles of rum for about $2 USD, this was the best party in all of my Philippines traveling (I actually stayed for two Friday parties!). If you're into dancing the night away with cheap booze, grab some travel buddies and get down to Czar's!
V.D.'s Hotel/Guesthouse Recommendations for Siquijor Island
Have plans to head to Thailand in the near future? Check out some awesome, off-the-beaten-path snorkeling spots I found in Koh Tao and Phuket.
On Pinterest? Check me out below! I'd greatly appreciate a re-pin 🙂