When most travelers think about snorkeling in Phuket, the ideal destinations that come to mind are Koh Phi Phi, Koh Racha, or even the far off Similan Islands a few hours to the north in Phangnga Province. Some folks opt for a day trip to Coral Island, which ironically doesn't have much living coral left (February 2019 update: NONE left!). However, there are 2 hidden snorkeling spots right inside Phuket that are very easy to reach on your own, granted you are comfortable on a motorbike or have rented your own car, or if you have a big enough group to split a taxi.
Note: If you don't have a mask and snorkel, you can rent each piece for 100 baht at Yanui or Ao Sane Beach, though the quality of their equipment isn't very good! I highly suggest to bring snorkeling gear that fits you well because these spots are truly beautiful and there is so much to see. Your experience will be much better with good equipment!
If you are looking for a hostel, I have stayed at Doolay Hostel and can highly recommend it. It's fairly new, right across the street from Karon Beach, and is one of the highest rated hostels in Phuket – and only about $6 a night!
Other awesome hostels I can recommend in different areas around Phuket are TP Hostel (Kata Beach), Patong Backpackers Hostel (Patong Beach), and Phuket Backpackers Hostel (Phuket Town).
If hostels aren't your thing, you can check out all other hotels here. I'd recommend a hotel somewhere in Karon Beach. It's centrally located in terms of beach areas and the beach there is several kilometers long and not very crowded.
The first spot for totally free snorkeling in Phuket is at Koh Man, swimmable from Yanui Beach.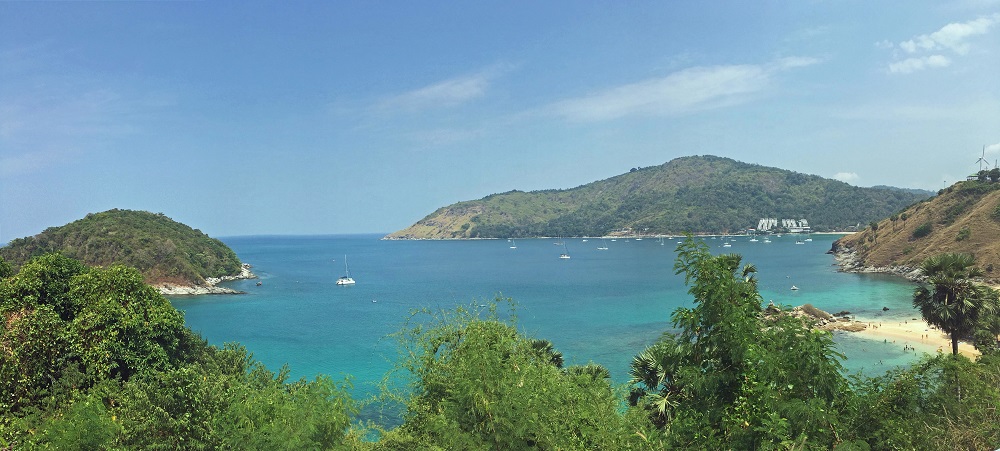 In the photo above, you can see Ya Nui Beach on the far right side, and Koh Man on the far left. Based on Google Maps imagery, the swim across is about 330 meters, or just over 1000 feet. At a slow, leisurely pace with a mask and snorkel, it normally takes me about 10 minutes to cross. There is a ridge underwater that rises up to about 10 meters deep in between the island and mainland and you can easily follow it as you swim across (simply follow the line I've drawn in the Google Maps image). On either side of the ridge however, it drops off pretty deep and you won't see the bottom!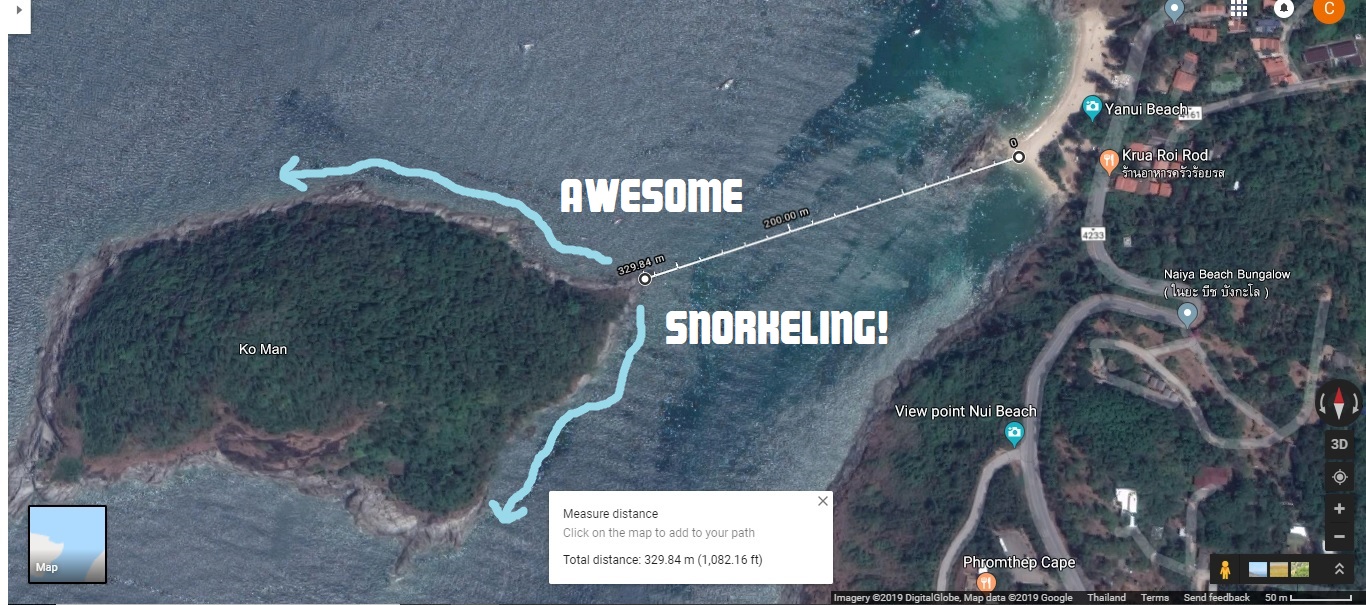 After arriving to the island, swimming in either direction (left or right as can be seen on the map) will offer you some absolutely incredible underwater views. I have found the area to the right (directly facing the island) to be my favorite spot. The majority of the photos below were taken in several areas along the right-hand side of the island.
(All photos and video were shot on a GoPro Hero 5, which are now much cheaper since the GoPro 7 just came out!)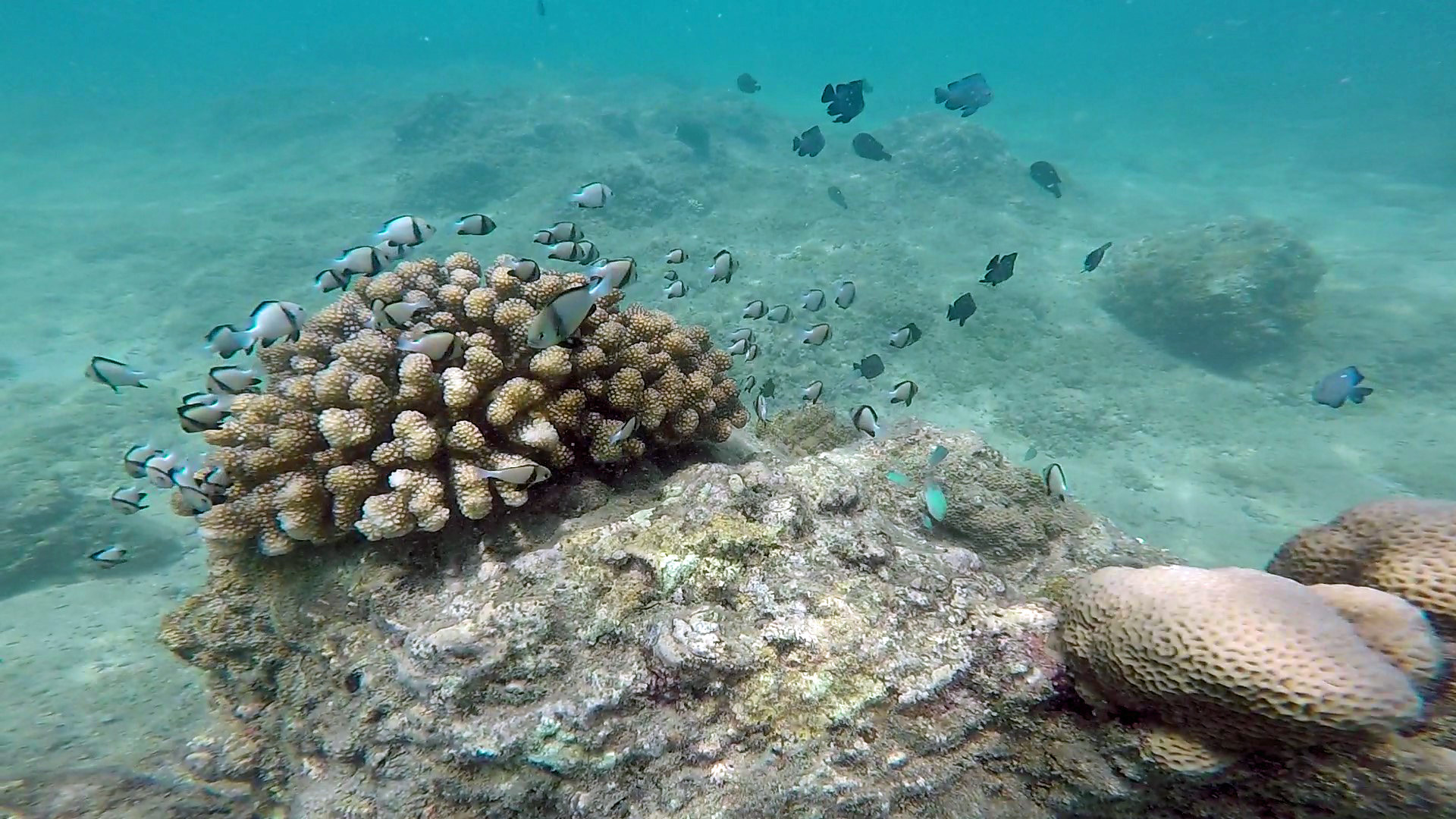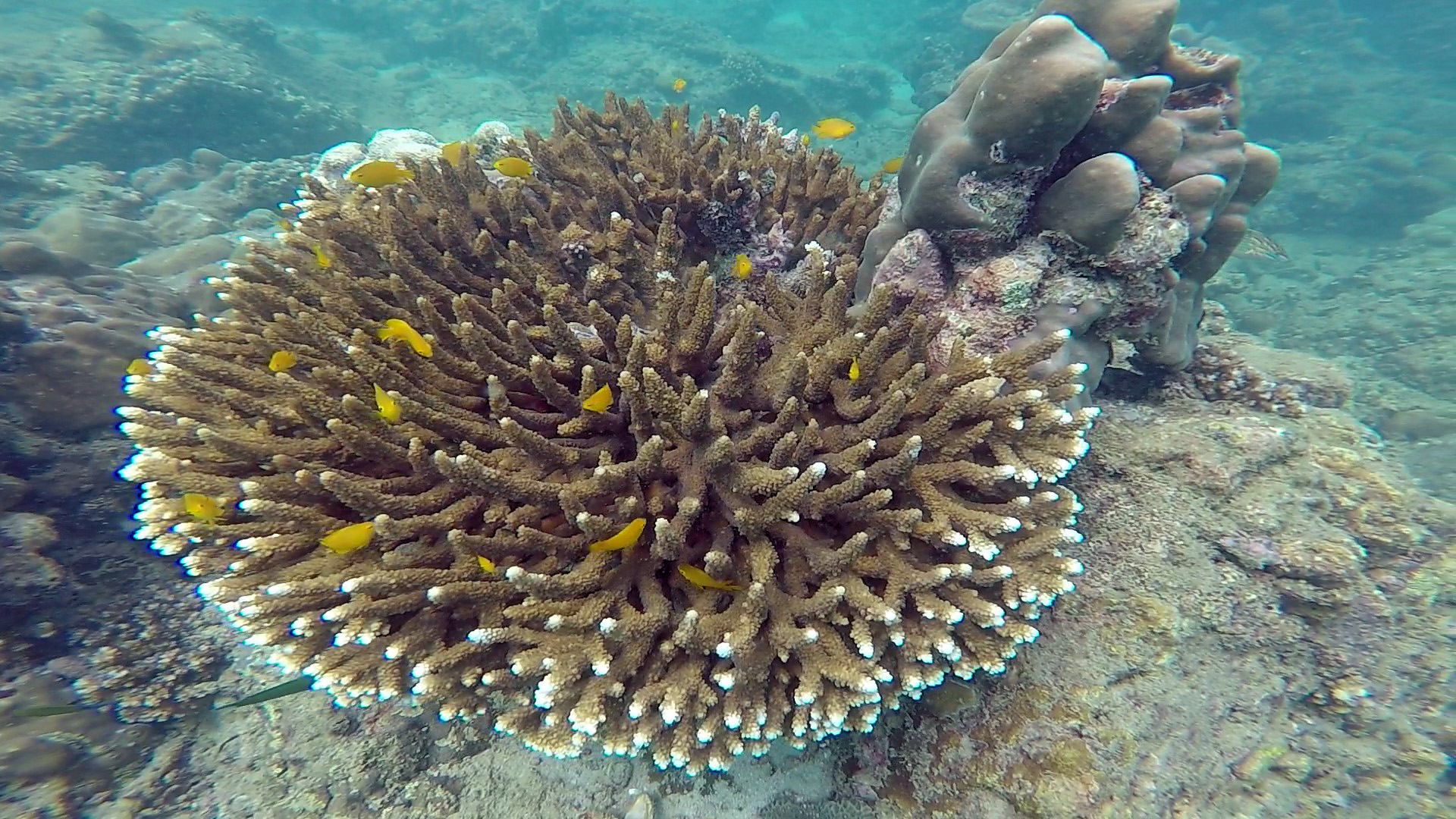 I have done snorkeling all around Phuket and the surrounding islands the past few years, and I promise you that this is the ultimate location for spotting tons of fish, thriving corals, and even a few select anemones with families of clownfish living inside.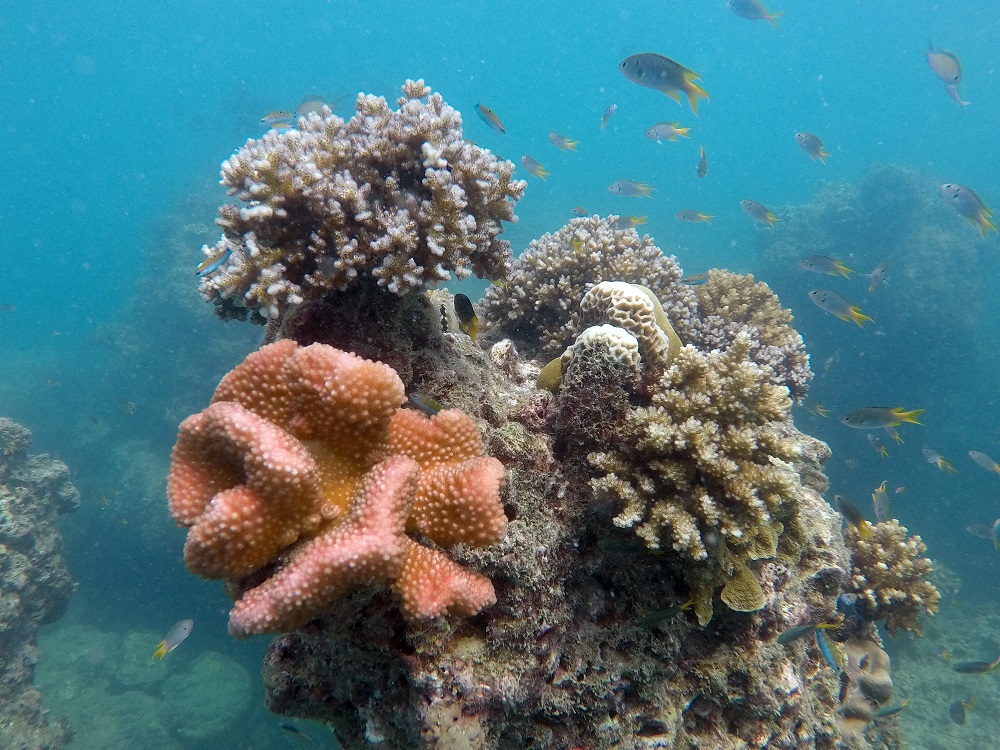 I believe the reason for such awesome visibility and prevalence of life here is that this spot is well sheltered from wind thanks to being in a position in between the sharply sloping mainland and the hard, rocky Koh Man. This spot is also spared the turmoil of packaged-tour groups that have totally destroyed Koh He (Coral Island) and the further away Racha Islands. You'll only ever see one or two longtail boats who have been privately hired from nearby Rawai Beach.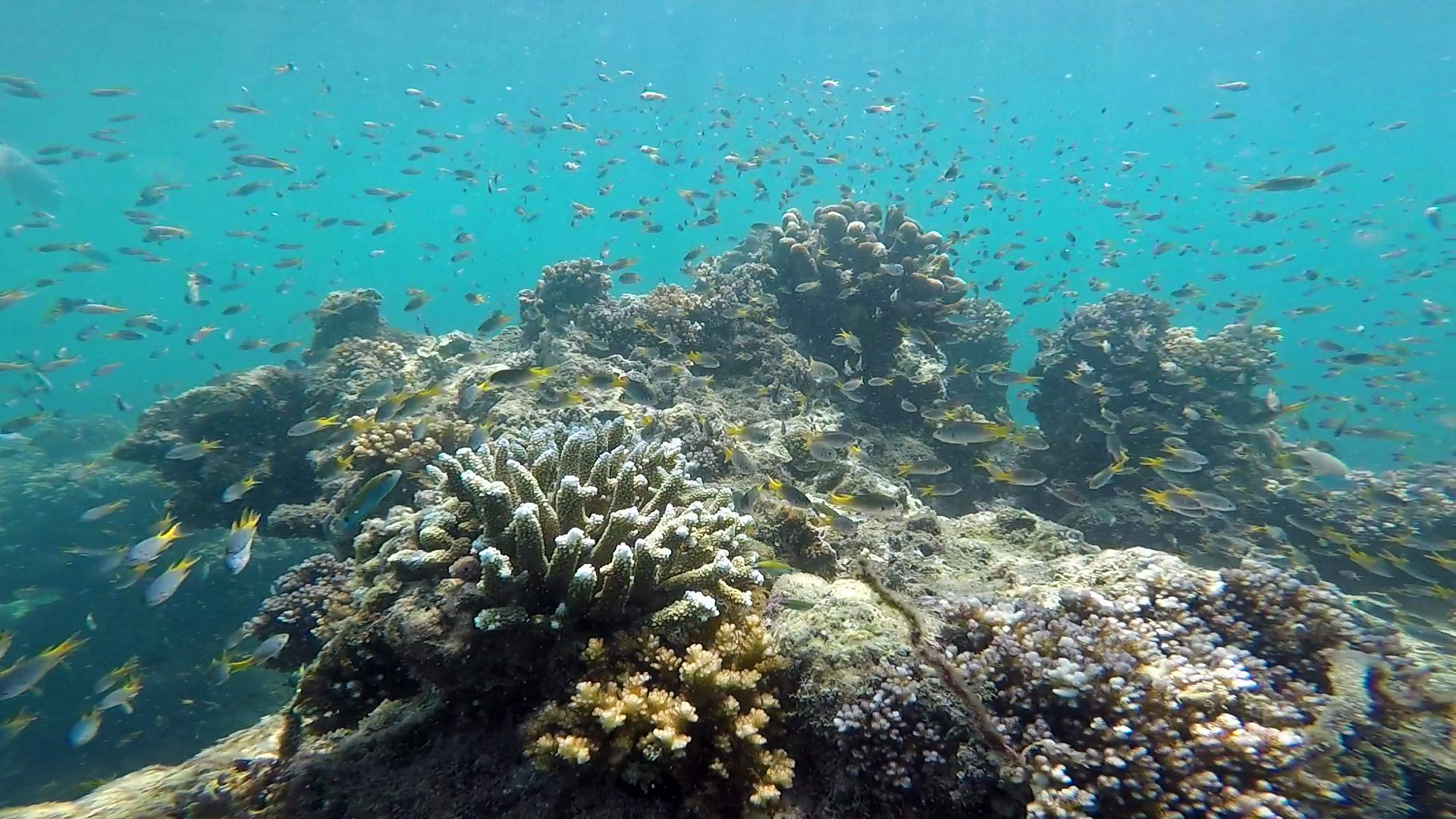 You may even spot Dory, if you're lucky! Although she was pretty shy, I managed to get a couple decent glimpses of this beautiful blue tang.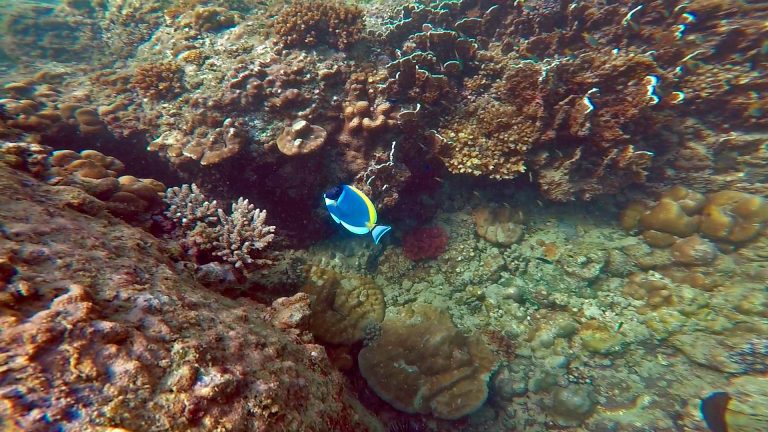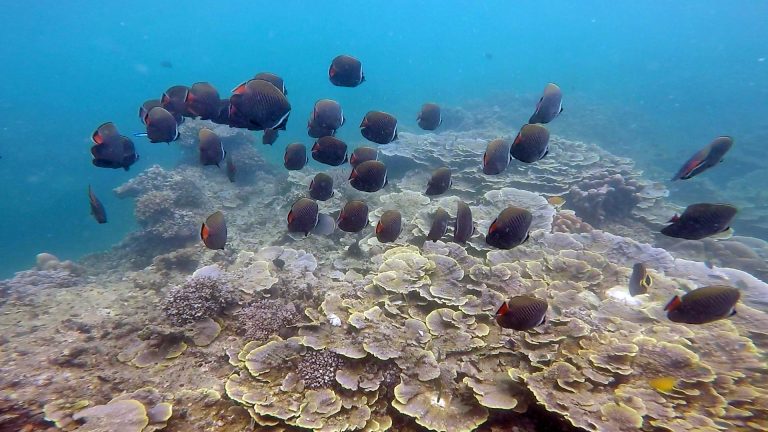 Check out a live preview of these beautiful underwater views below! (courtesy of my Facebook page 😉 )
All in all, the waters bordering Koh Man are by far my favorite sanctuary for snorkeling in Phuket. As long as you are a strong and confident swimmer, and you're not afraid of deep water, the passage across is very simple. If not, you may be tempted to instead use a kayak, available for rent in Ya Nui Beach for 200 baht per hour. Finding a spot to leave your kayak once over to Koh Man may prove difficult, as the shore is very rocky and fairly slippery. It will be best to consult with the kayak rental guys first, should you go that route.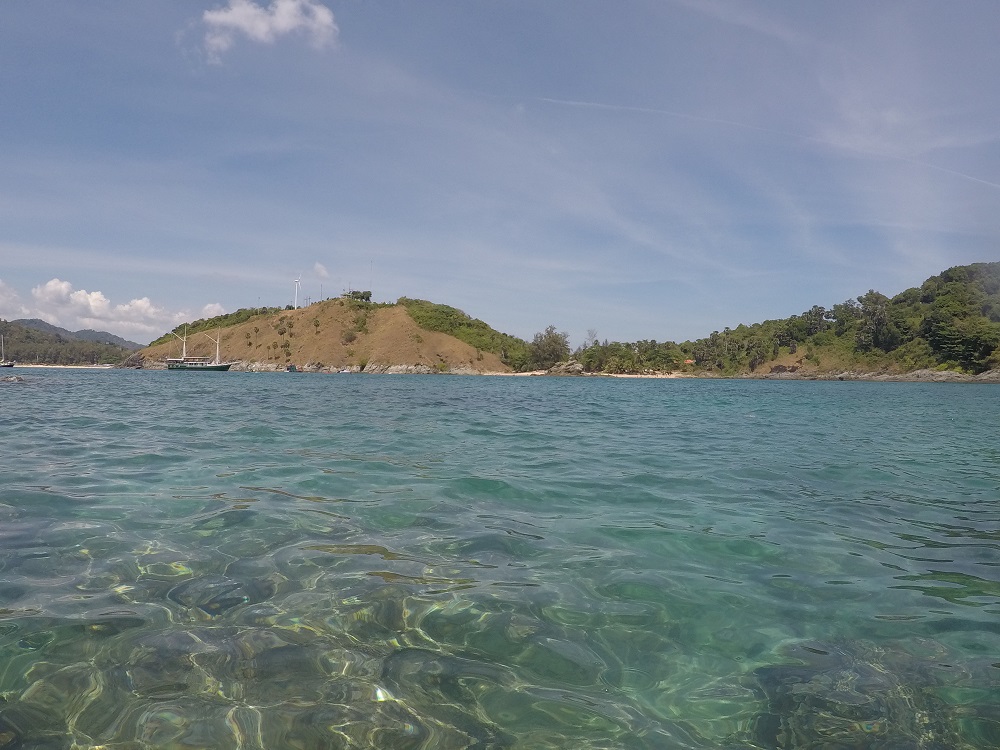 The 2nd spot for totally free snorkeling in Phuket is at Ao Sane Beach.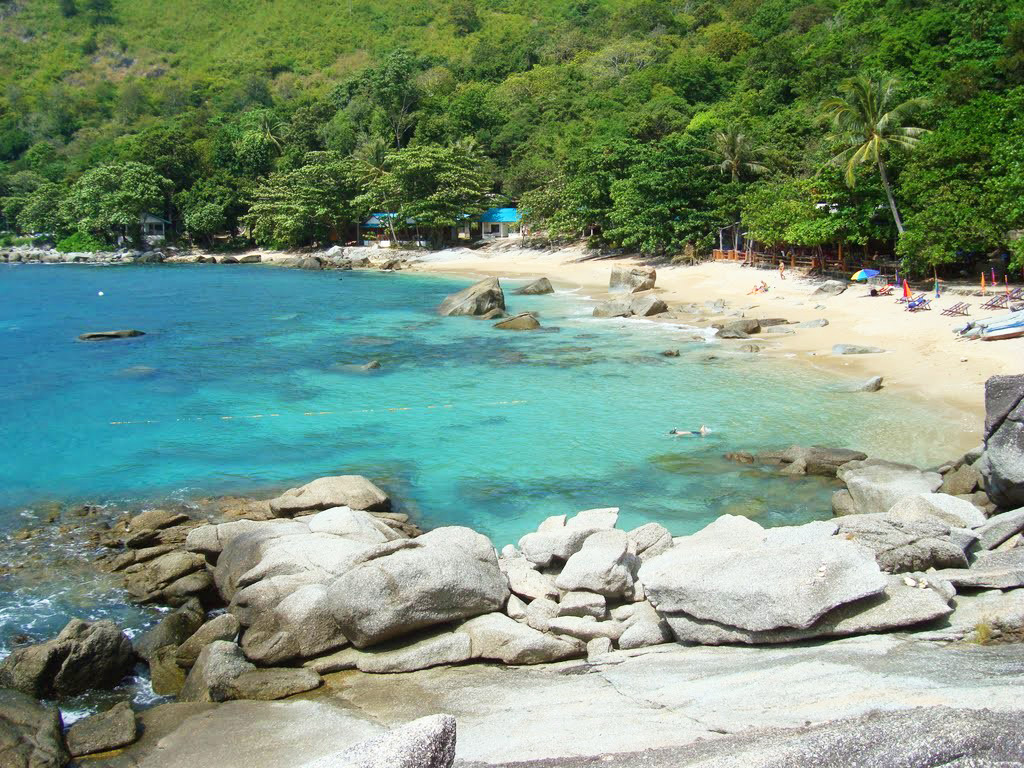 Ao Sane beach is located just 2 minutes drive from Nai Harn beach. Much like Ya Nui, the beach is also protected from the horde of overloaded tour boats that dump tourists at as many beaches as possible, and as a result, Ao Sane beach has a decent amount of living corals and beautiful untamed fish.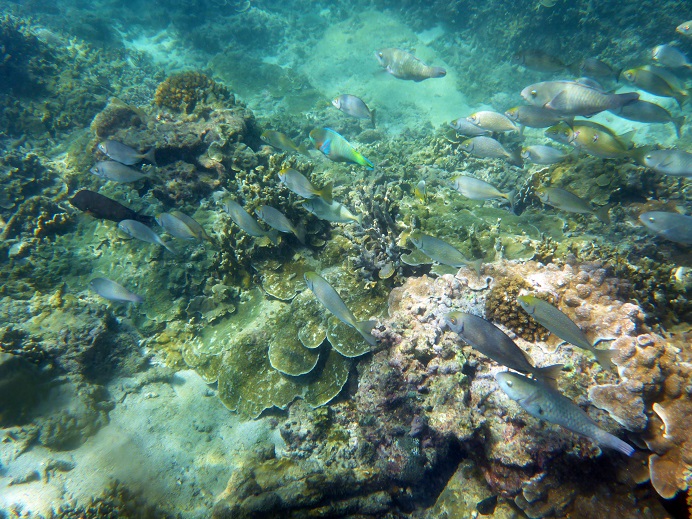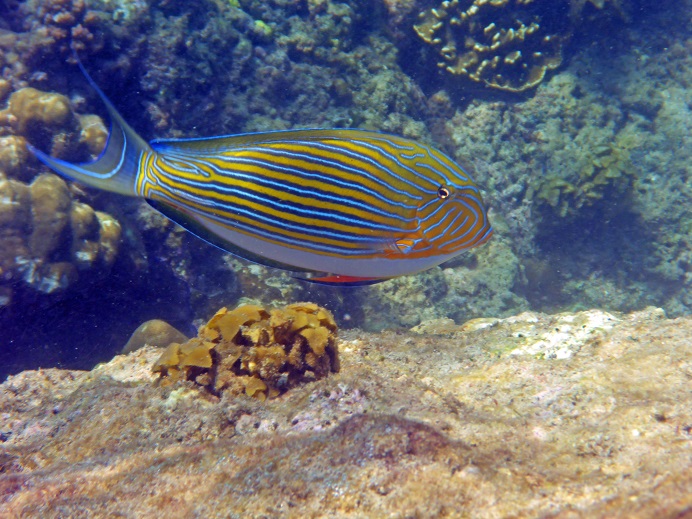 Looking outwards at the beach, snorkeling to the far right will give you the best underwater views.
You can easily swim all the way to the outermost point on the right, where the beachside bungalows end. If you reach the point in the water where you are looking directly at the last bungalow, there is a very large rock with an opening in the middle, where you can find these 2 guys hanging out. You'll likely need to swim from shallow to deep water back and forth to spot them!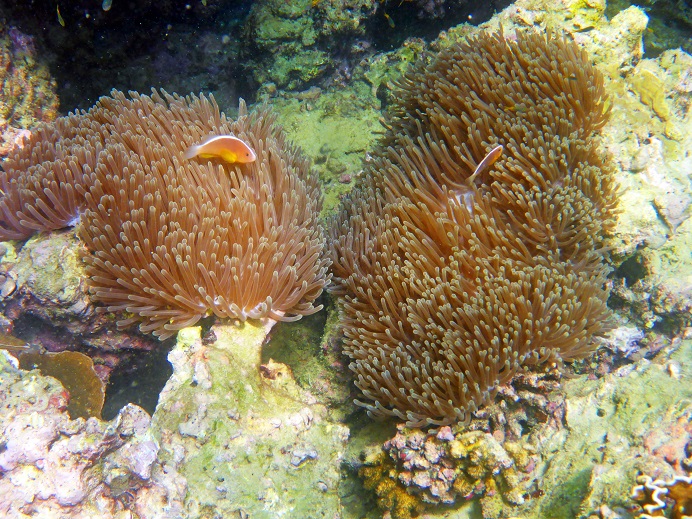 Getting to Ao Sane Beach is very simple.
Looking directly at Nai Harn Beach, follow the road on the right all the way til the end where you will come to The Nai Harn Resort. The security guard will happily wave you through. Follow the road to the left around the resort and continue on until you reach Ao Sane. There are several unmarked speed-bumps here and there so don't get too distracted by the beautiful views!

After, the Mahasamutr Sunset Bar is an absolutely awesome little spot with a saltwater pool and of course, tasty drinks! I highly recommend a stop there as the sunset can be spectacular on a clear day.
Enjoy snorkeling and say hello to Dory and Nemo's cousins for me!
Rain ruining your stay? Check out my other related article about some awesome things to do indoors around Phuket.
---
VD's Hostel Recommendations for Phuket
Trouble viewing on mobile? Turn your phone to the side 😉
| | |
| --- | --- |
| | |
| View this post on Instagram | View this post on Instagram |
If hostels aren't your thing, you can check out all other hotels here. I'd recommend a hotel somewhere in Karon Beach. It's centrally located in terms of beach areas and the beach there is several kilometers long and not very crowded.
---
On Pinterest? Check me out below! I'd greatly appreciate a re-pin 🙂