For all of you genuine backpackers and travelers who are planning your first trip to Thailand, getting your Thai tourist visa in Savannakhet is relatively easy and you should have no problem getting approved. Although Savannakhet is not all that strategically located if you've been traveling in Laos, entering Thailand at Mukdahan gives the off-the-beaten-path adventurer a great place to begin their journey in Thailand. For serial visa-runners and long-stay expats in Thailand, getting your visa in Savannakhet has very recently become a nightmare. Immigration laws in the Land of Smiles have tightened up big time in the past year, and application denials have been rife for those of us trying to stay long-term in Thailand on tourist and education visas. To find out more, please read on below under "Picking Up Your Thai Visa." You can read about my personal experience of getting my application denied for the first time in 6 years.
Again, for you first-timers to Thailand, you have absolutely nothing to worry about! In any case, before deciding to get your Thai tourist visa in Savannakhet, check their holidays for July-December 2019 to make sure they are open.
Full Checklist of Laos/Thai Tourist Visa Documents, Required Info, and Fees
Laos Tourist Visa:
1 (one) 3.5 x 4.5 size photo, white background
$35 in crisp, brand-new bills or 1,500 baht (nearly $50!). Be smart and bring USD!
Address + phone number of your hotel/guesthouse in Savannakhet

blue

pen
Thai Tourist Visa:
2 (two) 3.5 x 4.5 cm size photos, white background

blue

pen
Address + phone number of your hotel/guesthouse in Savannakhet
1000 baht (Double-entry tourist visas are not being offered at this consulate anymore 🙁 )
Copy of your passport ID page signed in 

blue ink only 

underneath

Visa application form (print it out and complete it in 

blue ink only

well ahead of time!) Required information for your applicaton:
Address of your hotel/guesthouse in Savannakhet
Expected date of arrival in Thailand
Date of your previous visit to Thailand (if you had one). Put the dates of your most recent entry and exit stamps.

(

For example, my last visa was an Education Visa, valid for 1 year. However, I still left and returned to Thailand a few times. My most recent re-entry was 23/7/19 and my most recent exit was the day before I came to Savannakhet, 8/9/19. So I put 23/7/19 – 8/9/19 for my most previous "visit" to Thailand).
Duration of proposed stay. Even if you plan to extend your 60-day tourist visa an extra 30 days after re-entering Thailand, you should still write 60 days for this.
Address of your hotel/guesthouse in Thailand after re-entering.
*** You do not need to fill in section #5 about your "guarantor" in Laos or Thailand.
Other additional documents which are not required, but may still be requested by the immigration official:
Printed copy of your hotel/guesthouse accommodation after re-entering Thailand

Printed copy of onward flight itinerary for eventually departing Thailand

Printed copies of your 3 most recent bank statements, showing 20,000 baht worth of minimum funds
Exiting Thailand and Entering Laos
To get your Thai visa in Savannakhet, you first have to exit Thailand by way of Mukdahan. Above is the Mukdahan border crossing. Once you arrive here, follow the sidewalk and cross the street to the long promenade you see above. Eventually, you will see this 'Mukdahan Immigration' sign on your right. Look to the left and you will see the ticket booth as well as the timetable for the bus over the bridge to Laos. The ticket is 45 baht and there are supposed to be 14 buses per day; however, bus 13 and 14 often won't go if it's not busy, and the Thai side will frequently close by 5:00pm as a result. Count on the 4:45pm bus being the last one!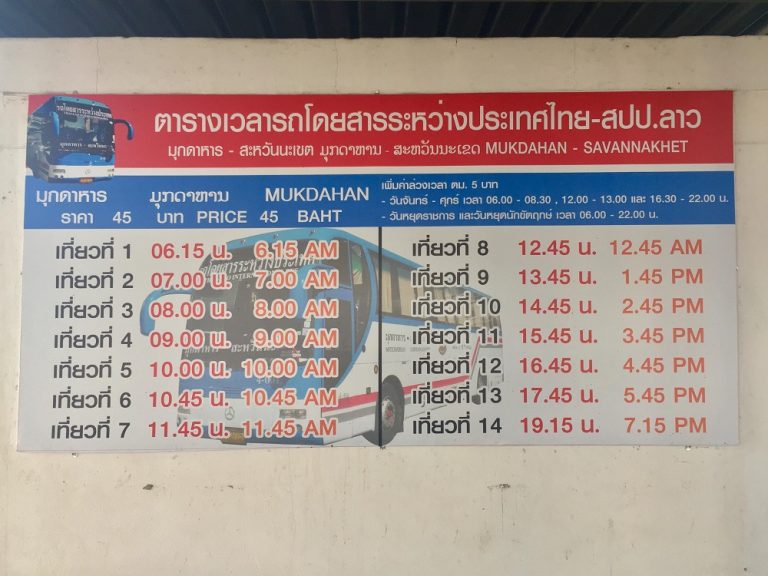 After you've bought your bus ticket, you'll see these three booths which will stamp you out of Thailand. I went on a Sunday around 4:15pm and only the center booth was open, with only two people ahead of me in line. By the way, don't take pictures here. The immigration official you see on the side was not so pleased with me, and demanded I delete this photo. Well done with the 'Recently Deleted' folder feature, Apple. 😉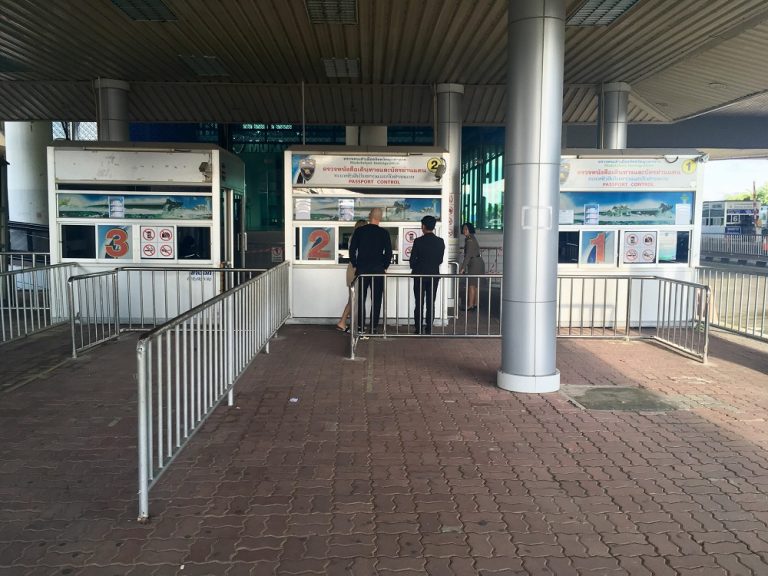 After stamping out of Thailand, pass the booths and make an immediate right, and walk along the road until you see this building. (It's air-conditioned and has Thai talk-show TV on all day. A truly supreme waiting area). Eventually the bus will pull up. Follow the mass exodus across the street and push your way on.
Crossing the mighty Mekong is a beautiful sight. Sit on the right side of the bus for the best views.
Once across the river and officially in Laos, the bus will pull up in front of these three arrival booths. These booths are not for foreigners. You will find the 'Visa on Arrival' counter directly to the far left side of this photo. Take all your belongings off the bus (just in case) and politely tell the bus driver to wait and not leave without you, if you wish to take the bus all the way to the Savannakhet bus station. I made the mistake of not communicating this request, and was subsequently left behind (read below, it's not the end of the world and may actually be more convenient).
The immigration officer will give you three items: a Laos visa-on-arrival form, an arrival slip, and a departure slip. Fill in the visa form and the arrival slip in blue ink only. Thai and Lao customs are very anal about this; have a blue pen! You don't need to fill out the departure slip right now so don't waste time doing it (again, read below about being left behind!)
After you've finished filling out the forms, hand over your passport, 3.5 x 4.5 cm photo, and $35 worth of crisp, brand new notes. The immigration officer scanned each and every one of mine with scrutiny, so this really is no joke. Keep your bills unfolded and safe in an envelope. I really recommend changing $40-45 total ($5-10 extra in one-dollar bills) just in case you miss the bus (you really want to know what happened by now, right?). You can also pay with 1,500 baht (nearly $50!) but realize you are being majorly ripped off if so!
The Laos immigration official will then take your photo electronically and hand back your passport with your completed visa. After this, go straight through the three booths (you don't need to stop), show your new Laos visa to the immigration official sitting at the desk behind the booths, and get back to the bus, if it hasn't left already! If it has left without you after all, this is where all those extra $1 bills come in handy.
Tuk-tuk drivers will inevitably swarm upon you, of course not having had the common courtesy to tell the bus driver there's a few foreign stragglers still waiting on their visas. I stayed at Joli Guesthouse (well known by every tuk-tuk I had in Savannakhet) and the driver's original offer of 200 baht was quickly countered down to $3, and then re-negotiated to $5. So overall, this wasn't such a bad deal, as I would have had to get a tuk-tuk anyway from the bus station, and instead was taken directly to my guesthouse. Go forth as you prefer!
Applying for Your Thai Tourist Visa
From Joli Guesthouse, I had a tuk-tuk called and paid 15,000 kip one way. Seeing as Joli is on the further end away from the consulate, you shouldn't expect to pay more than that. I arrived in no hurry whatsoever at about 8:20am, and there were already about 40 people lined up. Even at that early hour, the sun is pretty brutal, so if you think you will melt then I'd recommend bringing an umbrella.
Overall, this is the absolute slowest Thai embassy or consulate that I have been to the past 6 years. (Read below under 'Picking Up Your Thai Tourist Visa' and you'll find out why!) Bring something to keep your mind occupied; a book, pre-downloaded Netflix, a board game, your tax return for next year, an unfinished doctoral thesis, anything. It will be awhile if you aren't one of the first 10 people. As a travel blogger, I always have photos to sift through and edit, so I made good use of my time.
The gate opened right at 9:00am, and by that time, there were about 40 people behind me as well. After letting through about 30 people, the security guard closed/locked the gate. After exactly 55 minutes (now 9:55am), the gate was finally opened again. By that time, there were at least 60 people behind me, maybe more. It was at this time that the first few people originally in line also walked out of the consulate. I then waited another 20 minutes for my turn to apply, and found that there was only 1 window open with 1 person working. After unfortunately being told that double-entry tourist visas are no longer being offered, I handed over my application form, two 3.5 x 4.5 photos, signed copy of my passport ID page, and 1000 baht. I was given my pick-up receipt and finished about 5 minutes later at 10:20am, making my overall time at the consulate 2 hours. Needless to say, they could easily do with opening up another window or two; especially on a busy Monday morning (again, see below on why exactly this consulate is so slow and understaffed).
For the return trip to my guesthouse, I was hard pressed for any tuk-tuk driver to accept the exact same fare (15,000 kip) that I'd paid for the exact same trip to the consulate. Eventually I was ushered by a more friendly-looking fellow to his tuk-tuk who readily agreed to 15,000. However – even after we'd arrived to the guesthouse and I handed over a 20,000 kip note, he insisted that I let him keep the change. This is my main qualm with tuk-tuk drivers, and quite frankly, taxi drivers all over southeast Asia; it's the automatic assumption that they deserve and should receive that extra bit of change. If it wasn't impulsively expected, quite honestly, I'd be happy to part with the change.
My tip here is to break big bills (the 50,000 and 20,000s) whenever you can, and keep your 10,000s, 5000s, 2000s, and 1000s separately for your tuk-tuk rides. (Eventually, though, I did get my change 😉 )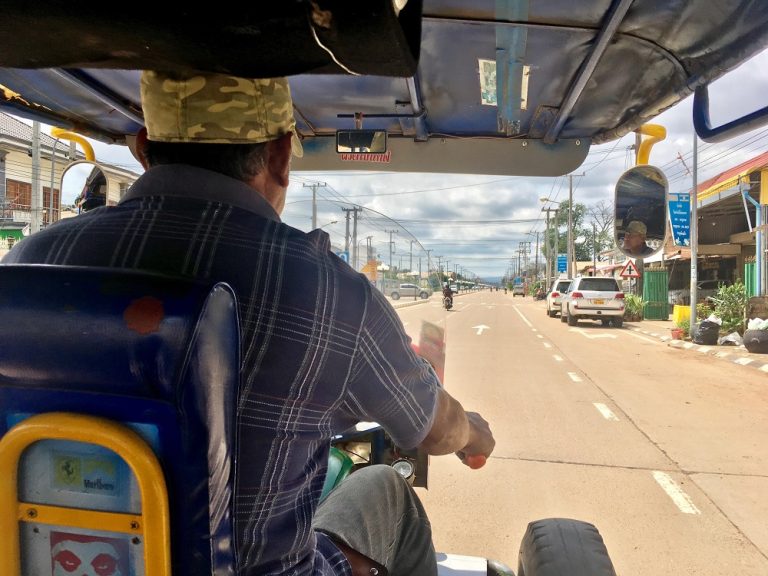 Some safety notes: There are 2 unsecured wifi connections you may discover while waiting in line called "Wifi Service 1" and "Wifi Service 2." Although you may be tempted to use one of these (depending on how insanely bored you are waiting in line), these types of unsecured connections are totally unsafe and set up in tourist areas for good reason. Furthermore, I found that once inside the consulate gate, both connections disappeared, which tells me these are not set up by the consulate. Your device can be easily hacked and your data stolen, so I'd highly recommend against using these. 
As is the case outside of any consulate in a 3rd world country, there are no shortage of slippery men hanging around, asking anyone not holding documents in their hand if they want to "buy" the visa application form (which can be conveniently printed out ahead of time), ironically with "This application form is not for sale" written at the bottom, both in English and Lao language. I can totally understand tuk-tuk drivers, food vendors, and the copy shop across the street taking advantage of the consulate crowd to make a dollar, but this kind of wily trickery really isn't necessary and the Thai consulate here should do more security-wise to police this. However, these same sketchy characters walked in and out of the consulate gates freely and chatted with security guards, which tells me this likely isn't changing any time soon. But, I digress. Moving on.
Picking Up Your Thai Tourist Visa
You can normally pick up your passport along with your brand-new Thai tourist visa the very next business day, between 2:00 and 4:00pm (again, please check the holidays for July-December 2019). If you apply on a Friday, you will have to wait until Monday to pick it up. If there is a holiday the day after you apply, you will have to wait until the day after the holiday to pick it up.
When I went the next day to pick up my passport and tourist visa, the gate opened at about 2:05pm and I was at the window by 2:20pm. After handing over my pick-up receipt, I was told my passport "wasn't ready yet" and was asked to wait for my number to be called. I joined another 10 or so bewildered looking people standing nervously around the seated waiting area. By 2:30pm, there was absolutely no line and only the 10ish of us were left. With that being said, I wouldn't recommend getting here early to pick up your passport, as you could easily show up any time after 2:30pm and be in and out… that is, unless your passport "isn't ready yet."
MY EXPERIENCE:
I am all for transparency here at Vagabond Disposition and I will honestly tell you flat out that my visa was denied. At about 2:25pm, the office started calling the remaining 10 of us back, one by one, for a roughly 5-10 minute interrogation. One by one, each person came out reporting that the consulate had found some minor detail in their paperwork, or in their overall story of why they were going to Thailand (or in my case, why they'd spent so much time in Thailand previously), and one by one, each person either didn't get the visa they applied for (some applied for Non-B's and were for some reason only given tourist visas), or in my case, they didn't get the visa at all and were denied.
In my case, I was coming off of a 1-year Non-B Education Visa, and going straight back for a Single-Entry Tourist Visa, with a passport packed full of Thai visas, visa extensions, and entry/exit stamps. I can understand being denied and honestly, I knew there was at least a small chance that it might happen, but never having been denied in the past 6 years I still was taken by surprise.
However – there was a Russian girl ahead of me with a brand-new, totally empty passport with no prior trips at all to Thailand, applying for a Non-B Education Visa. She had all relevant, required paperwork completed (and had already paid her tuition fee to her school), however, she was also denied the Non-B on the basis of not being able to readily and immediately show proof of funds in her bank account, and was given a Single-Entry Tourist Visa instead. As I said above, I can understand my being denied, but her? This was absolutely ludicrous.
After getting back to my guesthouse, I immediately got online to do some research about what the hell is going on at this consulate, and sure enough, there was a massive, sudden change in (unwritten!) policies back in June. This is most likely due to the fact that the Thai embassy in Vientiane (the capital city of Laos) now requires an appointment to apply for any Thai visa. There is apparently a 2-month wait to book an appointment, and as a result, all the folks looking to get a simple, single-entry tourist visa have been swamping the Savannakhet consulate instead. Since then, an unheard of amount of denials have been given out daily and the Savannakhet consulate went from being the most relaxed consulate in this part of the world to the most strict.
So, I know your question already: Should I apply for my tourist visa in Savannakhet? If you have never been to Thailand before, I would 100% say yes. If you only have 1 previous 30-day exempt stamp in your passport in the current calendar year (January-December), I would again still say yes. However, if you have any more than 1 previous 30-day exempt stamp, or any Thai visa of any kind from the current calendar year (January-December), I would confidently say you should not apply here. If you have any more than 3 Thai visas total in your passport (regardless of when you got them), you also definitely should not apply here. You'd be wasting your time – and money!
Guesthouse Recommendation in Savannakhet
I stayed at Joli Guesthouse while I was applying for my Thai visa in Savannakhet and overall, I can recommend it based on my needs. I teach English online and primarily needed a stable, strong wifi connection for the 4 nights I would be here. Having read on Agoda review after review raving about the wifi, I decided to book a room and I wasn't disappointed.
I was on the 2nd floor in a large, corner room, furthest away from the wifi router and the connection was still solid. I did 3 days worth of classes, between 4 and 5 hours per day, with very little interruptions. Unfortunately, on my last afternoon there, a nearby government loudspeaker suddenly started blasting Lao traditional music around 4:00pm, in between a man yapping on about what was likely a weekly communist party speech, although it only lasted til 4:30pm and then was done. Needless to say it left my poor young Chinese student very bewildered about what the hell was going on. It was a Wednesday so perhaps be prepared for that if you are here.
I booked their larger, air-con room for $14 per night (120,000 kip) and was happy with it overall. The aircon blew ice cold and there was adequate light for teaching. The bed is big but hard as a rock, however that's to be expected in any cheap guesthouse in Laos or Thailand.
The guesthouse offers a very modest free breakfast every morning from 7-10am, as well as 2 articles of clothing washed daily for free. They also have free drinking water, instant coffee and tea, and bananas available 24/7. They'll also call tuk-tuks for you to the consulate – for 15,000 kip, as the price should be!
Originally, I'd planned to include food/coffee recommendations here, but this article is long enough already! Please check out my Savannakhet City Guide for my best picks around town.
---
I religiously use my Chase Sapphire Preferred Card when traveling and I 100% endorse it for those who want to get into the frequent-flier-miles-game. You can get 60,000 miles after using the card for 3 months and spending $4000 on it. That's enough miles for 1-2 round trip tickets in the US or a 1 way international ticket. I recently used only 40,000 miles to fly 1 way from Orlando – Frankfurt – Bangkok – Phuket, and only paid airport fees! There's also no foreign transaction fees whatsoever so you can use it anywhere abroad. ($95 fee per year, though that can be paid using 9,500 points!). Check out more about the card here.