Nong Khai, a small town sitting on the border between Thailand and Laos in Issan (the northeast region of Thailand), is normally nothing more than a pit-stop for travelers on their way to Vientiane or doing visa runs to stay longer in the Land of Smiles. However, Nong Khai is a great little gem that is truly worth more than just a passing glance. There's an extensive outdoor market, a lovely little walking promenade next to the Mekong with great restaurants and bars, and this totally cool Buddha statue park. Of all the things to do in Nong Khai, this was by far my favorite spot and I 100% recommend checking it out!
Looking for a good, centrally-located hote in Nong Khai? I stayed at Klang Muang Nong Khai and can recommend it!
The Sala Kaew Ku Buddha Statue Park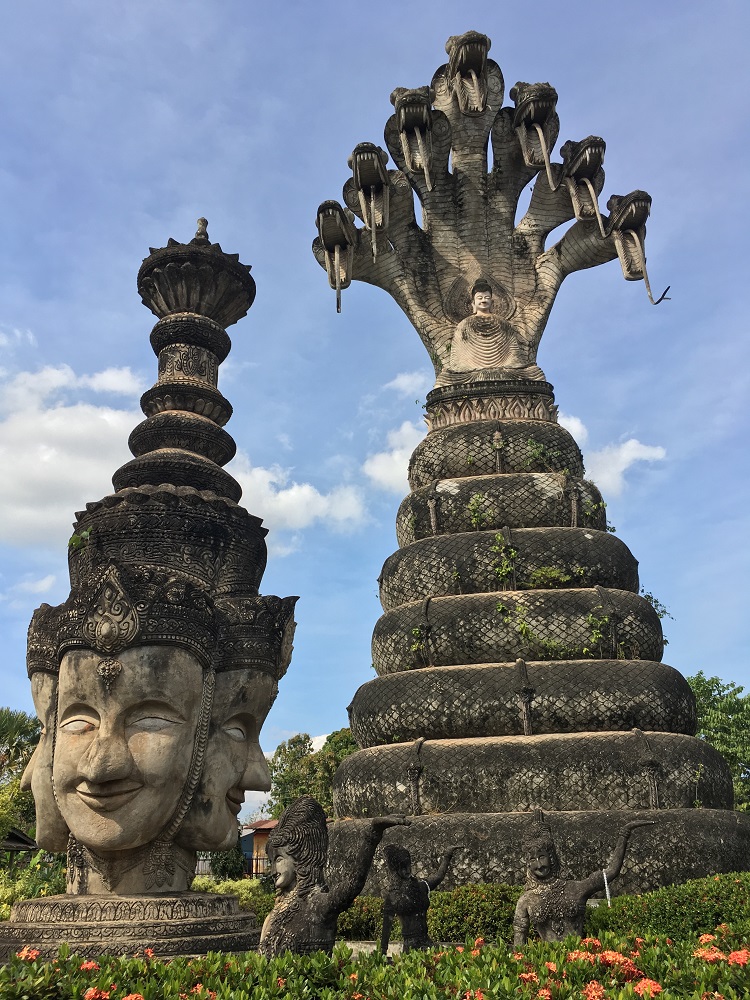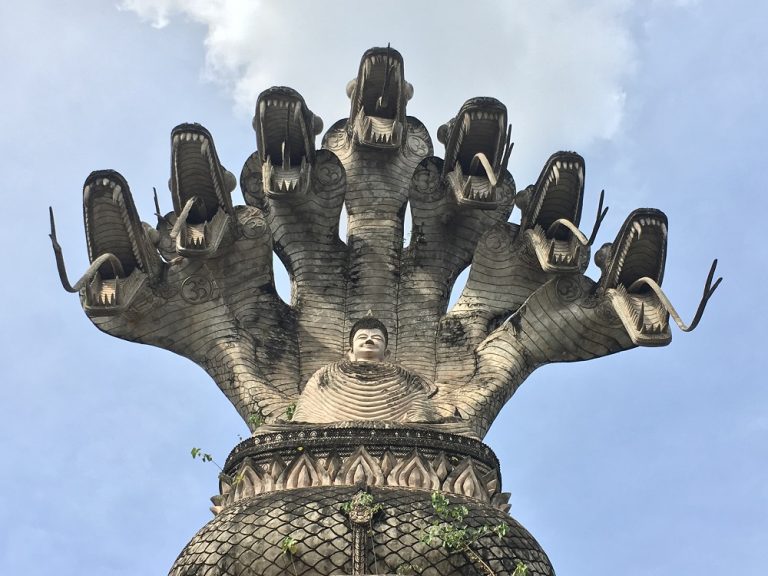 This maliciously terrifying, 7-headed towering serpent is known as the Naga. While it may appear downright demonic, this creature is actually heavily revered and widely respected among Thai, Lao, Burmese, and Indian culture, as it is considered one of the main guardians of Buddha. In one particular story, it is said that the Naga protected Buddha in a relentless storm, using its many hoods as a cover. This giant, 25 meter (75+ foot) work of art is absolutely the coolest Buddha statue I've ever seen in my 6+ years in Thailand.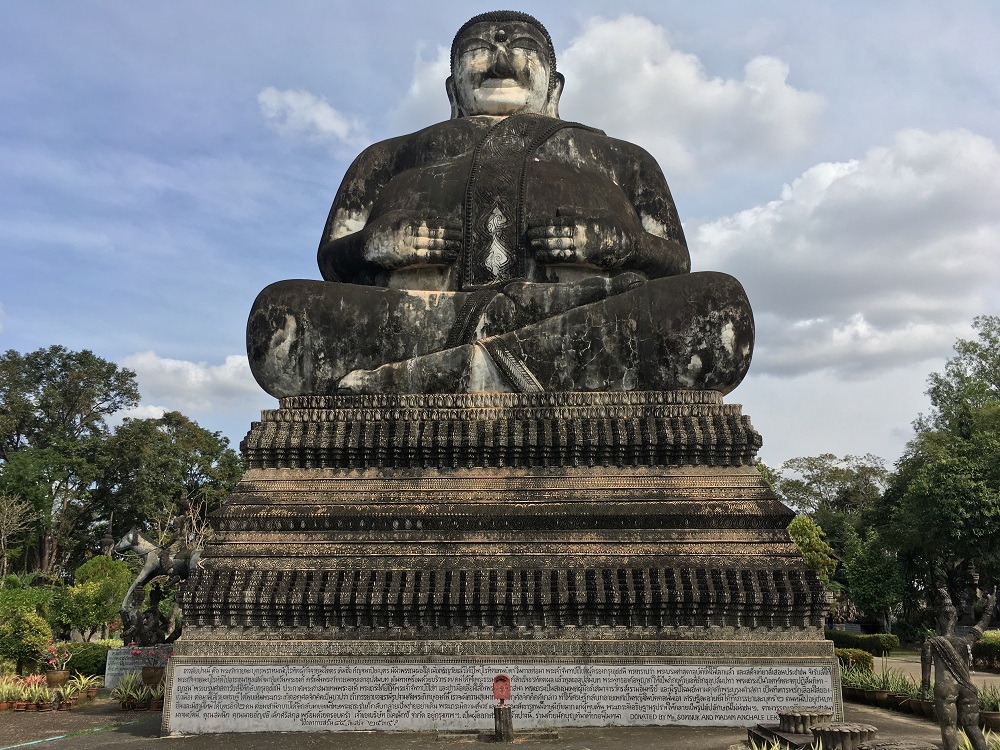 As you may already be aware, there are several different statue forms to depict the Buddha. On top is the classic sitting (grinning) Buddha.  On the bottom is one of the most popular, yet most mistaken statues in Asian cultures! Contrary to popular belief, this is not a statue of Buddha, but of 'Ho-Tai' (also known as 'Budai' or more informally, the 'Fat Budha' or 'Laughing Buddha'), who was actually a real-life Chinese monk who lived during the 10th century A.D. He was well known for his captivating Buddhist sermons and his big cloth sack of goodies and gifts that he would give to children who came to learn about Buddhism. Nowadays his statue is seen as bringing wealth, prosperity, and happiness to those that seek its spirit's blessing.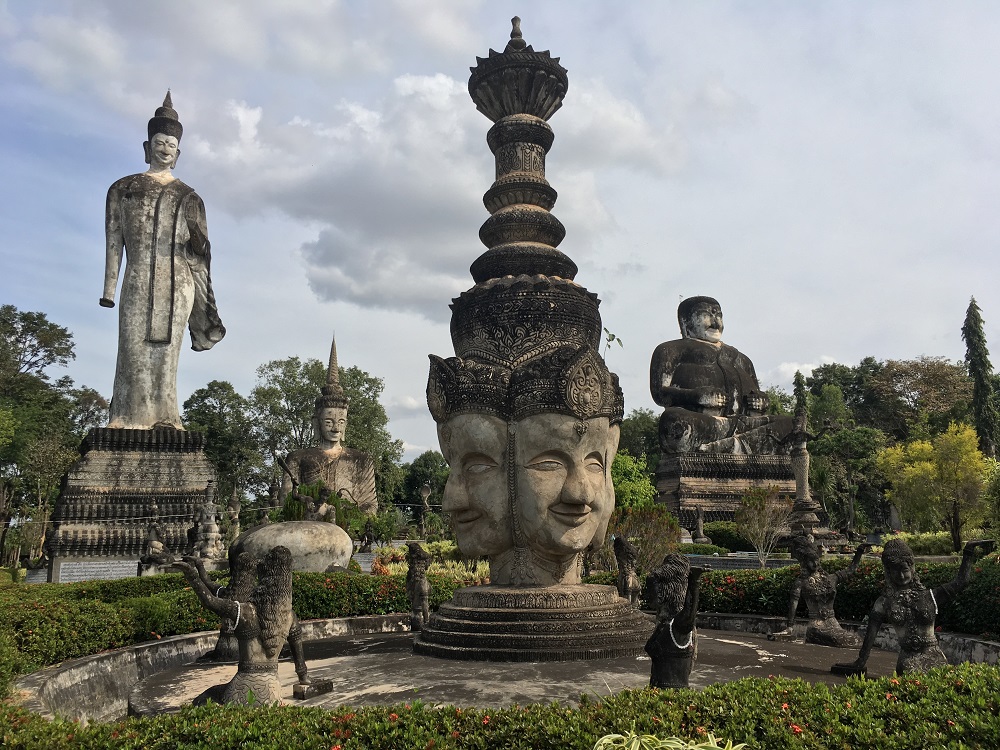 Buddhas n' dancing ladies all around. Video visual above courtesy of my Facebook page, which you should definitely have a look at, too. 😉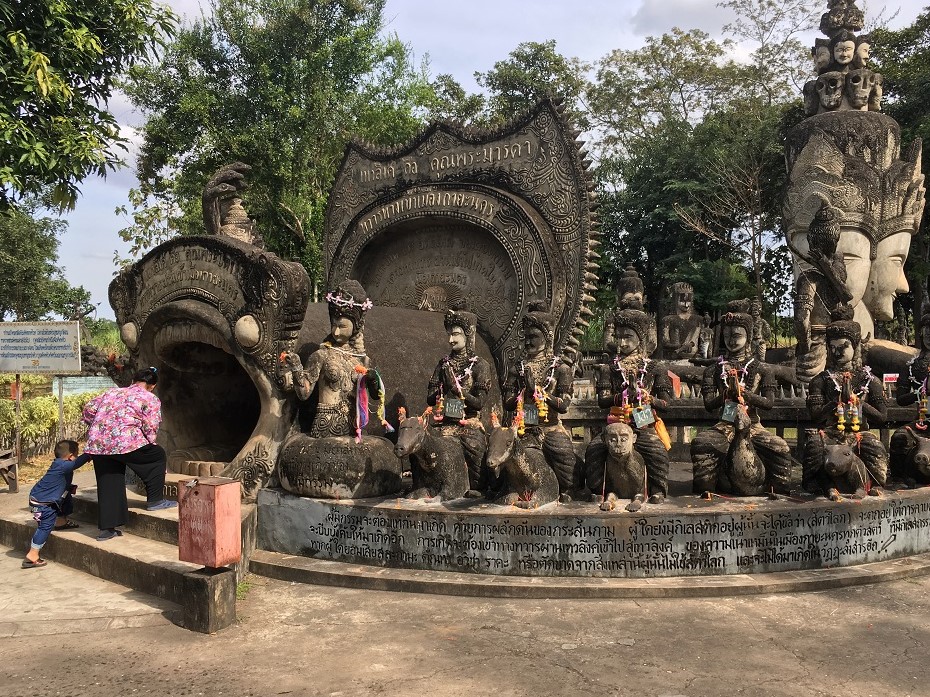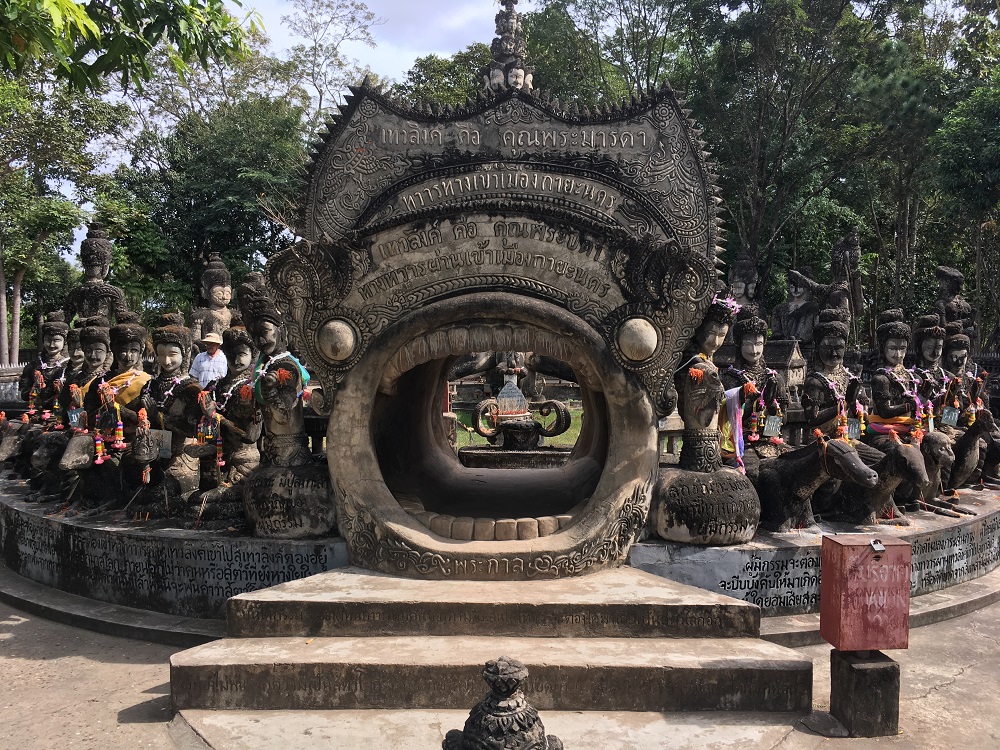 In the very back of the park, venture through this catfish head and through the short, stooping tunnel into the "Wheel of Life."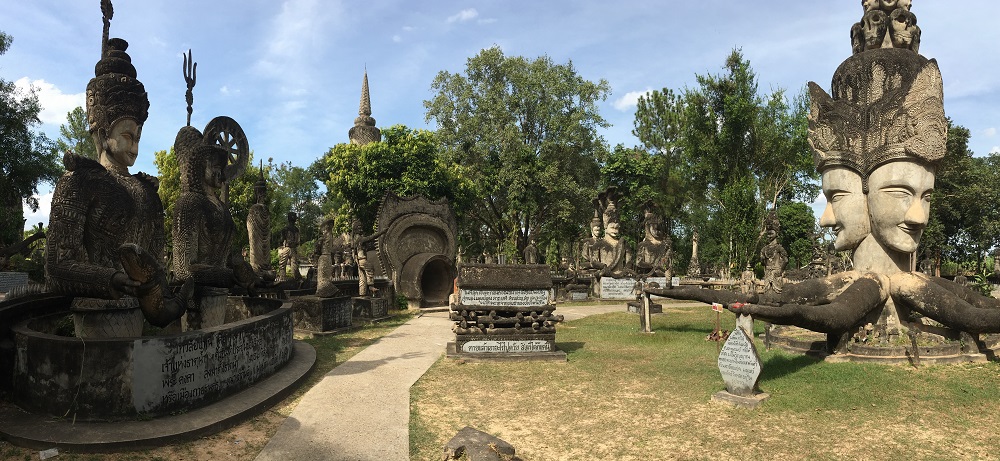 This circular, multi-part group of sculptures represents the karmic cycle of birth and death through a progression of tarot-like characters.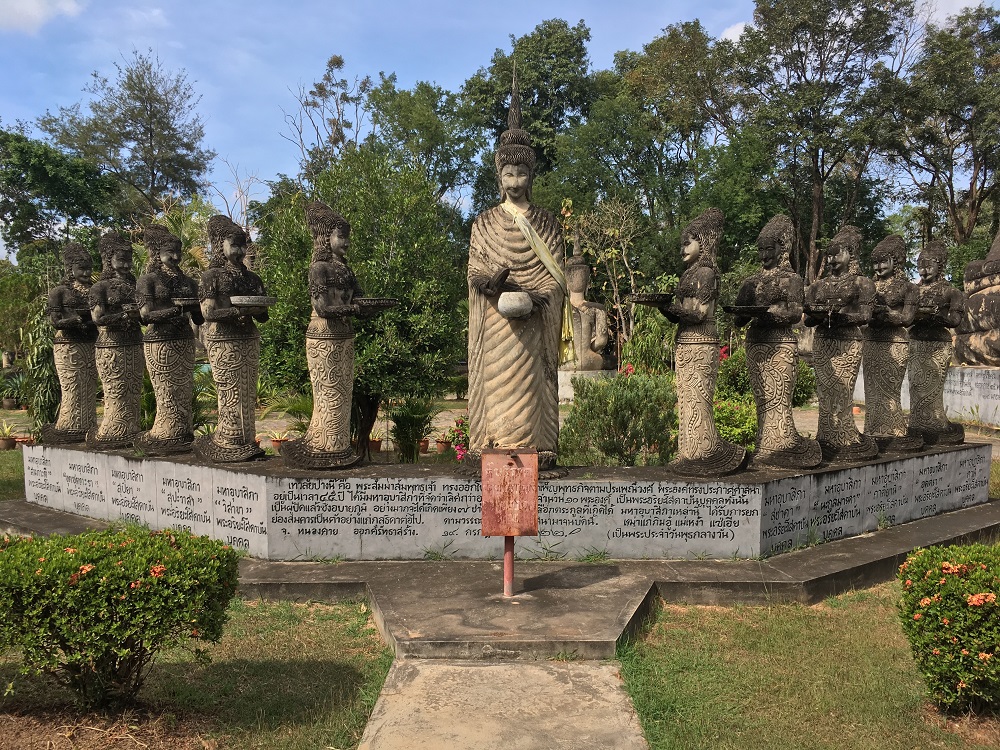 The statue in the center is known as the Alms Bowl Buddha, which signifies compassion and caring for all living things. Contrary to what many think, monks (and the Buddha himself) did not beg for food. Instead, they collected alms. The difference is that collecting alms allows for those giving the alms to make merit, therefore bringing them good karma in the future.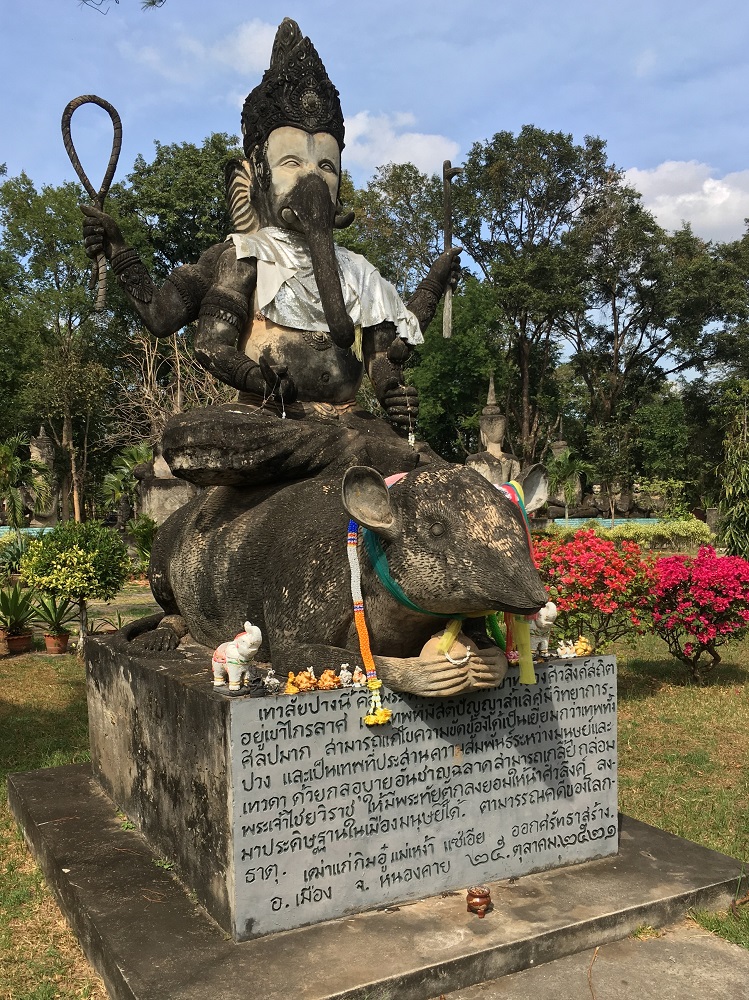 While an elephant-man riding a mouse may look just a tad bit bizarre to most, this is actually a statue of the highly-revered Hindu god Ganesha, riding his prized steed Mooshika. Why does the most important figure in Hinduism ride a mouse? Symbolism. The mouse represents the greedy, destructive human spirit, tamed and controlled forever by the great Ganesha. The depiction of the elephant walking calmly through a pack of cantankerous canines boasts great symbolism as well: Do not be bothered by gossip.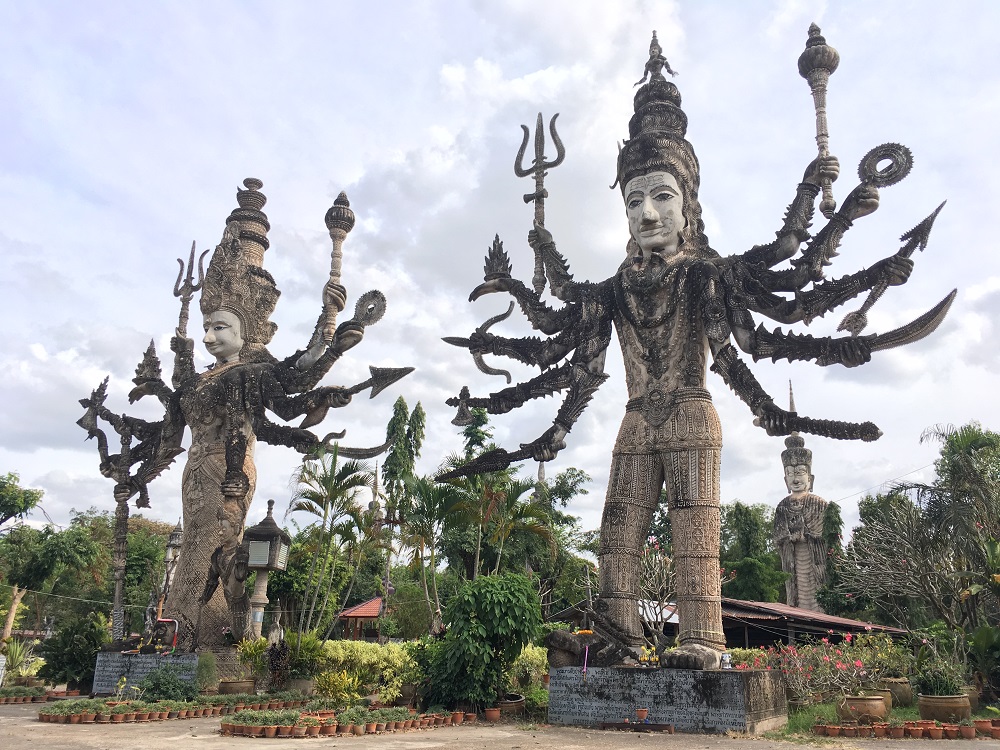 After poring over the Britannica and Wikipedia alike, I think I have finally got the lowdown on these two statues. From what I understand, both statues are meant to represent the god called "Lokesvara," which is a popular figure of the cultures of India, all the way southeast to Thailand, and all the way north to China.  There are literally hundreds of different representations of Lokesvara, and these two are the original sculptor's idea of what this god should look like. Lokesvara was known to be called upon individually by Buddha to help all earthly beings attain enlightenment. Thus, he was granted many extra arms and hands so that he may carry out his task, further symbolizing his compassion.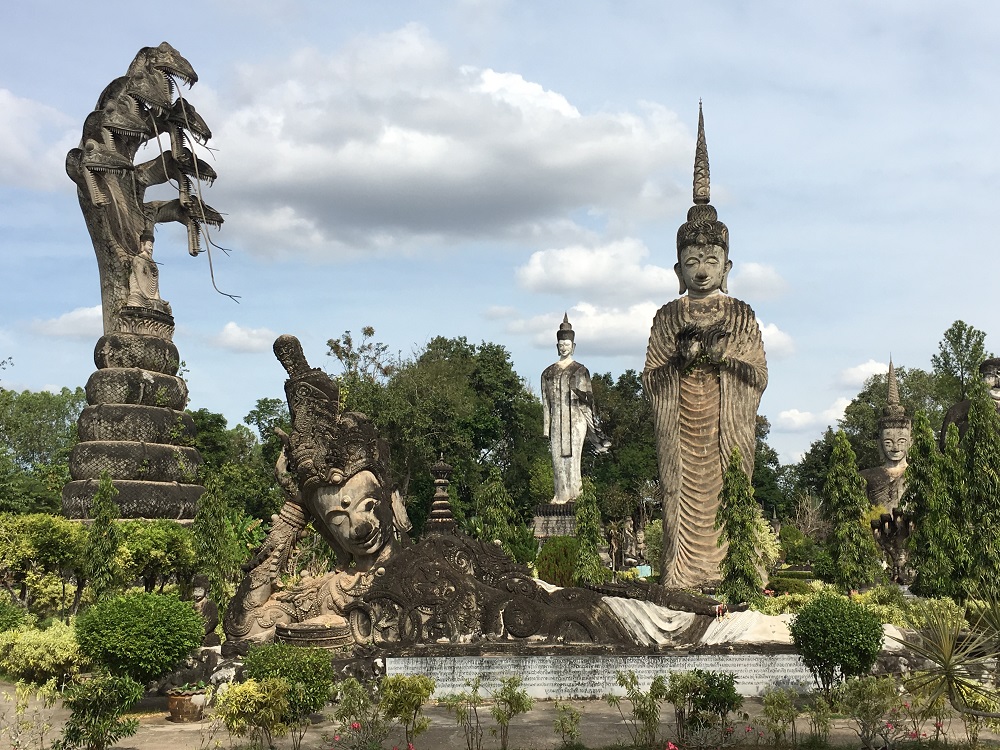 The Sala Kaew Ku Buddha Statue Park is located here, in the southeast part of Nong Khai town. It can be reached very easily by rented bicycle or motorbike. If you must take a tuk-tuk, expect to pay 150 baht one way or 250-300 baht return. (As a long-term resident of Thailand, I highly detest how easily tuk-tuk drivers price-gouge tourists, so I'd recommend trying to go here independently!) The entrance fee is just 20 baht and there are several snack/drink vendors hanging out around the entrance if you are hungry or thirsty.
This kind, friendly gentleman below called Nui rents motorbikes for 200 baht per day in Nong Khai. Bring your passport and he'll be happy to rent a bike to you. I 100% recommend him!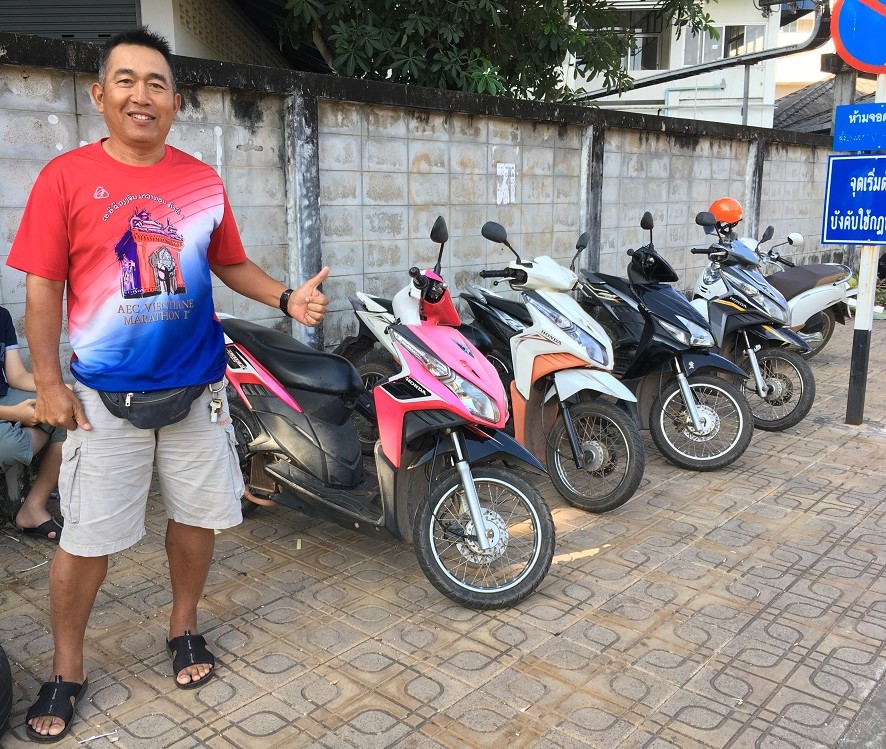 Continuing your travels into the Land of Smiles? Have a look at the rest of my Thailand articles.
V.D.'s Hotel Recommendations for Nong Khai